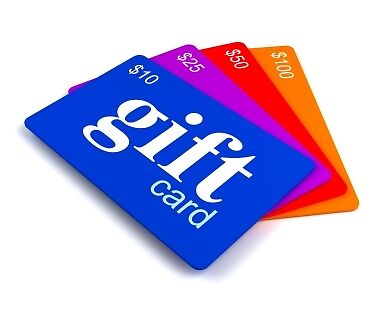 gift card sales
For retail stores looking forward to the holiday retail boost, gift cards can be a significant bonus. Last year, consumers spent $23.6 billion on gift cards during the holiday season, with an average of $40 spent per card, according to data from the National Retail Federation. Here are some tips to help you capture your share of the gift card market this season.
Doubling Your Gift Card Sales: Sell Packages



Sure, gift cards can be perceived as a quintessential cop-out gift, pegging the gift-giver as lazy or impersonal. While that may be true of the preloaded value cards that big chain stores put out and that can be found in virtually every drugstore now, small businesses have the advantage of developing gift card offerings that are good for more than just cash on a card.

If you want to establish significant gift card sales at your business, you need to sell an experience, says Seth Gardenswartz, the VP of Business Development at SpaBoom andCoverBoom, a provider of online marketing tools and services to small businesses in the spa and restaurant industries. Everyone is pressed for time with their holiday shopping, so if your business is offering a unique experience with a gift card—from a prix-fixed meal, to an hour of cooking lessons, or a relaxing afternoon at a day spa—you're going to become a solution for the busy shopper and score that sale, says Gardenswartz.
Doubling Your Gift Card Sales: Clean up Your Website
Do not underestimate the role that convenience plays in the purchasing of gift cards during the holidays. While not everyone buys their gifts online, most people will at some point be browsing the Web for gift ideas during these final weeks, and the more they come across your website while shopping, the better. Anyone can easily go to the big box stores for the standard gift offerings, but most people would rather give a gift that's local to the recipient and shows that they put some thought into the purchase. Here's where small businesses have the advantage to shine. "Set your business up to play on that local field," says Gardenswartz. Make sure that you are showing up in search results for a local query. Optimize your website to include the name of your city or neighborhood so that when someone searches "coffee shop" and "Garden District" your business shows up in those listings.
Doubling Your Gift Card Sales: Create a Campaign
Most customers won't think of you as a place to buy gift cards unless you put that information out in every part of your business presence. One of the easiest ways to let customers know that you offer gift cards is by using signage. The sign could say something as simple as "Ask about our luxury salon gift card package," or just "Buy a gift certificate today." You want all of your company materials to repeat the same message as well as provide information for where customers can purchase gift cards. Putting a sign up at the front desk or the checkout counter is great for getting people to notice. "We didn't shy away from opportunities to let people know about our gift cards," says Christine Cook, a spa industry consultant and former spa director at re:fresh spa in San Francisco, which was absorbed by 24-Hour Fitness last year. "You can put up a lot of signs and it's not going to be offensive or intrusive, it's just informational," she says.
Doubling Your Gift Card Sales: Provide Promotions
Simply putting up signs or telling customers in an email that you offer gift cards isn't enough to actually increase sales, though. You want to give customers a good reason to buy a gift card, and that can be done pretty effectively through various promotions. "Everybody wants a deal, and much like you run discounts or specials throughout the year, you can also run promotions with your gift cards," says Gardenswartz. SpaBoom clients have had a lot of success running buy-one-get-one-free specials with their gift cards, or a gift with purchase. At Terrace Retreat, Adams usually runs a yearly special around the holidays—for customers that buy $100 worth of gift cards, they receive a robe of $60 value. "People are more likely to buy a gift card if there is some perceived value for the purchaser," says Adams. One promotion that worked particularly well for Ginger Bay Salon was purchase $100 of gift cards and receive a $20 voucher towards a service or retail item of your choice. "We saw a huge spike in gift card sales from that," says Beck. But she cautions against over-discounting. "You want to be careful when you're offering promotions like buy one get one, that you have the cash flow to handle a huge spike in redemption rates," Beck says. "Make sure to state on the offer that the gift card they get with purchase cannot be used on the same day, otherwise you may run into the problem of not being able to sustain your offer." If your business hasn't offered a gift card promotion before, Beck advises to start small and test the waters.
http://ebay.com/selling
http://pages.ebay.com/sellerinformation
http://www.ebay.com/shp/Calculator