How to Choose Your Most Flattering Diamond Shape
Especially prepared for VeronicawsBoutique by Veronica
Most guides will simply tell you to choose a diamond shape that reflects your personality. Though definitely a factor to be considered, another equally important factor that happens to be the most often overlooked is how a particular stone's shape suits your individual finger proportions, and, your hand as a whole. This guide is intended to help you put that aspect of selection alongside of your personal tastes, budget, and the latest diamond fashion trend.
Whenever we ladies put something on our hands (jewelry, nail polish, etc.) we'd like people who comment to tell us what we've done makes our hands look younger, longer, and more spectacular. If you're having a manicure, you're not going to choose "Pea Green" as your nail color because that's the newest fashion out there (unless of course Pea Green happens to be your favorite color!). While choosing the shape of your diamond jewelry is infinitely more important than choosing your nail color, it can be a lot easier endeavor if you're aware of some of the basics that determine that "Wow" factor.

Keep in mind that "shape" and "cut" are often incorrectly used interchangeably, but they are not the same: "Shape" is the geometrical form of the stone, be it round, oval, etc. Heads up (most) men – "square" shape is most often the princess cut though there are other shapes that are square"ish". "Cut" is actually the diamond's facets and proportions. Cut can be graded, shape cannot.
Some of the more popular shapes are seen in the chart above, followed by a brief definition of each below.

Round

By far the most popular, accounting for more than 75% of diamonds purchased today, they are also the most expensive. Most coveted as an engagement ring, they also find their way into earrings and pendants. When clarity and color are equal, a round diamond will be more valuable than alternative shapes. During cutting and processing, a round-cut diamond sacrifices more of its original carat weight than any other shape. A round diamond's fire and brilliance can be enhanced through the use of scientific calculations performed by expert diamond cutters. The better the cut, symmetry, and polish, the more brilliant a round diamond will appear.

Very flattering for most hand shapes, less flattering for shorter fingers and nail-bitters.
Princess

A square stone with 90-degree corners, the princess cut originated in the United States in 1980. This shape is one of the most efficiently produced types of diamonds, with nearly 60% of the original rough preserved during the cutting process. The most desirable princess diamonds are perfectly square in shape, with the more rectangular variations decreasing in value. Princess diamonds look fabulous in either traditional or modern engagement ring settings.

Flattering for most hand shapes including wider fingers.
Emerald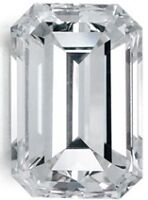 Rectangular with beveled corner cuts, this diamond is also called a step cut, because of the shape that resembles stair steps. More transparent than other shapes because of its large, open facets on this diamond make it imperative to choose a stone of greater clarity and higher color, as inclusions and weak color are far more noticeable to the naked eye in this cut.

Most flattering for long, slender fingers, and also, large, not heavy hands.
Cushion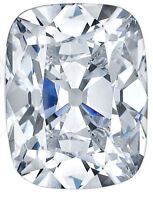 Sometimes referred to as "pillow cut" as the shape is similar to a rectangular or squarish pillow or cushion with rounded corners and sides. Considered to be a softer version of the emerald cut with an antique, vintage look. May have either a step-cut or brilliant faceting.

Like the Round cut, the cushion is very flattering for most hand shapes and finger sizes.
Heart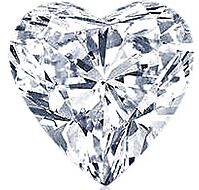 The heart shaped diamond is a romantic choice that varies from jeweler to jeweler as its shape can be greatly influenced by the skill of whimsy of the gem cutter, as well as variable facet configurations. Seek out a perfectly symmetrical stone. This unique shape is similar to a pear-cut diamond, differentiated by two rounded edges and a cleft at the top. One of the most demanding diamond cuts to create, a heart-shaped stone requires great skill and dexterity on the part of the diamond cutter.

Flattering for shorter fingers, giving hand an elongated look. Also suits small hands.
Pear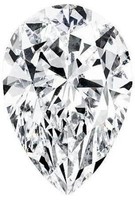 Exactly as it says, this diamond is pear-shaped, or sometimes reminding one of a teardrop. Most often found on pendants and earrings. Exuding elegance, pear-shaped diamonds (also referred to as a 'drop cut' or 'teardrop' diamonds) are cut to resemble a drop of water with a single point and rounded end, resulting in a cross between a round and marquise cut. There is some variation among pear-cut diamonds, with some appearing wider and others exhibiting a longer, narrower shape. Pear diamonds are noted for their slenderizing effect, creating the illusion of longer, more tapered fingers. They are also renowned for their high levels of brilliance, boasting 58 radiant facets.

Very flattering for average to long hands, and for slightly shorter fingers.
Marquise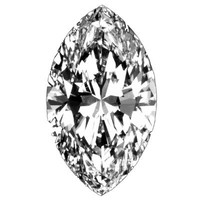 Another diamond shape that looks larger than it actually is, the Marquise diamond is elongated with points on each end, though sometimes altered to a "French tip" where the end point is excised. A great choice for a solitaire. When set horizontally instead of the typical vertical setting, this stone has the most dramatic appeal. This elongated stone has gracefully pointed ends for a dramatic appeal. Due to their extended length, marquise diamonds have more size per carat weight than other shapes and boast a brilliant 58 facets. This cut's flattering effect creates the illusion of long, slender fingers.

Quite flattering for slightly shorter fingers, as well as wide fingers when set horizontally.
Oval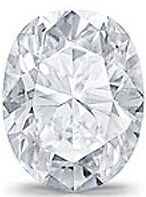 A perfectly symmetrical design yields a large surface area that gives the impression of a much larger diamond, its shape giving an elongated look to the hand. Timeless and classic, an oval-cut diamond is flattering to most any wearer, creating the illusion of a longer, more slender finger. Cut with the same number of facets as a round diamond, an oval shape emits nearly the same level of brilliance and fire, and its elongated shape makes it appear larger in carat weight than a round.

Very flattering for smaller hands and shorter or thicker fingers.
Radiant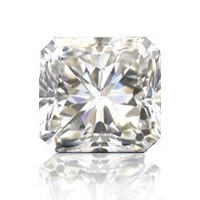 A square or rectangularly shaped diamond, the Radiant resembles the emerald shape but has 70 facets in a brilliant rather that step cut, making it much more brilliant and dazzling than the Emerald shape. Relatively new to the jewelry industry, radiant diamonds were introduced a little more than 20 years ago. This unique shape is a stunning hybrid of a traditional round-cut and an elegant emerald-cut, resulting in a square, near-square, or rectangular orientation.

Flattering for most hand shapes, including wider fingers. Some Radiants are wider than others, so proportion /ratio will be a determining factor whether or not a particular stone is suitable to your hand.
Asscher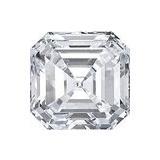 A rectangular shaped diamond with high crown step facets, this shape was patented in 1902 and is known for its fire and ability to return light. Introduced in 1902 by Joseph Asscher, the renowned diamond cutter from which it got its name, this diamond shape utilizes many of the same cutting techniques of the square emerald cut. What sets the Asscher apart are its uniquely angled and cropped corners, considered a revolutionary concept in diamond cutting when it was first conceived by the owners of the Royal Asscher Diamond Company. Many diamond experts compare the facets of a properly cut Asscher to a hallway lined with reflective mirrors, radiating a great deal of brilliance. Since the cutting style of an Asscher diamond makes imperfections more visible, it's recommended to choose a clarity grade of SI1 or higher.

Extremely flattering for most hand shapes and finger sizes. Again, as with the Radiant, proportion/ratio will be key in selecting the right stone for you.
No guide can be a substitute for actually sampling several different stone shapes on your finger, but with the information provided above, your confidence level should increase enough for you to try a few shapes other than what you might ordinarily, and be able to better judge objectively what best suits your individual hand. Find a fine jewelry store with loose stones so you can place the stone in between the joining point of your index and middle fingers. This is an excellent way to see the shape alone and how it suits YOU. And remember that although we might believe bigger is better, that is not necessarily the case when choosing a diamond or other gemstone. Even a 2 carat stone on a size 4 finger may look overpowering when a ¾ –1 ¼ carat is usually more than enough for a size 4 finger, especially if the stone will be set in an elaborate setting. Finally, ask the sales associate if you may take a photo of the two stones or rings you like best and then ask friends and family what they think. After that, SLEEP on it! Be certain that this is the shape of stone/ring you'll be just as happy to look at 20 years from today as you are today.
If you have any questions, send me an email and I'll be happy to answer. Good luck!

Veronica
September 2010
Ten is the limit on the number of pictures I can upload into a guide. With the chart that would have made eleven, so I decided to leave out the graphic chart of diamond and gemstone shapes. Thanks for understanding! I hope this has been helpful to you nevertheless!