Changing the "twist" style main rotors on mini indoor remote control helicopters such as Havoc (including Razor, Stinger, Rescue 911 and Laser Battle) , Picoo Z and Tandem Z is easier than most people make it. The blades don't come with instructions, but I have changed them many times, and here are my notes:
There are 2 pictures below (these are pictures of replacement rotors not the stock rotors). One picture shows the 2 small screws from the top view, and the other picture shows the underside of the main blade where you will see a small square black plastic piece. This piece is held onto the main blade (which holds the main blade assembly onto the shaft) with the 2 small screws. Most of these micro helicopters have that small black plastic piece but no screws. They are molded onto the blade instead. A small flat screwdriver is all you need to pop the molded piece off the stock blade. After you take the pin out of the smaller top (stabilizer) blade, the blade assembly slides off the shaft, the new one slides on, and the 2 screws hold it in place. It's much easier than people make it out to be.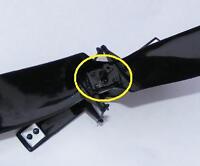 Probably the most important thing to remember is try not to damage the shaft coming out of the helicopter. If you damage the helicopter shaft you may be better off buying a new helicopter and using the broken one for parts.
These are replacement notes for the "twist" style main rotor blades found on many of the indoor rc helicopters such as Havoc, Picoo Z and Tandem Z. The Syma Fairy takes a "screw" style main rotor assembly which is very similar, but not exactly the same and not interchangeable. Please keep in mind these are only my notes and not official instructions.
Active listings for this type of main rotor replacement on eBay