View Videos On My "About Me" Page
If you are a hardcore Marvel Comics collector of the 1960's or 1970's then you are all too familiar with these historic fan clubs. If you know absolutely nothing about them, and simply stumbled upon this guide, the following information could make you hundreds of dollars. I have written this as a resource for anyone that is searching for or might unknowingly have in their possession these rare and highly sought after collectibles. I often see these items listed in the wrong categories and without the proper description or keywords in their titles. Consequently, these errors prevent potential buyers from finding them and cause the sellers to lose out on their true monetary value. This guide will provide you with a brief history of each club, detail the contents of their original membership kits and then provide helpful hints on how to sell these items on eBay.
M.M.M.S.
It all started with this clever and mysterious logo that first appeared on Marvel Comics covers in early 1965.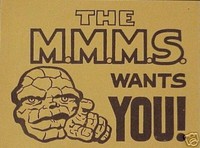 This drove the readers crazy trying to figure out what M.M.M.S. stood for. Stan Lee, the charismatic editor of Marvel Comics, finally announced its meaning: A fan club called the Merry Marvel Marching Society. The fee was just $1 and membership ads appeared from 1965 to late-1966. It arrived in a brown envelope packed with the following contents.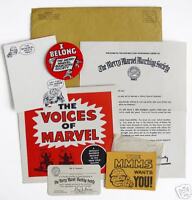 The response was overwhelming! It was so successful that in 1967 ads were printed that announced a "Nifty New Membership Kit". It cost just .69 cents (at first) and existing members could upgrade for .50 cents.
This envelope bore a red and white address label with a neat graphic of the Hulk reading a comic book. It had nifty new items (Shown above) but included the original welcome letter and membership card (Orange instead of white).
Official Membership Card (Orange)
Official Membership Button "Make Mine Marvel"
Official Membership Welcome Letter
33 1/3 One-Sided Flexible Record Entitled, "Scream Along With Marvel"
Official Membership Scratch Pad
A White Pencil With "Make Mine Marvel" Printed In Red
A Sheet Of Stickers (Orange Or Pink)
One Marvel Mini-Books (Different Characters & Colors)
The club printed two newsletters, Bullpen Bulletins and the Merry Marvel Messenger. They also mailed flyers advertising stationery, posters, subscriptions and t-shirts. By late 1969, membership had waned partly because the first generation of fans reached adulthood and moved on or discovered girls; however, Marvelites had been drawn to another, new club that had burst onto the scene that same year.
Marvelmania International
With Marvel's blessing, an outside businessman from California created the Marvelmania International club, in 1969. Th new staff received a great deal of pre-existing Marvel artwork (Stats) to use as a base but also employed the greatest artist ever, Jack Kirby, to design original works to be used on a new line of merchandise. Once again, the comic books assaulted the young reader with an "Exciting New Club"! The fee was a $1.75 and everything was printed in full-color! The bonus Captain America poster arrived separately in a tube.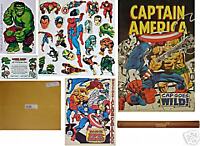 Membership Card (Full Color)

Captain America Poster (2 X 3 feet) Entitled, "Cap Goes Wild!"

A Decal Sheet (12 X 12 inches) Of Various Marvel Characters
This kit also evolved, or devolved. The first revision had everything except the poster of Captain America, instead it was substituted with one of the club's eight new ones they offered in the catalog. The test issue was replaced with a regular Marvelmania mag. Below is the third and final revision.

Fans were sent a multitude of advertising flyers for the same merchandise found in the catalogs, as well as subscription forms for the struggling Marvelmania Magazine (Only six issues were published). Despite its internal problems, like M.M.M.S. it too left the scene shortly after the dawn of the new decade; however, its legacy is a line of collectibles that are the most highly-prized and expensive to date. The 1970's didn't do away with the Marvel fan club entirely for a new one would emerge to greet the next generation of Marvelites. When the club collapsed, a comic book dealer named Robert Bell bought all remaining Marvelmania inventory and began to offer it in his own mail-order catalog.
FOOM
Unlike the M.M.M.S., FOOM was not an abbreviation but an acronym for "Friends Of Old Marvel". Created by both Stan Lee and Jim Steranko, another talented artist at Marvel, it made its official debut in 1973. Readers already knew what FOOM stood for because it was the title of the popular magazine which had been in circulation for several months. Regardless, ads went out declaring that it was the "Ultimate" fan club for just $2.50. The mailing envelope was the most creative ever. It was a full-sized face of the Hulk with the recipient's name/address printed on a label inside his mouth. It was as though the Hulk was welcoming each new member personally. The contents were no disappointment either and in full-color!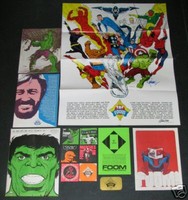 Hulk Mailing Envelope
Official Membership Card
Official Membership Poster (22 X 28 inches) With A Special Greeting By Stan Lee Printed At The Bottom
Six Stickers
The club revised the stickers and corrected the poster, in 1975. Both "FOOM" and "Marvelmania" have become a part of the Marvel vernacular and will always bring fond memories to those early generations of Marvelites.
Fan Club Merchandise
Now that you have a description of the original kits, I am going to give you the basics of how to distinguish between M.M.M.S., Marvelmania International and FOOM merchandise. First, each club's items bear the Marvel Comics copyright. M.M.M.S. merchandise was produced from 1965-1969. Flyers were sent to members offering plastic pillows, posters, t-shirts, sweat-shirts and stationery. However, these could also be bought by non-members via the ads Marvel placed in the comics. The flyers just provided partial discounts to members. All bear the standard Marvel Comics copyright/date with no M.M.M.S. markings.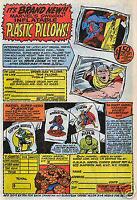 Marvelmania International items (1969-1970) were unique in that they were only available to members via their mail-order catalog, at first, then through Robert Bell after the club ended. An exception were their inflatable pillows of Thor and Spider-Man which both clubs offered. They never produced any t-shirts or other apparel either. Their posters and pinbacks are the most sought after by collectors.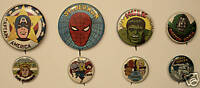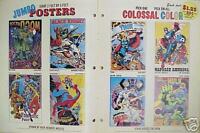 The posters are easily identified because they have the Marvelmania International copyright printed on the bottom edge. The pinbacks aren't dated or trademarked to identify them as club items. Two different stationery kits were advertised too, one color and the other black & white. They are not marked either, and sometimes mistaken for M.M.M.S. stationery. Below is the only stationery kit that the M.M.M.S. offered its members, in 1965, and was the only set to have a nifty folder to hold them. Any other style would be from Marvelmania International or possibly from the 1970's Marvel Comics merchandise catalog.
The following is a list of most everything offered in both Marvelmania International's catalogs and flyers.
Comic Art Portfolio (18 Black & White Pieces)

Marvelmania Magazines (Issues #1-6)

Pinbacks (Set of 8)

Posters ( Set of 8, 2 X 3 Feet)

Stationery Set #2 (Black & White)

Super Hero Models (Exclusive Gray Color)
FOOM only had a set of eight, 12 X 19 inch posters depicting famous Marvel Comics covers. They had no exclusive catalog and used their magazines to promote subscriptions and Marvel Comics merchandise, the same that were advertised in their comics.
Selling Marvel Fan Club Items
When selling, first thing is to identify what club your item is a part of. It's very rare that an unused or complete M.M.M.S. or Marvelmania International kit comes up for auction. Complete means all parts to include the original mailing envelope/tube. When they are listed they will sell for no less than $300 and could reach $1,000 . The FOOM membership kit is not as rare and usually sells for no more than $150. Individual pieces can sell for hundreds too, and all items have value and importance, as collectors search for missing parts for their kits. Make sure that you put the fan club, year and item in your title. If you can fit either a character on the piece or the artist who did the graphics in the title that is even better. For example, "1969 Marvelmania International Dr. Doom Pinback Kirby".
I feel that the terms you use in your title are more important than the category it is listed under. Most times, collectors will use keywords in searches instead of categories. However, I have found that the best one to use is Collectibles>Comics>Magazines>Fanzines, Fan Clubs.
If you received these items when they were first issued then they are authentic, but if you got them second-hand then be careful. Reproductions have been popping up all over, especially with the Marvelmania International posters. If you are not sure then ask an Ebayer (500 feedback preferably) who sells Marvel comics and collectibles. Condition is everything and unused/mint are the most desirable. However, some of these items are so rare that collectors will overlook missing parts, names written on membership cards or coloring of catalog/magazine pages by the original owners. Never throw any item away regardless of its state! If two bidders want something then its value is set by the ending price not by its book value!
Need Help Identifying Something?
If you are not able to identify something that you believe to be from one of these clubs you can ask Tellshiar for help. I hope this guide was helpful to both buyers and sellers. Good luck, unless you're bidding against Me!