Everyone comes to eBay looking for that deal of a lifetime, but consumers need to be aware of when a deal really IS "too good to be true." This couldn't be more true when it comes to purchasing handbags and purses. It takes a keen eye to read between the lines and make sure you are getting what you pay for.
It says "authentic," isn't that enough?
Most people are probably aware that it is against the terms of service to sell a counterfeit bag on eBay. But many are NOT aware that it is actually against the terms of service to state in your auction that you are unsure of it's authenticity. The sellers who know the rule but still want to sell fakes will simply not mention the authenticity of their product or say it is authentic when it is not. If it does not say or you are unsure then ask. If they say they are not sure, ask them if they can take it to a local dealer of that brand and have them authenticate it for you. Per eBay, that is what should be done before something is sold that has doubtful authenticity. Chances are if the person "isn't sure" of it's authenticity or refuses to prove it, it probably is not. The same goes for the person who "received the purse as a gift." If it really was an expensive present, the person would probably want to take it back to the store and buy something else equally as expensive instead of selling the item for a fraction of the cost. So just be wary of these kinds of unsure statements. Ask the seller to guarantee their merchandise, it is your right. You should report blatant violations to eBay.
Know your brand
The first thing to do is decide what brand you are most interested in, and do some research on that company's purses. This may sound daunting, but it could be as simple as just going to the manufacturer's website and looking at their current purses, or doing a google search. Most companies like to stick to a certain look, and if you really know that look it can be easier to spot the fakes. Another thing to look for is the spelling. Counterfeiters will mispell designer names to try and avoid the copyright issue. Sometimes it's just a matter of switching a letter or two in the middle. Other times they capitalize letters that shouldn't be and vice versa. Make sure you know your logo and look closely. Due to copyright infringement issues and styles that change with the seasons, I will not get into exactly which companies do what to their bags as they may change. But again if you do a little research it will go a long way. You'll be an expert on that brand in no time.
Look at the leather
Most high end designers that sell their bags for hundreds of dollars are not going to use fake leather, they will use real leather which has a softer, more pliable look and feel. For instance, when stored it is not likely to get creases and cracks like vinyl will. When worn, leather will tan and get softer, where vinyl will start falling apart and cracking along the edges. These images show 2 purses, 1. with a vinyl strap and 2. with a real leather strap to a handbag. Notice that the vinyl keeps the shape of how it is stored but the leather will stay loose. This is a very important thing to look for. There CAN be real leather fakes but they aren't as common because they cost more to make.
1.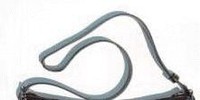 2.
Check the hardware
Most high end companies will print their name and/or logo on all the metal pieces of the bag like zippers, latches, snaps and sometimes feet. Most counterfeiters will skip this as it is a lot of extra work, although some will take the extra time. Sometimes the name or logo is filled in with an enamal color, sometimes it's not. But it's usually there, especially on leather bags.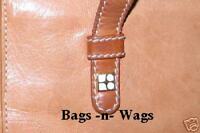 This designer even puts her logo on the studs of the bag.
The plastic wrap is not what it seems
Cheap wholesalers will often wrap the handles of their handbags in plastic for shipping, but most high end bags do not get shipped with this. Eluxury *sometimes* ships their Louis Vuittons with plastic wrap but very few other companies do this. The plastic has chemicals that could harm the leather. If you see plastic wrap covering the handles of a bag, it might be a fake.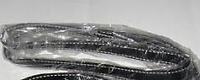 Look at the price
One of the easiest things to look for is simply the price, especially on merchandise marked new. For example, why would someone sell a brand new $500 purse on a buy-it-now for $50? If it were a real handbag that they never used, they could return it to the store. Most people won't sell something for 90% less than what they paid for it just out of the kindness of their heart, so while the dream is always there of finding something for nothing, be realistic. Sure it COULD happen but it probably won't. Look for used handbags for the best discount. Many people would rather sell a used bag for pennies on the dollar than donate it. Sometimes they need some cleaning or reconditioning but as long as there are no serious rips or holes you can probably clean it up inexpensively! Some people don't think about taking their bags to dry cleaners or shoe repair places either. You can save a lot of money that way. You can also get good deals on "Sample" merchandise. These purses are typically floor displays or customer returns that stores will sell at different times during the year, but they will typically mark them in some way inside (with a hole punch or a marker) so that they cannot be returned to the store. The only person that will see the mark is you! If you see such marks they do not necissarily mean the bag is fake.
This is a mark the department store made in an authentic bag I bought at a sample sale.
Look at the accessories for extra proof
If someone paid a lot of money for a handbag, chances are they received some extras with it. They could include, but are not limited to, a dustbag/sleeper bag, cleaning products, control card, lock, and/or a box. It will vary by company, but if you have doubt, ask the seller what they received with the bag and if they are including it with the auction. Counterfeiters are getting better at copying some of this stuff but most of them don't take the time. This goes along with the "knowing the brand" and getting to know what *should* come with your new bag.
These are control cards that came with one of my authentic bags
Stay away from the word Purse Party
Let's face it, your local high end department store isn't lending $100,000 worth of purses to your neighbor's co-worker to take around the neighborhood and sell door to door. A "Purse Party" is kind of like a tupperware party for counterfeiters. Many people will clearly state in their auction that the purse was purchased at "purse party" as a way of saying it is not authentic without actually saying it.
What's the big deal about buying counterfeits anyway?
According to the International Anticounterfeiting Coalition:
1. Counterfeiting is illegal and purchasing these goods supports illegal activities.
2. Counterfeiters do not pay taxes, meaning less money for city schools, hospitals, parks and other social programs.
3. Counterfeiters do not pay their employees fair wages or benefits, have poor working conditions and often use forced child labor.
4. The profits from counterfeiting have been linked to organized crime, drug trafficking and terrorist activity.
More demand equals more supply. If we stopped wanting the fakes they would quit making them, so it's a never ending cycle. And yes one purchase can make a difference. The companies that originally make the bags also lose tons of money each year and low-quality goods can make their brand name almost worthless.
What to do when you receive the bag and you think it might be fake
So you followed the advice but you still think you've been duped, don't worry it happens. Here are a few things you can check now that you have the bag in hand. Are the labels (inside and/or outside) stitched or glued? Many counterfeiters will glue on labels and lining instead of taking the time to hand stitch them. Designer bags will always be stitched. Look for additional tags inside the bag. If you see "Made in China" chances are it's a fake, but you have to know your brand. Some kate spades, for example, are made there. If the seller doesn't have a return policy that's ok, Paypal and eBay can help. The final thing to do is take the bag to a retail outlet that sells that brand and ask someone who works there to authenticate it for you and to draw up a letter on letterhead if they think it is fake. They may unfortunately charge you for this but it can still be worth it. A lot of companies have stopped doing this because of Ebay but there are also online places that will authenticate your bag. Sometimes you have to ship it to them other times they can do it with pictures. MyPoupette is a great resource for this, especially with Louis Vuitton. Inform the seller of the findings and if they still refuse to take the return you can file a claim with Paypal, or if you did not pay with Paypal you can file with eBay. As long as you have the proof that it is not authentic you should be able to get at least some of your money back. Please see their respective websites for policies regarding refunds. Many companies participate in a program on eBay called VERO, Verified Rights Ownership. Click here for more information about this program and how it can help you!

This tag from an authentic bag has been stitched on, not glued.