When Jukeboxes Unlimited ® rebuilds a jukebox, there is little we don't do. But, it takes years of experience to produce great sounding and great working jukeboxes. Here's what we do:
Wheels. Most jukeboxes have steel casters that will mar floors.


When it can be done, we install rubber wheels.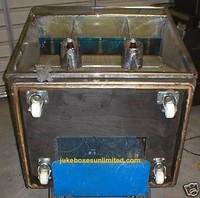 Needles. There are good ones and bad ones. It takes research to know the correct ones. Some needles can be louder than others. Using the wrong mil (thickness) needle and it can destroy your records.
Tone arm pressure. You need the right equipment to be able to set the tone arm pressure, you can't just guess or tape a quarter to it. The wrong tone arm pressure will track heavy and eat up your valuable records.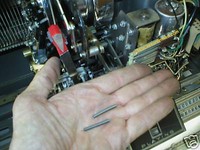 Speakers. You have to know what your doing when replacing speakers that are bad. You can't just replace it with a new one because speakers are tuned to their cabinet. For example, Seeburgs have odd impedances, 4, 6, 12 ohms. Installing an 8 ohms speaker in a Seeburg will drastically reduce the sound output. Most early jukeboxes have very efficient sound systems that are designed for low output speakers.

Grill Clothes. Most folks don't know the difference between fabrics fron a fabric store and grill cloth. They can look identical, but real grill cloth lets the aire flow through easily whereas plain fabric restricts it. When sound is produced through a speaker, the cone of the speaker movies in and out moving air. This quick moving air can make a plain fabric oscillate or thump against the grill. This thumbing distorts the bass notes and the sound caomes out mushy.
A while back we purchased cloth from a well known jukebox supplier for a Seeburg "R" that turned out to be just shiny cloth. We had to inform him; he didn't know the difference. What was scary as he'd been selling it for years and we were the first and only ones who caught it.
Cabinets. We clean the machine inside and out.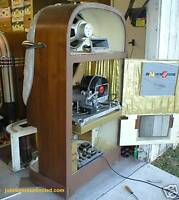 Lubrication. We lube and adjust all aspects of each unit with the proper lubricants. There isn't just one lubricant that can cover it all. We've learned which ones work best for each specific application. We NEVER use WD-40.
Mechanisms. Cleaning, lubrication and adjusting mechanisms is a very critical aspect of properly rebuilding a jukebox especially with Seeburgs.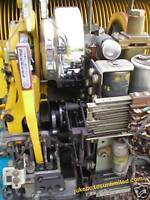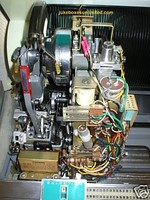 Before After
Mechanisms of a Seeburg "C" before and a Seeburg "L" after cleaning.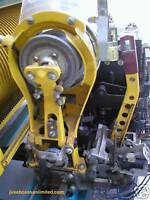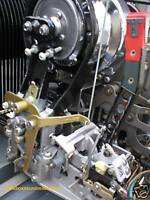 Before After
Mechanisms of a Seeburg "C" nefore and a Seeburg "L" after cleaning.
Fine Tuning. After everything is finished we run each jukebox for days, at times cranking them all the way up.
Fun. A detailed jukebox from Jukeboxes Unlimited ® is ready to go home with you now. Visit our website today.