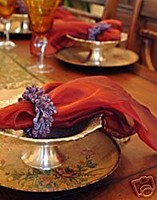 First impression starts at the door which takes center stage at all times. Add a simple but lovely wreath to your front door or at each side of your door. When a home is on the market during the holidays you should play up the decor to entice the buyer inside. At Christmas time a special feel is in the air and a potential buyer will be thrown off if your home is shown exempt from all holiday decor.
The smaller the square feet of the home, the less decor you should use. keep it very simple. A tree near the fireplace or tucked into a corner near a window. A couple of planted topiary's just outside the door with a set of tiny white lights. A poinsettia or two is just enough.
The larger home can take quite a bit of decorating and the decor should be a bit more elaborate. Introduce fresh greenery inside at the mantle or along the top of an armoire. Scents of mulberry or cinnamon are perfect also and you can purchase liquid simmering scents for the purpose of your open house showing.
As with decorating at any time of the year you will need to keep some simple rules of design in order for your spaces to be cohesive. Pay special attention to the focal wall in each room. This wall is where you will need to make a statement as the eye is drawn to this wall upon entering the room.
Keep it simple, not cluttered and let your potential buyers see the coziness and warmth of this lovely house at the holiday season. See us at www.Homestages.com
We at Home Stages Designs offer many Home Staging related ebooks, including our Christmas Decor book, for your interior design needs. Whether you are staging your home for the market or designing a new home for your family, we have the related books to assist you. We just released our Complete Home Staging Business Start Up & Training Kit on CD to train you to professionally stage homes. If you wish to enter into this field you need no prior interior design degree. We will train you specifically in this area and you will recieve certification. See us today!Complete Home Staging Business Kit & Training on CD-ROM