Hole Sizes for Swarovski Crystal Beads and Components

The sizes of each drilled hole for a certain size bead varies from size to size and the chart below should give you an indication of what size hole each size bead has so you can make a determination of what size wire you will want to use along with many other helpful uses.
Please understand that this information is not given out by Swarovski. They do make a very precision cut but they do not publish their tolerances or specific diagram sizes for each bead, so this information provided below is as close as you can get to the fraction of a mm in size. Keep in mind, there are tolerances in hole size by Swarovski of 0.1mm. These measurements are also only for Swarovski (Austrian Crystal) Crystal Beads.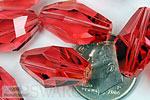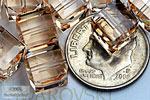 Hole Sizes:

Bead Size: Hole Size (mm) Size Wire (GA)

03mm 0.9mm 22ga
04mm 0.8mm 21ga
06mm 0.8mm 21ga
08mm 1.0mm 20ga
10mm 1.4mm 18ga
Of course there are many other sizes that Swarovski makes other than these above and as soon as we can we will update this information with other hole sizes. This information does apply to the most popluar cuts like the Bicones (# 5301) , Rounds (# 5000) , Cubes (# 5601) , and so on, but does not apply to the 5810 Faux Pearls (shown below in order above in colors CRYSTAL TABAC, LIGHT AZORE SATIN, OLIVINE, and POWER ROSE).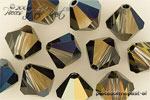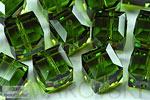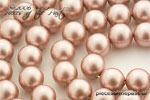 Please don't forget to vote on our guide if you found it helpful. Where you looking for something else? Just let us know. We specialize in Swarovski Crystal Beads and if you didn't find what you are looking for here, we can probably point you in the right direction. Go to our contact us from eBay above (user ID minordtails) or visit our ebay store for the largest variety of color and components at http://stores.ebay.com/Minor-Details . We offer great prices and shipping discounts, ship within 24 hours, and we are continually adding new colors and components.

Our other guides and some new guides coming soon:
Swarovski Crystal Beads, Finishes & Effects, Part 1 (basic finishes and effects produced)
Swarovski Crystal Beads, Finishes & Effects, Part 2 (effects and combinations of each)
Swarovski® Crystal Beads, Limited & Out of Production (special production items, limited or vintage)
Real Swarovski® Crystal Beads or Fake Glass? Part 1
Real Swarovski® Crystal Beads or Fake Glass? Part 2
Swarovski Bead Article Component Numbers, and Their Meaning
New Swarovski Crystal Bead Colors and Component Releases
Hole Sizes for Swarovski Crystal Beads and Components
Swarovski Bead Diagrams, Shapes, Sizes, Cuts
How to Take Great Photographs of your Crystals or Finished Pieces
How to Shop Smart for Swarovski on eBay
Wire Gauge Comparisons
Differences in Jump Rings and Split Rings
Jewelry Clasp Types
Head Pins and Eye Pins
[ALL images & text are ©2007 Minor Detail, Inc. Image theft is taken very seriously, please do not use any of our images without permission. The Swarovski® name is a trademark name and as stated in their copyright information, our company only sells finished pieces manufactured by Swarovski® themselves, any use of the name corresponds to an actual Swarovski® product.]