History & Traditions of the THANKSGIVING Holiday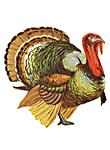 We as a nation have gotten so caught up in Halloween & Christmas it seems THANKSGIVING gets overlooked a little bit!
HISTORY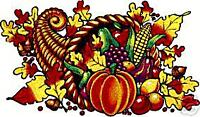 According to historical sources, the Pilgrims never held an autumn Thanksgiving feast. The Pilgrims did have a feast in 1621 near Plymouth Massachusetts, after their first harvest. This is the feast people often refer to as "The First Thanksgiving." Of course the pilgrims didn't call it a Thanksgiving Feast. They more than likely had a day of prayer & fasting to give their thanks to God.

George Washington's first proclamation after his inauguration as the nation's first president in 1789 declared November 26, 1789, as a national day of "thanksgiving and prayer." The annual presidential thanksgiving proclamations ceased for 45 years in the early 1800s. Then 1863 President Abraham Lincoln resumed the tradition. On November 26, 1941 President Roosevelt signed the bill establishing the fourth Thursday in November as Thanksgiving Day. Since 1956, the fourth Thursday in November has been observed by every state.
Food at The First THANKSGIVING
In contrast to what we have today for our Thanksgiving feasts today the pilgrims most likely had a much different menu. They did eat wild turkey & probably had venison. While they may have had cranberries, cranberry sauce was not invented yet! They may have served pumpkin or squash, but not pumpkin pie. The pilgrims more than likely did not have the ingredients for a pie crust or spices. Apples are not native to America, there were none then in Plymouth. No apple pies! They wouldn't have had potatoes either so no mashed potatoes! They would have had spinach, cabbage, carrots, turnips, blueberries & nuts.
THANKSGIVING IN OTHER COUNTRIES
Did you know that eight nations of the world have official Thanksgiving Days?
The nations are Argentina, Brazil, Canada, Japan, Korea, Liberia, Switzerland
and the United States.
Throughout history, countries in Asia—including Japan, India, Indonesia, Thailand and Sri Lanka have hosted festivals in gratitude for each year's rice harvest. In modern Brazil a special public day of thanksgiving and prayer has been designated for the fourth Thursday of November every year since 1949. In the British Isles and Europe, the harvest thanksgiving is observed in Protestant
and Catholic churches with special altar decorations.
MODERN TRADITIONS
Of course the biggest modern day tradition is the food menu. Families across America will commonly serve turkey & stuffing, mashed potatoes & sweet potatoes, cranberry sauce, corn, corn bread, pumpkin bread, pumpkin & apple pies.

FOOTBALL has become an modern tradition for Americans! Many families have a Thanksgiving Day "Turkey Bowl" There are popular football games on TV.
MACY'S Thanksgiving Day Parade will be celebrating it's 80th anniversary this year. In the 1920's many of Macy's employees were foreign immigrants. They wanted to celebrate their "new" countries holiday with the festivities that were popular in their European countries. Bullwinkle was a popular big balloon when I was a little girl.
PRAYER: Many American families offer up special prayers before their traditional meal. In my family we have 5 kernels of corn at each place setting. These represent what little food the pilgrims had before their bountiful harvest. We take turns pronouncing 5 things for which we are thankful for.
Christmas is coming: Many families take the time while they are gathered together to choose their family names for Christmas gift giving. The day after Thanksgiving is known in the retail industry as BLACK FRIDAY. The day of the year they finally go from being in the red to in the black financially. Let the Shopping begin!

I hope you have enjoyed your brief study into the THANKSGIVING Holiday! Don't forget in your time of celebration to:
Give Thanks!
Be Sure To SEE MY LATEST AUCTIONS
Read My Reviews & Guides
Click on my ME PAGE to find a link to my website. I am sure you will find treasures there you will love. Monogrammed, wedding, & embroidered handkerchiefs, bed and table linens, tea accoutrements and tea party accessories. Beautiful Gifts, lace parasols and fans. Thanks for looking & enjoy your collecting!
You Might Like My Guide On CHRISTMAS TRADITIONS
© 2006 Nanalulu ♥