Hawaiian Pendants: Have you seen Hawaiian jewelry 14k gold heirloom pendants? Are you interested in learning more about how Hawaiian heirloom gold jewelry pendants are made?

Hawaiian jewelery gold pendants are unique in that you can have your own name engraved on the Hawaiian pendant. Many people decide to have their name in Hawaiian on the outside of the pendant.
Hawaiian Jewelry and Gifts
has been making custom Hawaiian jewelry pendants for over 20 years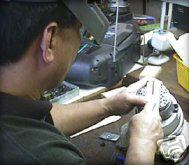 Hawaiian jewelry pendants come in two types, the vertical pendant and the horizontal pendant: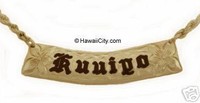 Hawaiian Jewelry and Gifts
makes both style of Hawaiian pendants in 14k yellow gold, 14k white gold and sterling silver.
There are two types of lettering for Hawaiian pendants. You can have your name in black enamel lettering or you can have your name in engraved lettering. Here is a picture showing the tow Hawaiian lettering styles:

It usually takes about 4-5 weeks to order custom Hawaiian pendants. Here at
Hawaiian Jewelry and Gifts
we are a wholesale factory and when you purchase from us we ship your Hawaiian jewelry within 5 days. No more waiting weeks for your jewelry - buy factory direct from Hawaii. This also includes our custom Hawaiian bracelets and Hawaiann rings.
Click here to learn more
Another factor to consider when buying a Hawaiian jewelry pendant is the width. For the vertical pendants we make them from a 6mm width all the way up to a 12mm width you can also have a plumeria flower on top of your name like the Hawaiian pendants pictured here:


Have a question about Hawaiian jewelry?
Hawaiian Jewelry and Gifts
has been a leader in the industry and will be
happy to answer your questions
.