Hawaiian Jewelry and Gifts sells a variety of puka shell jewelry including puka shell necklaces, puka shell anklets and puka shell bracelets.
Puka means hole in Hawaiian and refers to the naturally occurring hole in the middle of the shell fragment.
Puka shells are pieces of a Hawaiian Cone Snail shell.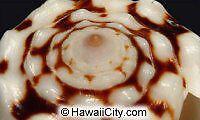 The "puka" is formed by the pounding of ocean waves that grind down the shell to a round shell with a hole.
Necklaces, bracelets and anklets are a perfect use of the "shells" because they already have a hole for stringing. Hawaiian Jewelry and Gifts offers all of these products factory direct from Hawaii.
Puka jewelry first became popular in Hawaii and there are different types of puka shells.
The most popular are the white puka shell necklaces and bracelets.
Another form of puka shell we sell at Hawaiian Jewelry and Gifts is the tiger puka. Notice the stripping of the shell. This is popular with the locals here in Hawaii.
Puka shell jewelry is more expensive than other shell jewelry due to the labor involved in collecting enough naturally formed "shells" for a suitable string.
This image here shows what looks like a puka shell necklace but the edges are square and not round and made of clam shell. This necklace was made by pounding the shell to small fragments giving the square edges:

Authenticity may be determined by simple observation. An overtly glossy patina indicates the shells have been tumble polished.

If the edges are chipped, the shells were harvested and manually broken into shape. If the "puka" is perfectly circular, then the hole was assuredly drilled.
There are also various sizes of puka shells...at Hawaiian Jewelry and Gifts we sell puka shell necklace from a width of 3/16" all the way up to this big one here at 5/8" width: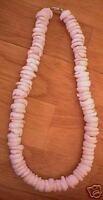 Also popular is the combining of Hawaiian coconut shells and puka shells together in one necklace. At Hawaiian Jewelry and Gifts we offer either black or brown coconut puka combination necklaces:
For more information on Hawaiian puka shells and about us CLICK HERE