Harp Sharping Lever Information
Harps are tuned diatonically which means that you can only play in one key; that being the key of C. Levers allow us to play in different keys without retuning the harp. There is a lot of music written for harps in the key of C but if you want to play in different keys you will need a few levers. Levers can be installed only after the harp is finished and strung. The harp should be settled nicely before adding levers.
A lever is used to raise the pitch of a string one half step. Engaging the lever by flipping it up shortens the vibrating length of the string and raises the pitch by a semi-tone; another term for this is a half step; thus making it sharp. A full set of levers makes your harp fully chromatic and allows you to play in every key.
Many people choose to just add enough levers to play in the most common keys. For example: you can add levers to the C and F strings to allow you to play in the keys of C, G, and D.
KEY CHART
KEY OF C: No sharps or flats
KEY OF G: F sharp
KEY OF D: F, C sharps
KEY OF A: F, C, G sharps
KEY OF F: B flat
KEY OF B flat: B, E flats
KEY OF E flat: B, E, A flats
The way we get flats is by tuning the string flat; a semi-tone lower, and then engaging the lever during normal play to get the natural note. When you want the note flat you simply disengage the lever. For example: If you have a sharping lever on the B string you would tune that string to B flat so you could play in the key of F. If you want the B string to be natural so you can play in the key of C you would engage the lever by flipping it up.
Another Option: Some people like to have a sharping lever on the A string so that when they engage the sharping lever on that string they get A sharp which is the enharmonic of B flat. Enharmonic means the same note with a different name such as A sharp and B flat. This allows them to play in the key of F as well. The drawback to this option is that you always have to remember that when you are looking at a B flat on the sheet music you will play the A string instead of the B string.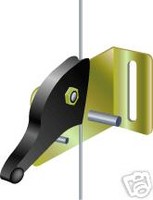 Shown is a 26 string Cherry Lap Harp with a full set of Loveland Levers and a close-up Loveland Lever
A harp with a full set of levers is usually tuned to the key of E flat when all the levers are DISENGAGED - flipped down. All the B, E, and A strings would be tuned flat which means a semi-tone lower. For example: if the lowest string on your harp starts on a C you would tune the strings to the following: C, D, E flat, F, G, A flat, B flat, C etc. Then when you want to play in the key of C you would engage the levers by flipping up all of the B, E, and A strings to make those strings natural.
When we are working in flats it can sound very boggling so say that to get a natural note we need to use the sharping lever to turn the note into a natural!!
EXAMPLES OF LEVERS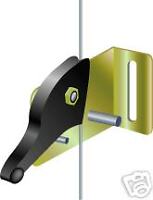 The Loveland Lever has a brass plate and black, hard plastic lever that engages the string by pinching it against a metal post.
Jordan Levers are made of Ryonite: a hard, durable plastic that is lightweight and economical. It has a simple method for engaging the string by using the string tension itself which produces a clear solid tone.
There are other levers available as well such as Robinson's and Truitts. Each one does an excellent job of producing a strong, definate tone when adjusted properly.
Whether you choose to have levers or not we recommend using an Electronic Tuner for tuning your harp. Electronic Tuners provide a quick, easy, and accurate job of tuning and are well worth the money spent. Make sure the Electronic Tuner you choose is a CHROMATIC tuner.
If you would like more information on harps such as shopping for a beginner harp or the difference between Lap Harps and Floor Harps check out our other Guides.
Let us know if this has been helpful to you or if you have questions you would like answered.
North Art Heritage Music
Lever Harps & Woodwinds Sales & Rentals