This great 1920s sewing book includes 220 pages of dressmaking and fashion sewing techniques and tips. The topics covered in this book include: The charm of beautiful clothes, corsets and dress foundations, line in figure and dress, color, fabrics, clothes suitability, good dates in dress ~ millinery ~ accessories, dressmaker shop, European dressmaking art, and planning wardrobes.
A wonderful resource for anyone interested in vintage patterns or vintage sewing.
Woman's Institute Library of Dressmaking
HARMONY IN DRESS
Woman's Institute of Domestic Arts and Sciences, Scranton, PA. c 1926
Clothes serve, first, as covering for the body, second, as an expression of individuality, third as an evidence of good taste, and lastly, as an indication of the circumstances of the individual.
This book concerns itself chiefly with the second and third points-individuality and good taste-both of which are considered essential by "intelligent, progressive" people. Bad taste in dress is as much a reflection as incorrect speech or bad manners.
Clothes should be enjoyed quite as much for their beauty and suitability as for their comfort. In the buying, planning, or wearing of clothes, the rules of dress should be understood so that a happy interpretation will safeguard one at all times.
This book deals, also, with color, line, fabric, and types, and expects the reader to read sufficiently far and with enough interest to find herself and to assimilate the necessary rules. Then, in her enthusiasm, she will be able to forget the rules specifically and, by her own advanced knowledge, will know how to adapt the season's colors and fashion requirements in an intelligent and satisfying way.
Progression in clothes details makes clothes creation interesting and keeps the great public out of uniform. There is an open road for those who understand the harmonies of dress and who appreciate the variety of possibilities of good taste happily expressed.
CONTENTS

CHAPTER I
THE CHARM OF BEAUTIFUL CLOTHES
How to Achieve Beauty in Dress ~ Charm in Dress.
~~~~~~~~~~
CHAPTER II
CORSETS AND DRESS FOUNDATIONS
Improvement in Women's of Corsets ~ Selection of Corsets ~ Adjusting a Corset and Care of Corsets ~ Corset Accessories ~ Brassiere for Stout Figures ~ Foundation Slips.
~~~~~~~~~~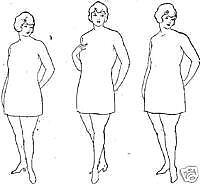 CHAPTER III
LINE IN FIGURE AND DRESS
Lines of the Human Figure ~ Overcoming Irregularities in Figure ~ The Silhouette ~ Origin and Adaptation ~ Making and Studying Silhouettes ~ Dress Suggestions for the Stout Woman.
~~~~~~~~~~
CHAPTER IV
COLOR, ITS THEORY AND APPLICATION
Importance of Knowing Color ~ Color Theory ~ Classification of Colors ~ Properties of Colors ~ Simultaneous Contrast ~ Color Harmonies ~Color in Dress ~ Development of Color Sense ~ Color Names ~ Color Combinations ~ Table of Color Combinations for Street Wear and Evening Wear ~ Color for Individuals ~ Facts Governing the Selection of Colors ~ Colors for Various Types of Women ~ Table of Colors That May and May Not Be Worn by Blonde Types of Women ~ Table of Colors That May and May Not Be Worn by Brunette Types of Women ~ Table of Colors That May and May Not Be Worn by Gray Types of Women.
~~~~~~~~~~
CHAPTER V
FABRICS AND THEIR ADAPTABILITY
~~~~~~~~~~
CHAPTER VI
CLOTHES SUITABILITY
Relation of Costume to Individuals ~ Value of Interest in Clothes ~ Clothes for Children and Misses ~ Clothes for Young Women ~ The Home Woman's Costumes ~ The Business Woman's Dress ~ Clothes for the Mature Woman ~ Clothes for the Elderly Woman ~ Good Taste for All ~ A Guide to Correct Dress for Business, Outing, and the Home, Summer Season ~ A Guide to Correct Dress for Business, Outing, and the Home, Fall and Winter Season ~ A Guide to Correct Dress for Social Functions, All Seasons.
~~~~~~~~~~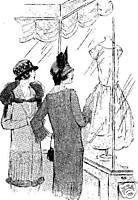 CHAPTER VII
GOOD TASTE IN DRESS
Elements of Good Taste ~ Allies of Good Taste ~ Developing Good Taste.
~~~~~~~~~~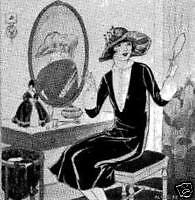 CHAPTER VIII
GOOD TASTE IN MILLINERY AND ACCESSORIES
Analysis of Good Taste in Hats ~ Evidence of Good Taste in Hats ~ Other Accessories.
~~~~~~~~~~
CHAPTER IX
THE DRESSMAKER AND TAILOR SHOP
Woman's Opportunity ~ The Dressmaker Shop ~ Selecting a Location ~ Choosing a Name ~Rooms and Their Equipment ~ Findings ~ Stationery and Other Printed Matter ~ Examples of Business Cards ~ Fashion Publications ~ Information on Business Matters ~ The Dressmaker and Her Work ~ The Dressmaker and Her Customer ~ Procedure in Garment Making ~ Woman's Institute Measure Slip ~ Additions to Dress ~ Delivery of Work ~ The Tailor Shop ~ Specializing in Sewing ~ Charging for Services.
The business of good and beautiful clothes for the individual as well as the business of how to provide correct clothes for others is considered here. The "Dressmaker and Tailor Shop" section especially has been planned to have the reader realize that aiding in a more beautiful expression of clothes sense is contributing to the whole scheme of living, whether it be individually or collectively done.
~~~~~~~~~~
CHAPTER X
EUROPEAN DRESSMAKING ART
Fashion Services ~ Intimate Glimpses of Paris Shops ~ Characteristics and Tendencies ~ The House of Beer ~ The House of Worth ~ The House of Paquin ~ The House of Drecoll ~ The House of Doucet.
~~~~~~~~~~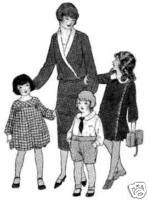 CHAPTER XI
PLANNING WARDROBES
Importance of Proper Selection ~ Wardrobes for School Purposes ~ The Young School Girl ~ The College Girl ~ Graduation Dresses ~ Clothes Requirements for Women ~ The Home Woman ~ The Business Woman ~ Clothes for Traveling ~ The Trousseau ~ Mourning Clothes.