Is it tatting? Is it knitted? Crocheted? What is the difference between bobbin lace and needle lace? The world of lace is large and complex, and proper identification is a key to selling...and buying...successfully.
Tatted Lace
Let's start with tatting (by the way, the word "tatting" can refer to either the process or the product). Most people with a few of grandma's fancy old linens will have a bit of this in their house. Tatting is made by tying a series of knots (to a Boy Scout they'd be called "hitches") over a base thread.
This is what tatting is made of. Lots and lots of hitches (let's call them stitches from now on).
There are two basic ways the stitches are put into a tatted lace pattern. They're done in circles, called rings (often, more of a teardrop shape than a round circle), and in short curved arcs, called chains. The alternating combination of rings and chains created what I call the "loop-de-loop" appearance of tatting. Here I've shown two rings and the chain between them (with parts of chains going out both sides of the photo).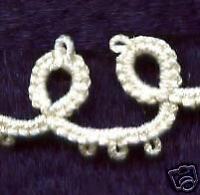 In fact, you can get loops on top of loops in tatting. Notice the little loops sticking out of the side of the rings and the chain. They're called picots. You'll find picots in other types of lace, too.
Here's a photo of a classic piece of tatting. On the side I've drawn a line to show you the loop-de-loop effect.
Crocheted Lace
Another lace commonly found in grandma's stash is crocheted.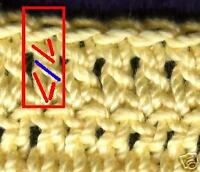 The red rectangle marks a single stitch. This particular stitch, called a double crochet stitch, is one of the more common in crocheted lace. Notice the V of threads at the bottom, marked in red, then a diagonal thread above it (blue), and another V above that. The top bar of threads will not always be visible. If another row of crochet were to be done on top, that bar would be covered up (it's what the next row connects to). A smaller stitch in crochet would not have the diagonal thread or the upper V, only the bottom V. A larger, taller stitch would have another diagonal and another V on top of these.
Here's a small crocheted doily. Each of the little clusters is three double crochet stitches side-by-side.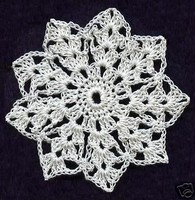 Knitted Lace
Knitted lace is the same technique that makes your favorite winter sweater, but with more holes. Look for a small area of no-holes. It will probably look like one of these: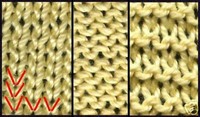 Notice the Vs in a row, or stacked on top of each other in the first photo. This is how knitting stitches appear without all the fancy lace techniques (probably just like your sweater). The middle photo shows what the back of the stitches look like, rows of up-and-down knobs. Sometimes you will see both the Vs and the ridge of knobs, as in the third photo.
Here's a sample of knitted lace.
Bobbin Lace
Bobbin lace is a woven lace, made with numerous threads that are wound on bobbins; little sticks that act as a handle to move the threads around.
Like knitting and crocheting, bobbin lace is mostly comprised of a few basic stitches. Here are a few components of bobbin lace:
The top left photo shows a stitch that looks like plain-woven cloth (plain weave is where the horizontal weaving thread goes over one thread, then under one thread, over one, under one). Appropriately, it is called cloth stitch.
The middle at the top is called half stitch. Notice how it has threads going horizontally and diagonally.
In the bottom left are braids (sometimes with picots, remember picots in tatting?). These are made of 4 fine threads braided together, like a tiny rope. Sometimes they will cross each other as they do here. Other times they will connect other sections of the lace to each other.
In the middle of the bottom row are leaves. They might be done singly, or in groups as here, sometimes giving the appearance of flower petals.
Finally, on the right, is a sample of gimp, a heavier thread that is used to outline sections of the lace, or simply to draw a pattern inside the lace.
Here are a few samples from my collection of bobbin lace where these elements are used. You can see how the appearance can vary a great deal.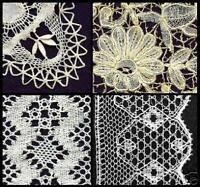 Needle Lace
Needle lace, as the name implies, is made with a needle and thread, and is probably the most varied of the laces. This is the one category of lace that is not confined to 4 or 5 basic stitches, with a few embellishment techniques, so there are many distinctly different forms that needle lace can take.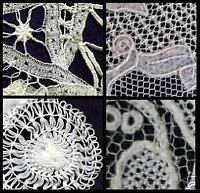 The upper left corner here shows a sample of Battenburg lace which is made of machine-woven strips, called tapes, with fancy filling stitches done by hand in the spaces between the tapes.
Below that is a piece of Tenerife lace. This lace is done by stretching threads back and forth across a form so it looks something like bicycle spokes (if you're thinking "string art", you're not far off). Then the spokes are bound together in groups or woven together in various patterns.
In the upper right is Carrickmacross lace, an Irish lace using a machine-made mesh background layered with a fine batiste fabric. Designs are created by sewing a heavy outlining thread on top, through both the batiste and the mesh. Some of the batiste is cut away and fancy filling stitches are woven into the mesh in those areas. The bottom section in this photo shows the plain mesh, above that is the area of batiste covering the mesh, outlined by the heavy thread. At the top is an area of mesh interwoven with filling stitches.
Below that in the lower right is a small bit of Point de Gaze needlelace. This lace is made entirely of different variations of buttonhole stitch. Small motifs are outlined with heavy thread and then filled inside with buttonhole stitches. The motifs are joined together with a delicate mesh of long twisted buttonhole stitch.
Different techniques, totally different appearances, but all done with needle and thread. It would be impossible to cover all the styles of needlelace here, but a general solution would be to eliminate the other forms first. If it's not tatting, crochet, knitting, or bobbin lace, it's going to be one of the many many varieties of needlelace.
Books
The best guidebooks to lace identification on the market are written by Elizabeth Kurella. Elizabeth is a lacemaker as well as a lace scholar, so she really knows all the ins and outs of how lace is made, the way threads work with each other...how a piece of lace gets to be one particular kind or another. Her books have fabulous close-up photos and tons of detail. Secrets of Real Lace shows how to tell handmade from machine-made laces. Guide to Linens & Lace shows dozens of different styles of handmade lace. You can find these and other Elizabeth Kurella books on eBay.
Another great resource on eBay is the Needle Arts & Vintage Textiles discussion board, "inhabited" by dozens of experts on lace and textiles who will be happy to answer questions. Be sure to post photos to help them with identification.