Purchasing hand colored yarn seems simple at first, however consumers should look at their options carefully. It is easy to be drawn into the colorful virtual candy store of artist dyed yarns, and get carried away dreaming up garments to make out of them. Besides the color it is important to consider things like the fiber, the weight or thickness, yardage, the dye used, and the repeat.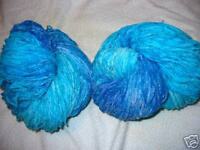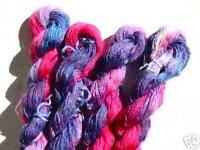 Fiber: Does the seller indicate the percentages of each type of fiber in the yarn? (100% wool, cotton, or silk, or a blend of some kind?) It is important to know this so you can plan to purchase enough to account for any shrinkage that might occur, as well as cleaning methods that will need to be used after the garment is made.
Weight or Thickness: The auction should clearly state the weight of the yarn. Yarn weight can be indicated by number (8/2, 2/19, 2/24, 3 ply), by name (fingering, DK, sport, worsted), by needle size and gauge used, or by "Wraps per Inch"....how many times you can wrap the yarn around a ruler in the space of an inch. Be sure the weight of the yarn is appropriate to the project, needles, loom, hook, and/or knitting machine.
Yardage: Be sure the yardage is stated clearly, but be aware that usually this is an estimate, and often the yardage is measured before dyeing. Some methods of dyeing use heat, which will shrink some fibers. Be sure to calculate how much yarn you will need for a project, and purchase enough with some to spare. With a hand art such as dyeing, it is nearly impossible to get the exact same results in a different dyelot.
Dye Used: Is the method of dyeing conveyed in the ad? Some methods of dyeing are not as colorfast as others, depending on the fiber involved. Silk and wool should be dyed using an acid dye, or a salt method. Kool-aid and natural dyes such as onion skin or walnut husks can also be used as acid dyes. Some acid dyes can also be used on cotton, but generally yield a more pastel color. Cottons, rayons, and some acrylics can be dyed using the soda ash method and fiber reactive dyes. No matter the method used, it is difficult for the dye artist to properly remove all of the excess dye while the yarn is hanked (at least without getting a tangled mess!), so it is wise to wash your newly made item separately (and usually by hand) the first few times, or until it no longer seems to bleed when it is wet. The yarns below were dyed together using the acid method, yet the cotton chenille on the left is much lighter than the 100% wool yarn on the right.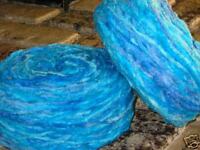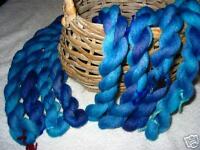 The Repeat: This is an important consideration that is often overlooked. The repeat is how much yarn it takes to go one time through the complete pattern. Many hand dyed yarns on E-bay are presented in a ball, cake, or twisted hank, not allowing you to see if the color is consistant all the way through, and what the pattern is. If you are looking for your garment to produce stripes, you will need a yarn dyed in very long repeats...with at least a couple yards per color. It is difficult for home artists to achieve this, as hanks would need to be wound many yards long, one book about dyeing requiring a hank 40 feet around!! Most repeats seen on E-bay are one or two yards long, and would stripe ok on socks, and perhaps a scarf, but on most other items will produce a mottled pattern. If it is hard to tell the repeat from the pictures, be sure to ask the seller before bidding. A simple question will save you disappointment later. If you wish a truly well blended mottled effect, it is suggested that the yarn be divided into two balls, which are alternated in the garment. Below the SAME rainbow painted wool yarn is shown in both twisted hanks, and extended. Note how difficult it is to see the pattern in the twisted hanks.
The Swatch: Another helpful thing that some sellers provide is a swatch. Usually this is a piece of plain stockinet knitting that is 40 by 40 stitches. With space dyed yarns, this can help you picture how the patterning will occur. The pattern will spread out and vary depending on the width of your particular knitting project.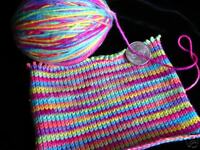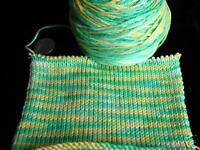 Finally, buyers should not confine themselves to the Hand Painted Yarns category. Many sellers list their yarn according to the fiber content, so an open search such as Hand (dyed, painted) yarn, will yield all of these items. The search can easily be modified by adding the type of fiber desired to the search. Also for spinners, changing the yarn to "top", "roving", or "batt" will yield artist dyed wool.
I hope this guide has helped you learn about the qualities to look at when buying hand dyed or painted yarns. All of the yarns shown in this guide were hand painted by The Painted Tiger. ThePaintedTiger hand dyes yarn, silk cord, ribbon, scarves, and ties. Items are listed as the whim strikes, but custom orders are welcome and handled promptly. Thank you for letting me share this guide with you, and happy fiber hunting!