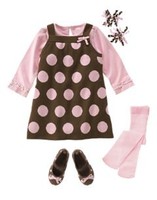 Once you start buying GYMBOREE, you'll be back for more!
Here are a few of the reasons why GYMBOREE IS ALL THAT!
1.THE LINES!! Gymboree puts out lines of clothes, not just one outfit in a specific color combination. You can buy multiple outfits in the same color scheme and/or theme. One line from 2008 that was very popular was the SWEETER THAN CHOCOLATE line. Here are a few pictures from that line. These are just a few outfits from this line. There were many more!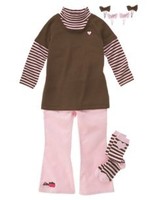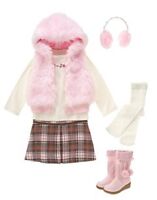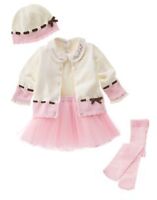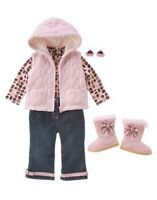 2. ALWAYS SOMETHING NEW!! Gymboree puts out new lines put out every 2-3 weeks, you're sure to find a line that you LOVE! There's always new inventory coming in to the stores, so that also means that other lines will be getting marked down rathar quickly too! You're sure to find a line that you get hooked on and the new lines will keep you checking back for more you love!
3. ACCESSORIZE!! Since Gymboree puts out LINES rathar than singular pieces, you can buy matching accessories, such as hair clips, hats, socks, shies, etc to match more than just one outfit. Once you find YOUR line, chances are you will buy more than one outfit in that line and then you can justify spending extra money on a hair clip to go with multiple outfits! Plus, these accessories make your outfits even more stylish!
4. THE QUALITY!! Gymboree's quality is second to NONE! As a foolish first time mom, I bought ANY brand of clothes if they were cute and on sale. THEN, I had to wash them and after just one (maybe two) wash, they looked horrible. NOT the case with GYMBOREE! Their clothes really are quality made and worth the extra few bucks. You will be saving these clothes for the next child because they will still look good!
5. THE SAVINGS!! Gymboree is ALWAYS having great sales. Gymbucks, mailer coupons, and more! To find out more about saving on GYMBOREE clothes, click the link below. It's a guide that gets more in to depth to SAVING on specifically Gymboree!
6. THE CUTE FACTOR!! I guarantee you that whenever your kid steps out wearing Gymboree clothes, they will get noticed. I can honestly say that people always stop and comment on my daughter's clothes and ask me where I bought them. This happens daily because my daughter pretty much exclusively wears Gymboree! I am hooked!
7. THE RESALE VALUE!! That's right, I said "resale" value! If you take care of your Gymboree clothes you will be able to sell them on eBay for more than you ever imagined! Click on the link below to find out how to get started selling Gymboree clothes on eBay.
Selling Gymboree on eBay Getting started!
8. Just type in GYMBOREE on an eBay search and you'll see how popular it is! Trust me, if you haven't bought anything from Gymboree yet, try it and you'll be just as addicted as the rest of us! YOU'LL SEE!
Check out me Gymboree deals ~ click below!
Annabelle's Baby Boutique GYMBO DEALS
If this guide was helpful, please take a second to click YES below! Thanks~~~~~~~~~~~~~~~~~~~~~~~~~~~~~~~~~~~~~~~