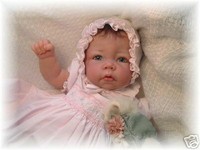 To Reborn Artists: This isn't meant to be an exhaustive tutorial but rather a quick guide to give prospective reborners an idea of what's involved in reborning a doll, as well as giving collectors a better understanding of how they're made.
There are some good Reborn Tutorials and a myriad of internet groups and guilds where reborn artists discuss and learn the art of reborning dolls. I suggest before you undertake reborning and selling dolls, take the time to learn the art properly. This protects your reputation as a new artist, and may also help buyers learn to trust the dolls that they find on eBay. That benefits everyone.
As artists, you may come to realize that it takes artistic/creative talent, committment, and a responsibility to your buyers to produce the best reborn you possibly can, in addition to your love of creating these beautiful dolls and marketing them as `quality heirloom collectibles`.
To the Reborn Collector: This information is intended to improve the buyer's ability to better spot a quality made reborn. Reborning is a rapidly evolving artform. As new ideas emerge, and older techniques discarded for various reasons, it's important that reborners and collectors stay abreast of the newest developments.
Many of the dolls listed in the Reborn Section of eBay are in fact, barely reborned, but merely `enhanced` dolls. After reading this Guide, I hope you'll understand the difference. As a buyer, you may be able to make wiser choices in how you spend your money.
Educate yourself by carefully reading Feedback.
Look for clear, close, detailed photographs.
Read descriptions! Don't hesitate to contact the seller with questions.
Membership in groups, guilds and other associations may, or may NOT be an assurance of quality.
LOOK FOR A GUARANTEE against defects in workmanship.
1. Disassembly: Disassemble and strip the original doll. Many artists start with a Berenguer, Ashton Drake or Masterpiece Dolls, among others. Remove hair, factory paint, and usually the original eyes. This step is not necessary with the doll kits that are now available, such as Val Shelton, Secrist, and Knoops.
2. Cleaning: Wash the cleaned parts inside and out with detergent to remove residue from the paint remover and factory residue on the new vinyl. Allow the parts to dry thoroughly.
3. Applying Color: Using artist oils, gouache, stencil creams, Genesis Heatset Paints, dyes & inks, apply lifelike skintones. This cannot be rushed! Depending on the method used, this step can take up to a week or more to complete well. The best painting methods use very thin layers of color to achieve a lifelike-looking skin tone. Interior painting, if done at all, must be done judiciously, with a light touch, or the doll may exhibit signs of `bruising` in the future.
4. Eyes: Many artists prefer to replace the eyes with better quality eyes. It depends on the reborner and the quality of the original eye. After the new eyes have been inserted, eyelashes can be glued into place. Special effects such as tears are sometimes used.
5. Applying new hair: Many artists prefer hand-rooting hair, usually with fine quality kid mohair, but alpaca, viscose, and silk have been used successfully. Some reborners prefer to use wigs. Some of the best wigs are made from real human hair or mohair, and then skillfully trimmed and styled to match the style of reborn baby the artist is making.
6. Realistic Weighting: The vinyl parts of the doll should be appropriately weighted with safe, inert materials such as polypellets, sterilized white sand, or glass pellets. **Never under any circumstances use candle gels, clays, waxes, or similar items, or food items such as rice or beans inside a doll! Any doll reborned in this manner will deteriorate, become moldy and/or attract insects or other vermin. Never purchase such a doll.**
7. Body: Often the original body is discarded in favor of a new jointed doll body. With some high-end collectible dolls, the original factory body may be reused if it's not damaged in disassembly. This is generally at the discretion of the artist. The body should be appropriately weighted with safe, time-tested materials such as polypellets, sterilized sand, glass pellets and even soft elastomer or silicone pellets if they are secured inside a cloth bag or sock to prevent leakage or contact with any of the vinyl or silicone-vinyl parts. The body is then finished off with soft polyfill stuffing to surround the weighting materials for a cuddly feel to the finished baby doll.
8. Finishing Touches: Most artists sign or otherwise identify their reborn creation somewhere on the body. They dress them in cute clothing (often real infant or toddler clothes) and pose them realistically. The fun of having a reborn baby is the Fool The Eye factor! If people do a double-take when they see your doll, thinking it's a real baby, it's a successful reborn!
I hope this Guide has been helpful to you. Thank you for your time.