"A thing of beauty is a joy forever:
Its loveliness increases; it will never
Pass into nothingness; but still will keep...."
Da Vinci's ever-popular "Mona Lisa" is a
living testament to Keats' stirring words,
but then, Keats lived before the invention
of photography. The following faded postcard
of Mona Lisa is anything but beauty preserved: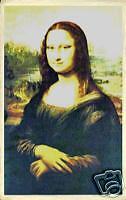 This guide aims to condense for the reader important expert advice on photo care without getting bogged down in technical terms and complicated measures; but rather, taking a general yet thorough approach, one most amenable to being put into practice so that your cherished pictures stay forever beautiful like Leonardo's Mona Lisa. Part One discusses "Photo Purchasing" since photo preservation actually begins "before" you even have a particular photo in your possession. Why? Because a photo is only as good as how it's made and what it's made of. Part Two addresses "Photo Care"--key do's and don'ts to preserve your photos. Finally, Part Three discusses the trade off between photo care versus photo display and offers a practical solution.
PHOTO PURCHASING
There are scores and scores of photographs available on eBay of every type and of every conceivable subject. But every advantage has it's disadvantage, and with plenty of photo vendors selling plenty of similar or equally appealing photos comes the problem of which of those photo offerings to buy? As any savvy buyer knows, a low price is no bargain when it translates to "low quality." Since practically anyone in today's digital age can print a photographic image, inexperienced buyers must learn to recognize good quality from bad. Recently, a photo-collector friend of mine showed me an absolutely atrocious set of photos he'd just bought, but what was even more appalling was that the high volume seller he bought them from had a spotless 100% feedback rating. How can this be? My friend's subsequent behavior illustrates one reason why. He returned the photos and was so grateful to receive a full refund he didn't have the heart to leave any negative feedback. I reasoned however that by not leaving negative feedback he was doing a disservice to eBay buyers by penalizing them instead of the disappointing seller who should be. Another reason for this shoddy seller's undeserved perfect feedback rating is that some--perhaps many--buyers do not have my friend's discerning eye. What you need to do is examine closely every print you buy and look for tell-tale signs of pixelation: mottled texture and jagged lines. On the other hand, a well-contrasted, in-focus, clean image isn't necessarily a good image. There is software that reduces digital noise but at the cost of reducing color vibrancy and image sharpness as well. Therefore, any photo must be evaluated overall--according to the above criteria--but still, it's hard to judge when you haven't a good example to compare with. Buy at least one print from an acknowledged professional in order to use as a benchmark, but bear in mind that reprints from even a negative can be less than optimal since vintage negatives like any physical media will deteriorate over time.

What should you also look for when purchasing a photograph? Well, the resolution of digital printers today is so high that image quality is much less of a concern, although as just discussed, it's still a relevant issue. Nevertheless, even inexpensive ink jet printers can produce color, tone, and detail comparable to that of traditional film processing. However, as Dr. Ray Work, a chemist and photo preservation expert who advises many manufacturers of ink jet papers and inks, warns: "The trouble is: You can't assume that you'll automatically get the same high-quality, long-lasting results with just any off-the-shelf inks and/or papers." A photo seller may be tempted to use third-party paper or ink since it often costs significantly less than a given manufacturer's recommended ink and paper set. As Epson states in its White Paper on Print Permanence: "Products from third parties labeled as 'compatible with' or 'suitable for' are often one-size-fits-all claims that rely on the lowest common denominator. While there may be certain combinations of third party ink and paper that yield acceptable results on certain printers, there are numerous examples of prints made with combinations of ink and media that will produce poor image quality and/or lead to print fading in only a few years." The unreliability of third-party papers and inks has been thoroughly and most notably documented by the rigorous testing of Wilhelm Imaging Research.

Obviously, few buyers would be willing to spend their hard-earned cash on photos they knew beforehand would last "only a few years." Some sellers will disclose the brand name and specs of the printer they use, but what you also want to know is whether they use both ink and paper designed by the manufacturer to work specifically with its printer. The dilemma facing the photo buyer is that even if a particular seller is asked if they use third-party paper or ink, there's no guarantee they'll admit they do, especially since there's no feasible way for the consumer to ascertain what ink--and sometimes even paper--they do in fact use. Therefore, the safest bet for the buyer is to purchase tried-and-true emulsion-type prints, such as platinum, palladium or silver halide, developed in a traditional dark room or at a professional photo lab. The gelatin coating applied in the silver halide development process protects the top of the paper, unlike today's ink jet printers that print the image directly on the paper's surface, but without the archival properties of the resin-coating and pigment-based inks of genuine giclee prints.

PHOTO CARE
DECORATION
Before you go ahead and put your newly acquired photograph on that section of the wall you've been eying, is the area right beneath florescent lighting or exposed directly to the sun at a certain time of the day? Strong light is a central cause of fading and should definitely be avoided. Purchasing a frame whose window has ultraviolet filtering however will help reduce the harmful effects of light. Although before you frame that picture anywhere, consider that "collection" versus "decoration" photos last longer since they usually are stored–not displayed–and thus, are not as vulnerable to light, heat and moisture fluctuations or airborne contaminants like smoke, cooking fumes or pollution.
If you're still interested in framing your photograph, attach it to a mat backboard using photo corners. Avoid anything other than an acid-free backboard made of either cotton rag (preferred for highly valued photos) or wood pulp. The mat should have a backboard and a window board. This will give the photo some space to breathe and keep it from harmfully sticking to the mandatory glass or acrylic frame window. If you're mounting a color photograph, a wooden frame is not recommended. Frames of all types are available on eBay, including uncommon ones such as those with multiple windows for framing a group of small photos together. Spring clips used to attach the frame to the wall are prone to digging into the backboard until eventually damage is done to the photo. Attaching an additional expendable backboard is recommended as a precautionary measure.
COLLECTION
Whether framing your photos for decorative display or collecting and storing them away, keep them cool and dry--an attic's too hot, a basement's too damp. The lower the temperature the better, with relative humidity kept stable--too high accelerates photo deterioration, too low can cause cracking, curling, or peeling. One can, of course, store photographs in albums, binders, scrapbooks, storage boxes and other ways. Whatever method you choose look for acid-free materials. (Lignin-free as well is even better. Lignin is a substance that will break down and eventually become acidic.) Storage products made from aluminum or steel are safe, whereas wood and cardboard contain elements that over time will harm your photos. A more economical choice is plastic, but plastic storage boxes or photo album sleeves, for example, should contain no PVC (polyvinyl chloride). Instead, an uncoated transparent polyester composition is preferred (Dupont Mylar D and ICI Melinex 516) although uncoated polypropylene or polyethylene is acceptable.
Besides affordability, photo albums and binders with transparent plastic sleeves offer other advantages as well. Scrapbooks too can be affordable, but unlike albums with sleeves, you must attach photos to a scrapbook. (Only photo corners are recommended for attachment, and archival-safe glue specified as acid-free.) Interleaves are also necessary to keep photos from coming into direct contact with each other. Binders and albums with transparent plastic sleeves have none of the above inconveniences; and moreover, have an added advantage in that photos can be viewed while still in the sleeves, eliminating handling concerns, such as bending and fingerprint smudges.
PHOTO DISPLAY
No true photo lover or connoisseur collects simply for the sake of collecting. Photography is, after all, a visual medium, and photos are meant to be seen. To simply store a collection away (unless it's extremely delicate or valuable) brings to mind a famous line by Thomas Gray: "Full many a flower is born to blush unseen, And waste its sweetness on the desert air." But your photos–unlike a beautiful flower in a barren desert–can be seen, it's up to you.
As discussed previously, due to a host of environmental factors, photos fade more quickly when framed and displayed rather than when simply stored in a safe dark place. However, "decoration" versus "collection" is not an either/or proposition. Although photo albums are often, by and large, simply used for storage, there are all sorts of albums and binders on the market and you can easily find an attractive one that complements your home decor and would look great on your coffee table. Instead of buying someone else's coffee table book, you can create your own coffee table "photo" book–even add your own captions if you'd like. If you opt for such a display, I recommend rotating the photos periodically with new ones, and doing the same for framed photos as well. Certainly you can buy a duplicate of a photo you especially value, and keep one on the wall and one in storage; however, if you find buying the same thing twice repugnant, especially at the prices some photographers charge for even a small photo, there's another solution: rotation.
Rotating your photos from storage to display--whether on a wall or a coffee table–has an added benefit besides increasing longevity. For example, instead of looking at the same photos on the wall, month after month, and year after year, changing them every now and then adds some refreshing novelty to your home and keeps your decor–-no matter how beautiful–-from becoming monotonous. It's invigorating and appealing not just for the eyes but for the heart and mind as well. Guests who frequent your home will appreciate seeing something new too. So, as Thomas Gray might say: "don't keep a beautiful flower unseen." Rotate and exhibit your photos. Everyone will be pleased.