Introduction
Have your children outgrown their dinosaur toys? Have you come across your childhood dinosaur toys in the attic or basement? If you are considering selling dinosaur toys keep in mind that many dinosaur toys, even some very recent ones, are highly collectible. Plastic dinosaur toys have been mass produced since the 1950s and have played a significant role in childhood play ever since. Consequently, there is an incredible number of old and new dinosaur toys in toy stores, playrooms, bedrooms, toy boxes, back yards, basements, and attics around the world. A comprehensive guide to all of these dinosaur toys would be next to impossible to compile. Instead, the purpose of this guide is to help sellers identify out of package (OOP) dinosaur toys and list them on eBay so that they are visible to the maximum number of potential bidders. This guide concentrates on dinosaur toys that are easily identifiable by some sort of manufacturer's mark, were part of large toy lines, and were widely available in retail stores. These are the toys you are most likely to have around the house.
First, let's start with dinosaur names. Most children can recite them all, but many adults are a bit rusty when it comes to this! A lot of dinosaur toys have their name written on their belly or tail, but many do not. Here are the correct spellings of the most popular dinosaurs and brief descriptions. Some examples are pictured below.
Ankylosaurus

: Looks like a tank/armadillo. 4-legged with bony armor on back and club-like tail.

Apatosaurus

(once called Brontosaurus): large, 4-legged with a long tail, long neck, and small head.

Brontosaurus

: see Apatosaurus.

Dimetrodon

(technically not a dinosaur): four-legged sprawler with a large sail on its back.
Duckbilled dinosaurs are also popular. These have duck-like bills and are usually depicted walking on their two hind legs. Popular examples include

Hadrosaurus

,

Parasaurolophus

(has a head crest), and

Trachodon

(now called

Anatotitan

).


Plesiosaurus

(technically not a dinosaur): long neck, small head, 4 flippers instead of legs; what the Lock Ness Monster is thought to be.

Pteranodon

(technically not a dinosaur): flying reptile, bat-like wings, beak, crest on head.

Stegosaurus

: four-legged with a small head, diamond-shaped plates on its back, and spikes on its tail.

Triceratops

: four-legged, has head shield, horny beak, one horn over each eye, and one horn on its nose.

Tyrannosaurus rex

: two-legged meat eater, sharp teeth, tiny arms.

Velociraptor

: two-legged meat eater, stiff tail, arms longer than T. rex's, large sickle claw on each foot.
Early Dinosaur Toys (1950s-1970s)
I use 1980 as the division between "early" and "recent" because the dinosaur toys most commonly found on eBay today are from the 1980s to the present. Dinosaur toys from the 1980s on are also much more likely to have some kind of manufacturer's mark that can be used for identification.
Marx and other small plastic dinosaurs

Marx Trachodon from the 1950s-1960s. Note position of dinosaur's name.
The other side of its tail says "30' LONG"

Most early hard plastic dinosaur toys do not contain the names of their manufacturers or the year they were made. This makes identification very difficult. Identification of these toys is further complicated by the fact that many toymakers copied the designs of other toymakers and the original molds used by some companies in the 1950s and 1960s were bought by other companies and used to make toys in the 1980s and 1990s! Only an experienced collector can tell the difference between many of these dinosaur toys. So what can you do? The general rule of thumb is the vast majority of older dinosaur toys will be one solid color (the color of the plastic); they will not be painted.
Top: Marx Triceratops from the 1950s-1960s
Bottom: Triceratops toy currently for sale at Wal Mart. Note the blue paint.


Early dinosaur toy makers include Ajax (1950s-1960s), Marx (1955-1963; 1971-1979), MPC (1964-1970s), and Tim Mee (1960s-present). All of these dinosaurs are no bigger than a few inches and many were originally packaged in playsets that included plastic rocks, plants, and cavemen. Most Marx and MPC dinosaurs have their name printed on one side of their tail and their size printed on the other side.
Of the toys just mentioned, Marx dinosaur toys are the most detailed, best crafted, and most desired among collectors. They were produced mostly in drab grays, greens, and browns. Colors such as tan, marbled gray and black, metallic silver, and metallic green are rarer Marx colors. The other toy companies mentioned generally produced more brightly colored toys in many different colors. MPC also made metallic silver and metallic blue figures; these are more common than the metallic Marx figures.
Miller
Another notable dinosaur toy manufacturer in the 1950s was J. H. Miller. Miller produced a large series and small series of prehistoric animals; these were larger than the more common hard plastic toys made by Marx and others. Miller figures were painted, hollow and made of a "waxy plastic" material that broke very easily. These figures are extremely rare today.
Recent Dinosaur Toys (1980s-Present)
British Museum of Natural History

Invicta produced a series of scale prehistoric animals for the British Museum of Natural History beginning in the 1970s and continuing until the 1990s. Many were sold in museum gift shops in the United States. Originals were unpained and each dinosaur was a different color. These toys contain the name of the animal and its size. Here is an example of the layout of the markings engraved on one of these toys:
ANIMAL NAME
Length about X.X metres
© BRITISH MUSEUM (NATURAL HISTORY) 19XX

Definitely Dinosaurs!
These friendly-looking dinosaurs were made by Playskool from 1987 to the early 1990s. Sizes ranged from several inches long to over 2 feet long. Each one came with a caveperson and some sort of saddle so the cavepeople could ride the dinosaurs. The dinosaurs are easy to identify because each one contains a small, embossed circular logo with an Apatosaurus in it. The toys also usually contain text that reads something like this:


© 19XX PLAYSKOOL INC
ALL RIGHTS RESERVED
MADE IN CHINA

Definitely Dinosaurs! logo
Dino Riders
These were some of the most scientifically accurate dinosaur toys of their time. They were produced by Tyco from 1987-1990. Dino Riders dinosaurs ranged from a few inches long to a couple of feet long. Each one came with a human or humanoid rider action figure and some sort of harness with weapons on it. Most of the toys had moveable limbs or some kind of button-activated action. Some of the larger ones walked and were battery operated. Dino Riders dinosaurs contain the following text somewhere on their bodies:
© 19XX TYCO TOYS INC
MADE IN HONG KONG

Carnegie Collection
The Carnegie Collection is a large line of "museum quality" toys made by Safari Limited. The toys are all to scale and range from a few inches long to about a foot tall. The toys are made of a hard rubbery PVC material that is heavy relative to toys of the same size. The Carnegie Collection has been in production from 1988 to the present, introducing a new series of figures each year. Toys from this collection contain the name and size of the dinosaur. The text reads something like this:
© 19XX THE CARNEGIE
SAFARI LTD
ANIMAL NAME
X METERS
CE
Wild Safari

These figures are similar to the Carnegie Collection figures, but smaller and not to scale. They were are also made by Safari Limited starting in the 1990s. Here is an example of the writing found on the bellies of these figures:

ANIMAL NAME
©199X Safari Ltd
Miami, FL
Made in China CE

Jurassic Park
The Jurassic Park franchise has been hugely successful and has spawned a number of toy lines. The original Jurassic Park toys were made by Kenner in 1993-1994; all later ones were made by Hasbro. Most Jurassic Park toys are hard plastic, rubbery, or a combination of both textures. Many feature some sort of "dino damage" wound where a bit of muscle and bone is exposed under a removable piece of skin. That skin piece is easily lost and adds value to the figure. Many Jurassic Park dinosaurs came with some sort of plastic "capture gear" that looks like muzzles or shackles. Many also came with human figures. Having the original accessories adds value to the toys as well. Larger figures usually have some sort of action triggered by a button or by moving a limb; many of these also made a noise. Here are some examples of the text stamped into Jurassic Park toys:
TM & © 1993 UCS & AMBLIN
KENNER, MADE IN CHINA
PA-282 ALL NEW MATERIALS
100% POLYESTER FIBER
TM & © 1997 UCS & AMBLIN
HASBRO
MADE IN CHINA
Besides these markings, most Jurassic Park toys contain a JP logo on a leg or wing that can be used to identify which toy line the dinosaur is from.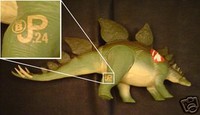 The Lost World Stegosaurus toy. Note "dino damage" wound on shoulder and JP logo on leg.


The picture below shows the different Jurassic Park toy markings. The X's represent numbers (many of the dinosaurs had their own unique ID number).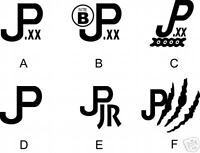 A: Original Jurassic Park toys (from the first movie), produced from 1993-1994. There were 2 series: Series 1 | Series 2

B: The Lost World toy (from the sequel to Jurassic Park). The circle next to the JP logo says SITE B in it. Produced in 1997-1998

C: Jurassic Park: Chaos Effect. Bizzare mutant dinosaur toys released after the success of the Lost World toy line. Produced in 1998.

D: Jurassic Park Dinosaurs toy line. There were 2 Jurassic Park Dinosaurs series. The first was produced from 1999-2000 and the second was produced in 2004.
E: Jurassic Park Junior. Preschool toys produced in 2001

F: Jurassic Park III toys (from the 3rd Jurassic Park movie). Produced from 2001-2002.

Selling Dinosaur Toys on eBay

Item Description
When you type up your item description give as many details about your dinosaur toys as you can. Include:
The sizes and colors of the toys
Any distinctive markings, especially manufacturer and date

Condition
Identifications, even if you are uncertain
Where you got them. Do the toys belong to your children? Are they yours from when you were a kid? How long have you had them? This will help put a minimum date on them. Plus everyone loves to read a good story!

Pictures
When taking pictures of your items, take into consideration all the factors you would consider when taking any picture (lighting, background, etc.), but also consider these tips when photographing dinosaur toys.
It is often helpful to include something in your photographs to provide a reference for size, e.g., a coin.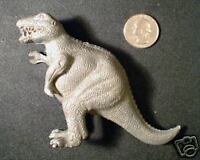 Marx metallic silver "potbelly Tyrannosaurus" with a quarter for scale
Collectors may be looking for specific toys so it is important that every toy in a lot is visible. For example, suppose you are a collector looking for Marx dinosaur toys. You know that the metallic silver "potbelly Tyrannosaurus" shown above is a rare figure. Take a look at the following pictures. Each one shows the same lot of dinosaur toys arranged differently.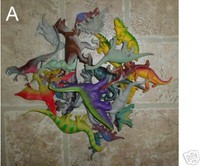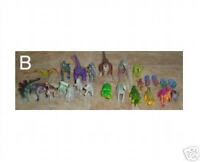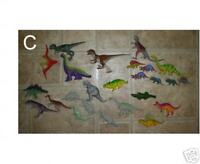 Can you find the Marx metallic silver "potbelly Tyrannosaurus" in picture A? Neither can potential bidders! When taking a picture of your toy lot, make sure every figure is visible. Picture B shows the dinosaur toys standing up in rows. This shows the toys better than A, but it is still difficult to identify all of them. This is because unlike human action figures, which are most easily identified from the front, dinosaur toys are usually easiest to identify in side view. I suggest arranging your dinosaur figures as shown in picture C.

Categories
There are several categories for dinosaur toys. The best category for you to list your item or lot in will depend on what dinosaur toy(s) you are selling. Hopefully the identification guide above helped with that!
Older dinosaur toys and collectibles can be listed in
Collectibles>Animals>Dinosaur
Toys & Hobbies>Vintage, Antique Toys>Play Sets

Toys & Hobbies>Vintage, Antique Toys>Other Vintage Toys

There are categories for Marx toy soldiers and Marx action figures, but Marx dinosaur toys don't really fit into either category
Other categories might be better depending on what you have:
Jurassic Park toys have their own category: Toys & Hobbies>Action Figures>Jurassic Park

Dino Riders and other recent dinosaur toys and action figures are probably best in: Toys & Hobbies>Action Figures>Other

Dinosaur toys intended for young children should be listed in: Toys & Hobbies>Pretend Play, Preschool>Dinosaurs

Resources
I hope you have found this guide useful and you are ready sell your dinosaur toys on eBay! Any questions you have can probably be answered by these books:
Cain, D., and Fredericks, M., 1999.
Dinosaur Collectibles
. Antique Trader Books, Norfolk, VA, 208 pp.
Glut, D. F., 1980. The Dinosaur Scrapbook. The Citadel Press, Secaucus, NJ, 320 pp.
Good Luck!