Carter's is a company that sells adorable and durable baby and children's clothing in the U.S.. In the past 8 years or so, they have begun selling collections of clothing that revolve around a specific theme. The collections are generally for infants 0-12 months and some collections will even have matching nursery bedding and decor. The collections are so adorable!! Once you have purchased one or two items from the collections, I am sure you will be out looking for more. Below is a list of the more popular collections that Carter's has sold, with the older ones listed first. I will try to give a brief description of each as well as some pictures to view. I hope you find this helpful!
For a great selection of Carter's collections check out Precious Baby Boutique
~John Lennon~
1999
"John Lennon was one of the most imaginative thinkers of our time. Even before he was a Beetle, he was poet, musician, and artist. And he was a loving hands on father to his son. As a natural expression of his love for his child, Lennon created delightful animal figures and drawings to teach, amuse and entertain him." (Carter's 1999) This collection is inspired by John Lennon's drawings. This collection is very popular and hard to find, due to the length of time it has not been in stores. The collection revolves around pictures of little rhinos, giraffes, and elephants in fun bright colors. Many of the items have musical notes and partial lyrics to some of his songs on them. The collection has items for girls and boys as well as nursery bedding and decor.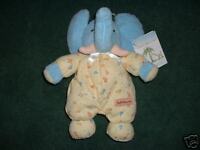 ~Emu Namae~
2000
Emu Namae is a blind artist who creates stories and art through his imagination. This collection is based on his art. There are actually 5 themes within this collection. The first one has green, purple and white tones with little frogs and raindrops. The second theme has yellow, orange and white tones with little giraffes. The third theme had blue, green, orange and yellow tones with little rhinos and lions. The fourth theme has blue and golden yellow tones with little dogs on vacation. The fifth theme is for girls with pink tones and butterflies, cats and tulips. This collection also extends beyond clothing to include nursery bedding and decor.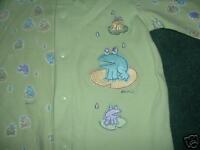 ~Just One Year~
2001
"In Just One Year, your precious little baby will learn to crawl, to walk, to smile, to laugh. In Just One Year, your precious little baby will show you how to look at the world in completely new ways. In Just One Year, you will celebrate treasured milestones together." (Carter's, 2001) Carter's has actually had three collections with this name, but I am just going to focus on the 2001 collection. The collection revolves around the most adorable little bears and bunnies that are made of a soft fuzzy material. The collection came in 4 pastel colors, light blue, light green, light yellow and light pink. On the clothes the bears and bunnies will be sucking on pacifiers, cuddling blankets or bears or pulling a little toy behind them. They also have cute sayings on them like "Joy is my first hug". This collection also extended past clothing to include nursery bedding and decor. The bedding for this collection is called "Hide and Seek" it is green gingham with the little fuzzy bears. This is my favorite Carter's collection! It is so adorable!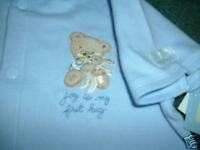 ~Eric Carle~
2002
Eric Carle is the author of the popular story "The Very Hungry Caterpillar". This collection is based on that story. This collection has bright blue, pink and orange tones with pictures of caterpillars and butterflies. This is one of the collections that extends beyond infant sizes to include toddler sizes as well. However most of the toddler sizes are themed around other Eric Carle stories. This is also a very popular collection.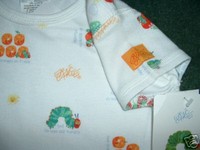 ~Once Upon A Time~
"Once Upon a time in a far away kingdowm lived a precious little prince and a little princess." (Carter's) This collection is themed around fairy princesses, dragons, knights and castles. It has mostly pink, white and blue tones.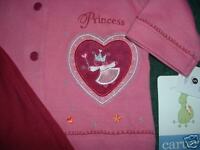 ~All About A Bear~
2003
Like the collection name states, the collection is all about a bear. This is a very popular line that also extends past clothing to include nursery bedding and decor. The boys line has dark and light blue tones. The unisex line has light green and yellow tones. And the girls line has pink and peach tones. All three have little fuzzy corduroy like bears on them. They have cute sayings on them like "cute and cuddly" and "all about a bear". The girls items also have flowers on them.
~Little Squirt~
2003
This sweet collection is based around a little whale that is "squirting" out water. This collection is all blue and white tones, so probably just for baby boys. Very Cute!
~Little Rose~
2004
This a beautiful collection that is based on little pink embroidered rosettes. Very feminine and so pretty! This collection was for girls only, as you may have already guessed. The items in this collection are all light pink and white tones. This collection extends beyond clothing to include nursery bedding and decor.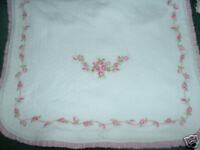 ~Dog Gone Cute~
2004
This collection is what it says! So dog gone cute! This collection is for baby boys. It has a combination of blue, white and tan tones. The outfits have little dogs on them doing different activities.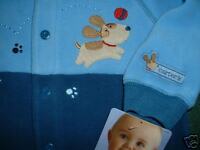 ~Baby Bubbles~
This collection has little fuzzy corduroy like frogs, ducks and bears on it. The animals are playing in little blue bubbles. Very Sweet! The colors for this collection are mainly light blue and white. It is for baby girls and boys.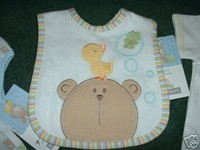 NEW COLLECTIONS
Sweet Daisy, On The Go, and Cute and Cuddly