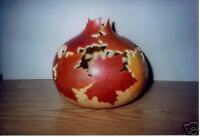 http://members.ebay.com/ws/eBayISAPI.dll?ViewUserPage&userid=gourdmandan
Craft gourds using the skills you already have in crafts, wood working, painting, decorating, carving and woodburning.
Gourd crafting has been practiced for thousands of years. Carved, painted and decorated gourds have been dug from the Aztec ruins of South America, discovered in the tombs of Egyptian pharaohs and found buried with the Ancients in China and Japan.
Fast forward to early America. The Pilgrims used gourds as household utensils. Many covered wagons rolling West over the Sante Fe, Oregon and California trails in the 1850's had gourd dippers swinging from the water barrels.
Today Gourdheads (gourd artists in polite company!) create beautiful works of art: vases, bowls, candle holders, bird houses and anything else they can dream up. Crafted gourds add beauty to your home and make wonderful gifts for family and friends.
Gourds maybe started indoors in mid March and set into the garden as transplants or directly seeded after the danger of frost is past. The prolific vines grow to 20 feet with side shoots to 12 feet. Growers with limited space grow them on trellises.
The first frost kills the vines. The gourds may be left on the vine to dry or harvested and stacked outside to spend the winter. Count it a blessing if your Winters include snow, ice, sleet, rain, freezing and thawing. Mother Nature is busy loosening the outer skin and producing that ugly black, brown or red mold on the gourd surface.
The gourds will be dried and ready for crafting in April. Yes, they will rattle when completely dried. The gourds are then scrubbed with a copper pot scrubber and cold water to remove the outer skin. Now you will see that all that ugly mold has created the most fantastic paterns on the gourd! After they dry for a day they are ready for crafting, carving, wood burning, painting and other embellishments.
For more information see my manual "How To Grow, Craft & Sell Hardshell gourds in eBay's auctions. Happy gourd crafting to you!