Definitions of: milk glass - mold - mold-blown - mold-mark - mold-line - mold-pressed - mold-etched - opalescent glass
GLOSSARY OF GLASS TERMS
M - Op
A - B Ca - Cz D - E F - L Ov - Pe Pi - Pz Q - R Sa - Ste Str - Z
The purpose of this guide is to help buyers understand terms
commonly used by E-Bay sellers to describe old American glass (made 1850-1930).
Please leave feedback by pushing the button at the bottom of the page.

Many thanks to all the E-Bayers who
have contributed photos to this glossary!


An example of milk glass: an Atterbury Hen covered dish, circa 1880-1890
photo courtesy of nickadameous
Milk Glass: a category of glass. Milk glass is generally defined as opaque white glass that looks like porcelain. Its color and opacity result from tin oxide being added to the glass while it is still in molten form. Milk glass dates to the 1500's in Europe. In the United States, the first milk glass was produced in 1609, near Olde Jamestown of the Virginia Colony. Milk glass first became popular in America at the end of the Victorian Era and turn of the century, from the early 1890's to about 1910. The glass enjoyed a resurgence in popularity during the Depression and World War II. Prominent American makers of early milk glass included, among others, Atterbury, Fenton, Fostoria, Gillinder, Hobbs, Imperial, Jeannette, McKee, Sandwich and Westmoreland. Although milk glass is characteristically white, interesting variations in colors such as green, blue and yellow exist. The covered hen shown above is Victorian milk glass with a cased-glass blue head. Special note: Many reproductions of old milk glass have been issued, and considerable expertise is sometimes required in distinguishing old from new milk glass. If you're interested in learning more about milk glass, we recommend the website of the National Milk Glass Collectors Society (nmgcs.org). We also recommend the publication Early Milk Glass 1891-1911: Dithridge, Gillinder, McKee, which can be found through the website of the West Virginia Museum of Glass (wvmag.bglances.com).



The straight line on the back of this carnival bowl
is a mold line or seam mark that shows where the glass
was pieced together after being removed from a metal mold.

photo by curculiosglass
Mold: a glass-making implement. A mold is piece of metal or wood shaped into a pattern, used to make glass. Molten glass is placed in the mold, and after cooling, the mold is opened and the glass piece is removed. Some early American glass molds were made from a single solid piece, and others were made of several molds, or of hinged parts, so that the glass could be removed more easily. Mold lines, also called seam marks, are the seams where glass made from several molds was pieced together. In the photograph of the carnival bowl shown above, a mold line is clearly visible; such lines are a natural result of the glass-making process and not considered flaws. "Mold marks," by contrast, is the term used for imperfections created in glass during manufacture. For pictures of a metal mold, visit the website of carnival glass authority, David Doty (ddoty.com/howmade.html). For a picture of a mold mark, see David Doty's carnival glass glossary (ddoty.com/glossary.html).





A mold-blown tumbler made by Paliwal:
an example of Indian carnival glass.
photo by curculiosglass
Mold-blown glass: blowing glass is a glass-making technique. Mold-blown glass is made by using a hollow tube called a blow pipe to blow molten glass into a mold. The glassmaker continues to blow until the glass has been pushed against all surfaces of the mold so that the glass takes on the mold's shape and pattern. Indian carnival glass, such as the Paliwal tumbler above, was made using this combined method of blow-pipe and mold. Such tumblers are characterized by thin, fragile glass with the uneven and beautiful texture of old blown windows.
Mold-etched. See "etched" in this glossary.




A Fenton Peacock and Urn carnival glass bowl, circa 1912-1914:
this is an example of mold-pressed glass.
photo by curculiosglass

Mold-pressed glass: pressing glass is a glass-making technique. Mold-pressed glass is made by pouring molten glass in a metal mold, and then pressing the glass with a metal plunger so that the glass takes on the mold's shape and pattern. A piece of glass made in this way also may be referred to simply as "pressed glass". Mold-pressed glass differs from mold-blown glass, because mold-pressed glass may have an interior design pressed into it that is independent from the outer design created by the mold. The carnival bowl shown above is an example of mold-pressed glass in which a pattern has been pressed into both sides of the piece.
Muranese: see "New Martinsville peachblow" under "peachblow" in this glossary.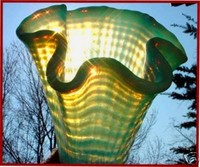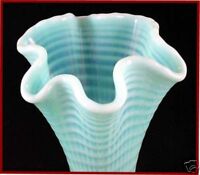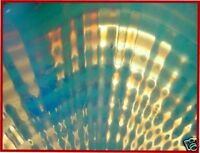 An opalescent glass Ribbed Spiral vase made by the Model Flint Co., circa 1900:
At center is a detail of a vase mouth by daylight; to the right and left are photographs
showing the vase's fiery reddish opalescence when held to light.

photos by i_deal_it

Opalescent glass: a category of glass. Opalescence in glass is a milky translucent quality. As shown above, when held to light, opalescent glass may display fiery red or golden highlights. Opalescence is produced in glass through a variety of techniques: by adding bone ash to the glass formula; by fusing layers of glass together; or by repeatedly heating and reheating glass through firing. Opalescent glass was first patented in 1879 by American artist John LaFarge, who used it in the making of stained-glass windows: an example of a LaFarge window can be viewed at the website of the Metropolitan Museum of Art (metmuseum.org/explore/lafarge/HTML/cat8.htm). Opalescent glass became popularized in the Art Nouveau period (1880-1914), chiefly through Louis Comfort Tiffany. Tiffany used opalescent glass in stained-glass windows as a means of achieving painterly effects without applying external paint, staining or flashed coloring to glass; an example of a Tiffany window is shown below. Blown opalescent glassware: Tiffany also experimented with various techniques for producing hand-blown and mold-blown opalescent vases and other glassware. One of Tiffany's techniques was to use two layers of glass, the outer layer of which contained a reactive component such as bone ash. The two-layered piece was blown into a mould that gave the glass a raised pattern. When reheated, the raised pattern turned white, forming a silhouette against a (usually) clear background (see Budd Moore's Opalescent Glass: The Pearl of the Glassmaker's Art, at picketnews.com/archiveDetail.asp?cID=8&id=2264). An example of such blown opalescent glass may be viewed at the on-line Glass Museum (glass.co.nz/opalesc.htm). Pressed opalescent glassware: In the United States, pressed opalescent glassware reached its heyday around 1884-1907. Such glass, exemplified by the vase shown in the above photographs, typically has areas of transparence fading into milky translucence at the edges. Pressed opalescent glass of the late 1800's and early 1900's was made by adding a heat-sensitive chemical such as bone-ash to a layer of glass, to produce a milky or opaline effect. This opaline layer was then repeatedly fired and fused with a layer of clear glass: this process caused the edges of the clear glass to take on an opaline appearance as well. Such glassware often features a milky-opalescent raised pattern against a background of blue, green, canary-yellow, cranberry or amethyst glass. American companies that issued this type of pressed opalescent glassware in the late 1800's and early 1900's included, among others, Beatty, Beaumont, Coudersport, Dugan, Fenton, Hobbs, Jefferson, LaBelle, Model Flint and Northwood. The British company Davidson also produced opalescent pressed glass. If you're interested in identifying an old American opalescent pressed-glass piece, see our on Guide Index, which will direct you to various guides on opalescent pressed glass. European blue-tinged opalescent glassware: A third kind of opalescent glassware was produced in Europe from the late 1800's well into the 1900's. As described by The Glass Encyclopedia (glassencyclopedia.com/opalescentglass.html), this third kind is a "blue-tinged semi-opaque or clear glass with milky opalescence in its center, typical of Lalique, Sabino and Jobling's," which tends to display a golden opalescence when held to light. In such glassware, opalescent color is produced by slowly cooling molten glass, causing crystalization inside thicker parts of the glass. You can find various photographs of such opalescent glass at the on-line Glass Museum (glass.co.nz/opalesc.htm). We also recommend an article on Lalique in Southwestern Antiquing and Collecting Magazine (go-star.com/antiquing/lalique.htm), which will point you toward other resources as well.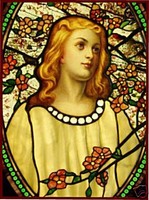 Detail of "Girl with Cherry Blossoms", a Tiffany stained-glass window
circa 1890, incorporating opalescent glass.

public domain photo
Click here to continue on to Ov - Pe.
-----o-----

Many thanks to E-Bayers i_deal_it and nickadaemous for generously contributing photographs to this page of the glass glossary. Rights to all photos belong to the photographers, and pictures should not be used without their permission. Text is (c) 2007 curculiosglass, all rights reserved. To locate any E-Bay seller mentioned here, just click on "Site Map" at the bottom of your E-Bay screen, and then click on "Feedback Forum" at the right top corner of the large menu that pops up. Type or copy the seller's name into the Feedback Forum's search blank.
If you found this guide helpful, please leave feedback on the guide by pressing on the button below -- this helps the guide rise in the review index, so that buyers can find it more easily. To read our guides on carnival and opalescent glass, click on GUIDE INDEX.