Getting the Best Results Photographing Jewelry at Home
By Leslie Lintner
October 9, 2006
One of the most important features of selling jewelry are the pictures showcasing the beautiful pieces of work. Most cottage industry jewelry makers and designers do not have the capital to spend buying professionally produced photographs of the items they are listing. Most jewelry designers make one-of-a-kind pieces, so it is cost prohibitive as well as inefficient to hire someone to take a photograph of an item that will be listed only once (hopefully.)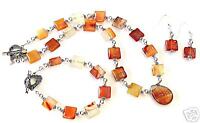 So often, beautiful pieces of jewelry go unsold because the pictures do not do the piece justice. They simply fail to sell the jewelry. These photo are either out of focus, improperly exposed, too small or hard to distinguish from the background. Fortunately for everyone that sells jewelry on ebay and struggles to get a decent picture, there are some tricks of the trade by using natural light effectively, adding props, using displays and editing the images to produce the best possible result.
Over the years, I have successfully photographed hundreds of pieces of jewelry for my websites. I have learned how to get great results from a variety of mediums. All you need is a scanner or a digital camera and picture editing software to get the job done. You can even use traditional 35mm cameras if you have not entered the digital age. I recommend a color scanner, a good digital camera with a telephoto lens and built in flash and a good photo editing software suite. I use ArcSoft PhotoStudio 2000 and Olympus CAMEDIA Master. Most photo editors have similar functions. Work at learning how to manipulate your editor to achieve the best results. The camera I use is an Olympus C-700 that I purchased several years ago, and I have a Cannon flatbed scanner.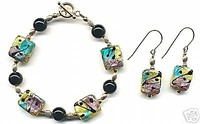 My best photos are pictures taken by a digital camera. The contrast and exposure are easier to control. The first key to a great digital or traditional photograph is composition. I generally photograph the piece I am working on in several positions from several angles at different focal lengths. I prefer to add some type of prop. I love beautifully colored flowers or even green leafy branches. It adds a pizzazz to the picture and it gives scale for the piece of jewelry.
Next I only shoot photos on a white background. This makes it easier to adjust colors (color balance) and tones and control exposure. White is easy to use as a color guide to get true color representation in the photo. Lastly, I try to shoot in a well-lit shaded area where there are no shadows and I do not have to use a flash. Then I use both natural light and a fill flash to get the best lighting result.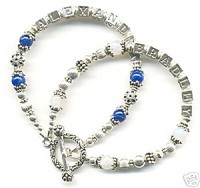 The best way to use a flash on a digital camera when shooting shiny surfaces is to get further away from the jewelry and use the telephoto lens. I take several pictures at different focal lengths and angles using the flash and natural lighting. I will generally take about 12-15 pictures. I always place my camera on a solid surface to minimize camera shake when I am not using a flash. Almost anything will work from the tabletop, a coffee mug to a tripod. I will sometimes employ a clear acrylic stand if I am not getting the results I want from a flat surface. I repeat the same process taking 12-15 more photos. Once I feel confident that I have taken as many shots that I can using different techniques, I move to the computer and review the photographs.
Once I download my photos, I start using the photo editor. The first thing I do is crop the image as close to the sides as possible. I brighten and add contrast to just about every photo I take. I resize them to a usable size. I like my smaller pictures at 375 pixels wide and my long pictures to about 750 pixels long. After I resize, I always sharpen the image because resizing will soften the focus. If one part of the picture is out of focus but the other part is fine, I will select areas to individually sharpen. I remove shadow wherever it interferes with the photograph. I both enlarge the photo and use the erase function or I select areas and cut. This is a tedious process but the results are worth it. Finally, I adjust the tone making sure the white background is true white and the colors are natural.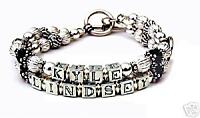 You can also use a flat bed scanner. This makes a more one-dimensional picture but the detail is great. I place my item on the flatbed scanner and arrange it in a nice position. I place a piece of white paper over the item and shut the lid. The paper keeps the lid sides from appearing on the photo if the item is close to the side. I scan at about 400 dpi. After I have made the scan, I import the scan to a photo editor and use the same techniques on the scan as I do for digital photographs. Do not be afraid to orientate a scan to get more interesting result by rotating the image. You can add rulers to a scan for scale. You can even use interesting backgrounds to spice up a scan to achieve attractive results. I have used lace, suede and leather.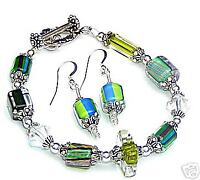 If you are using a 35mm camera, I would employee the same techniques used with a digital camera. I would try to use the smallest aperture possible to get the largest depth of field possible in natural lighting. I would use a camera stabilizer of some type because shutter speeds will be slower. I would use the slowest, finest grain film I could get away with.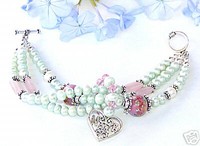 When using an artificial light source for either digital of 35mm cameras, I employ a light ring vs. a flash for the close-up or macro photography that jewelry requires. If I have to use a standard flash I use an off camera flash and get a more appealing angle for the flash or bounce the flash back onto the jewelry avoiding directly lighting it up or I use off camera static continuous white lighting. If you cannot afford studio lighting, try your own lighting and use indirect or overhead lighting to minimize shadow. Only try this with a plant light or a white light or you will get a very yellow tone almost sepia like result. If I don't have a flash sync, cord or off camera flash, try bubble wrap wrapped around or over my camera flash to diffuse light. There are also lens filters that help reduce flash back or glare from shiny surfaces. I have also shot jewelry on a light board using a fill flash. All of these techniques will reduce shadow and glare from the shiny surfaces of jewelry.
When the film is processed, I would request a photo CD and then proceed with a digital photo editor. If this is not possible, it will be necessary to scan the photograph into a digital format. Then you can use the photo editing software to tweak your results.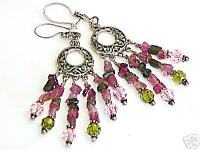 All of these techniques with practice will definitely help you produce more appealing photos for your auctions and websites. The better the picture, the easier it is to sell an item and get a more appealing price for it as well. You do not have to spend lots of money on professional photographers or expensive equipment. All you need to do is learn to use your tools effectively to get the best results. Good luck and happy picture taking! To see more of my jewelry pctures, visit my auctions at namesonbracelets