The Garnet - January's Birthstone
Spessartite Garnets
The garnet is the birthstone for January on the Modern, Traditional, and Jewish charts. It is also February's birthstone on the Zodiac chart. Garnet actually means "grain" and isn't just a single gemstone but a group of similar gemstones. Garnets are best known for their wine color, but don't despair if that deep purple-red isn't your color! Garnets come in many colors, from the red of the pyrope and the wine rhyolite garnets to the green of Tsavorite and demantoid garnets and the deep vibrant orange of Spessartite garnets. The green of the rare and valualble Tsavorite and demantoid garnets can be a pale golden green all the way to a deep emerald green. Grossular garnets come in all colors except blue. Don't forget the Hessonite garnets (also called cinnamone stone and hyacinth) which also come in shades of orange. Almadine garnets are a gorgeous deep red, too, and were one referred to in ancient times as carbuncles (meaning fiery) ,as were ruby, spinel, and other deep red gemstones. Garnet mine locations are as varied as their colors, and they are found world wide and are often a sign of diamonds nearby.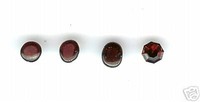 Rhodolite & Pink Garnets
If reds, oranges, and greens don't light your fire, then the Old Testament chart also offers you jasper as a birthstone for January. Jasper is also found world wide and comes in a variety of colors and patterns - from teal to leopard print - for a wide variety of looks and styles.
The Zodiac shart offers the choice of ruby as a birthstone for those born in January. While the Spanish chart offers the more exotic hyacinth. Hyacinth was popular in the ancient world, and depending on the source, was either a bright red-orange zircon (not to be confused with the sythetic cubic zirconium), similar in color and appearance to the Hessionite garnet, or a deep blue sapphire.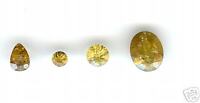 Grossular Andrate Garnets
Garnet Gem Lore
Garnets were highly prized by the ancient Greeks and Romans. In the ancient world, garnets were believed to be have many properties. Garnets were believed to get rid of discord and anger as well as protect against plague and thunderstorms. They were connected with the womb, femininity, and fertility. Garnets were also believed to bring horrendously bad luck to anyone that stole them until they were returned to their owner. Garnets were also credited with the ability to warn of impending danger and were worn as talisman. It was also believed that the bright fire of a garnet could not be put out or hidden.
Tsavorite Garnets
Medically garnets have been used to treat as well as cause hemorrhage, blood disorders, and inflammatory diseases, such as arthritis. They were also believed to strengthen the heart.
Metaphysical
With regard to the chakras, the deep red garnet is traditionally associated with the base, or root, chakra. The base chakra is the root of survival, grounding, and the most basic needs. Orange garnets are associated with the sacral chakra, which related to sensuality and sexuality, and the garnet is also traditionally associated with these traits. Green garnets are associated with the heart chakra, which relates to love and compassion. Garnets are also believed to lower inhibitions as well as opening the heart and increasing self confidence. In addition to opening the heart, the garnet is a stone of love, devotion, and commitment and inspires hope and courage. Garnets can cleanse and re-energize all the chakra as well as bringing the root chakra into balance.
Magickal
In modern magick, garnets can be used for a variety of purposes as well as substituted for other stones. It is always best to use them in rituals and spells or for purposes in line with their traditional properties. Garnet is often worn during ritutals and spells to increace the energy and the power of the ritual or spell. Garnets are also considered to be a very protective stone. They protect against thieves, as already mentioned, either by giving off bad vibes when you are wearing them and discouraging theft or by bringing bad karma to those that steal them (or both). They also strenthen the aura and provide a protective shield - against everything from negative energy and psychic attacks to demons.
In addition to the above, the different types of garnets also have qualties particular to themselves. Almadine garnets are considered very regenerative, especially for strength, stamina, and energy, and open your mind for channeling. Rhodolite promotes trust, sexual passion, and intuition. Hessiontie is used for astral projection as well as incresing intuition and psychic abilities. Spessartite garnets encourage rational thoughts as well as compassion, empathy, and generosity. Grossularite garnets are worn to overcome challenges and infertility, as they promote a relaxed state of being and fertility. Andradite garnets cleanse and enlarge the aura - especially useful in protection spells and rituals. They also pen the third eye and increase strength and courage.
While garnets aren't a single type of stonem they are certainly a beautiful and varied group - whether looking at their rainbow of colors, their metaphysical uses, or their history. Garnets have been considered throughout history to be valuable and powerful stones they still are today.