GameBoy did it again! They are coming out with the GameBoy Micro.
So, what's the difference in GameBoy, GameBoy Pocket, GameBoy Color, GameBoy Advance, GameBoy Advance SP, and GameBoy Micro?
Here's a brief chronological explanation:
Gameboy
Nintendo introduced their handheld video game system called GameBoy in the late 1980's. Approximately 7 in. long x 3 in. wide and 2 in. thick, this handheld is grey plastic with a black and white display screen. You need two AA batteries to work it.
To play, you insert different game cartridges into the top of the game system. GameBoy has over a thousand games and dozens of accessories. Only GameBoy games work on this--not GameBoy Color or GBA games.
Although they've been discontinued from the manufacturer, more than 60 million of them were sold worldwide. E-bay is the best place to find a used one.
GameBoy Color

Early in 1998, Nintendo released the Color Gameboy system. They upgraded the original through color and power as well as making it slightly smaller and lighter weight.
GameBoy Color came in a variety of colors and special editions. They have more detailed graphics and 56 colors saturated LCD screen. Equipped with an 8 bit CPU (computer power units) GameBoy Color has more than double the power of the original GameBoy.
In addition to a wide selection of new games, this GameBoy Color had exciting accessories like a camera, a printer, extra battery power, and an add on light.
The screen is hard to see in certain light conditions and from side angles. You really need the add on light to play in most circumstances.
Nintendo also developed a link cable so two game systems can link together to play one game. Each player needs their own copy of the game.
The game system requires two AA batteries.
This handheld also has been discontinued by the manufacturer.
GameBoy Pocket
The GameBoy Pockets have a black and white screen--although it is not the same greenish shade of the original GameBoy.
It is the same shape design as Gameboy and GameBoy Color but it quite smaller in size and lighter in weight..
The best thing about the GameBoy Pocket is that it has a contrast slider. You can change the brightness of the screen.
This Gameboy Pocket is hard to find. Of course you can find it on e-bay--but not that many were produced.
GameBoy Advance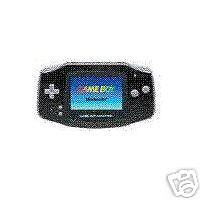 Nintendo changed the shape of GameBoy again in the GameBoy Advance or GBA with a horizontally held game and a wider and reflective TFT color LCD screen.
GBA's come in different colors and are slightly bigger than GameBoy Color and slightly heavier. It has the same front buttons as the previous GameBoys, as well as top A and B buttons for extra moves.
The new screen format can be changed with the A or B button to make it smaller like original games or wider screen format with higher resolution and more detailed graphics. This one has 32 CPU's which makes it faster; the games flow easier and sound better too.
Nintendo included scaling and rotating effects, too. Scaling makes objects look different sizes--bigger and smaller. Rotating effects allow the player different perspectives. The sounds can be turned up or down by the volume control. This one has an earphone jack, too.
The anti glare screen makes it darker and a bit hard to see. However no hotspot sidetracks player's vision. You need good light to play but they make an add on light accessory.
You can use a game link cable (which is sold separately) to hook up to other GBA systems to play four player games on four different screens. Unlike the GameBoy Color, you can share a game and each player doesn't need their own.
It takes two AA batteries. However, the battery cover falls off easily. You can also buy an accessory with a rechargeable battery. It stays on better than the manufacturers battery cover. (Duct tape also works well and is cheaper.
It has been discontinued by the manufacturer. Always available on ebay!
GameBoy Advance SP

Nintendo developed a durable flip-open GameBoy. This design protects it. Nintendo also added more colors in their screens pallette and front lights with the reflective LCD screen. Best of all, they included a built-in rechargeable lithium ion battery.
The new shape makes portability easy. It folds up and fits in most pockets. However, it works better for smaller hands. The buttons are smaller making them easy to miss.
The new center button so tiny--it is the front light button. The front lighting quality is good--you really need it in most lighting situations.
Unfortunately, there's no earphone jack. There's a volume control slider but the sound does not go as high as the GBA either.
It takes about three to four hour of charging to play approximately ten to eleven hours. Front lighting uses more energy. You can play while it is plugged in and charging.
Gameboy games are backwards compatible. The older games work with new systems but not vice versa. As with GBA--this version comes in different color outsides. They seem metallic rather than plastic.
Some of the older colors have been discontinued by the manufacturer. You can purchase these in stores as well as online. They retail for $79.99.
GameBoy Micro
Back to the horizontal design, Nintendo just began producing the GameBoy Micro. They include a velvet carrying pouch and a faceplate package to customize your own game system to your personality. The faceplates protect the screen.
This new handheld is smaller, thinner and lighter than the GBA SP and has an earphone jack. The screen is smaller which makes it seem sharp and crisp. It has a contrast slider for adjustable brightness, although it seems brighter than the others.
The best returning feature, they have a built in rechargeable lithium ion battery.
The worst problem--unlike GBS SP's and all the others, it is not compatible with earlier GameBoy and GameBoy Color games--only the GBA games.
It retails for $99.99.