Let me introduce "FROZEN CHARLOTTE" and her beau "FROZEN CHARLIE" ….charming ANTIQUE Dolls from the VICTORIAN era.
To really appreciate these captivating dolls, one must know their history…
I plan through this buying guide, to share not only their history, but the fascinating story behind these "FROZEN CHARLOTTE and FROZEN CHARLIE" dolls. My guide will give you information that will be helpful in buying, selling and collecting these tiny, almost forgotten, antique treasures from the past.
Their story is filled with romance, lost love, vanity - motherly advice ignored and a night gone wrong that ends in tragedy ~ the tale is captured in an old Folk Fable turned to song in the American Folk Ballard known as "YOUNG CHARLOTTE" by William Carter.
The orignal poem, from which the song was derived, by Seba Smith was called "Young Charlotte". He was inspired to write the poem after reading in the New York Observer on Feb 8, 1840... "A young woman... was frozen to death while riding to a ball on Jan 1, 1840."
The poem begins "Fair Charlotte lived on a mountainside"... and ends with the death of her broken hearted beau ..."And they both lie in one tomb".
First, before the story begins..........let me show you a "FROZEN CHARLOTTE" doll so you will be familiar with these little darlings as we go along. Pictured below is a RARE tiny example of a "FROZEN CHARLOTTE" encased in an antique pocket watch.
Coming from a Fabulous Atlanta Georgia "Frozen Charlotte" Doll Collector's estate; She would wear jewelry pieces such as this when she was out on the hunt for more. She searched antique shows and estate sales throughout the South and beyond, to garner as many fine examples of these treasures as she could for her collection, way before they became the HOT COLLECTIBLE ITEM they are today!
"FROZEN CHARLOTTE" Collectors have found eBay to be one of the best places around to find RARE and FABULOUS antique "FROZEN CHARLOTTE and CHARLIE" Dolls. As with any new collectible, there has been a lot of misinformation swirling around about "Frozen Charlotte and Charlie" dolls.
Now, gathered from my own research and many years of dealing in these little treasures; is the real story……………
Manufactured as early as 1850, these intriguing bisque/china/porcelain dolls were originally produced as VICTORIAN BATHING DOLLS called "FROZEN CHARLOTTE"; so named from a song about a Victorian era girl who went out dancing with her beau to a ball at a nearby inn. She left without her wrap against her mother's wishes and froze in the snow…………..
The early American Folk Ballard known as "YOUNG CHARLOTTE" as mentioned earlier, was written by WILLIAM CARTER and is still sung today by "old time folk singers". Many of those singers, who sing the Ballard about young Charlotte, don't even know about the little dolls and their existence!
…………………….The song goes on to tell the story of how on a piercingly cold, winters night, Charlottes beau, Charles, picks Charlotte up in his sleigh to attend a ball at the village inn, 15 miles away. Looking lovely, young Charlotte, dressed in her finery, vainly wanted to be seen and admired along the way, did not heed her mother's good advice and cover herself with a blanket, refusing even to wear her wrap. By the time she and Charles arrived at the inn, Charlotte was a frozen corpse! The song goes on to say that Charlie soon died of a broken heart and they forever slumber together, in one tomb…………end of story!
The song, a favorite in the US, is sung by Folk singers today. Imagine, an obscure tidbit in a Jan 1, 1840 newspaper, remained "alive" in poem, song and doll to become a part of American Folk Lore for over 160 years!
Around 1860, shortly after the larger, up to 15 ½" "FROZEN CHARLOTTE" BATHING GIRL Dolls began to be produced, the Victorians found the larger, naked dolls to be immoral, so they began calling them "FROZEN CHARLIE". Drainage holes in the buttocks area on these larger bathing examples are original to the piece.
Pictured below is an exceptionally fine "FROZEN CHARLIE" VICTORIAN BATHING DOLL in VINTAGE GLASS DOME.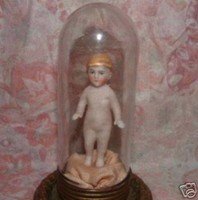 Exceptional Frozen Charlies such as this one, especially those found in such charming Vintage displays, are RARE and most desireable among collectors.
"Frozen Charlottes" sizes range from less than 1" up to 15 ½" on the larger bathing models.
One very interesting fact I've learned about these tiny treasures is that in the early Victorian days, the tiniest ones were sometimes baked into children's BIRTHDAY CAKES or CHRISTMAS PUDDINGS to be found by the tiny guests as party favors as they bit into their piece of cake!
Just imagine, a small child bathing with one of these china dolls in a porcelain claw foot bath tub; or biting into them in a piece of birthday cake or pudding! It is amazing any of these dolls (or the children involved for that matter) ever survived!
Condition is very important to the value of these dolls with collectors, perhaps even more so than with larger antique dolls. A single chip on the foot or hand can greatly decrease a "Frozen Charlotte" dolls value. Still, if the doll is especially nice or has some rare feature, small imperfections can be forgiven and the doll can still hold its value.
Smooth wear, just from years of being handled, or mold imperfections under the glaze done in the making are not considered flaws. It is not uncommon at all for these dolls to be flat rather than shiny on their back and to have some minor roughness there. Also, tiny black specks in and under the glaze that were made during the firing of the piece are considered normal and are to be expected and do not detract from the value.
As the name would imply, these dolls are to be "FROZEN" in shape and do not have any moveable parts. Many times on eBay, sellers will list small, all bisque jointed dolls mistakenly as "Frozen Charlottes", they definitely are NOT so be sure to look carefully at the pictures and ad descriptions for any moving parts before bidding if you are looking for a true "FROZEN CHARLOTTE".
Most of these dolls were manufactured by numerous factories in Germany from 1850 to the early 1900s although few bear any identifying marks. Some are marked with incised numbers on their backs similar to those found on larger antique bisque French and German china and bisque dolls. On the larger bathing dolls, marks can sometimes be found on the dolls back or feet bottoms. I do not know for a fact, but suspect that these numbers represent the size or style of the dolls. Marks include numbers such as 0, 000, 0/7, 0/8, etc. Some have a trademark and/or marked GERMANY. Being marked can add some to a "Frozen Charlotte" dolls value, but being unmarked does not detract as most are unmarked.
"Frozen Charlottes" are most commonly white bisque china and can be found to be glazed or unglazed. Shiny glazed white porcelain ones with nicely hand painted features and a nice pink blush to their cheeks and head, are most desirable. Unusual hair colors such as blonde, or even red, bring higher prices than the more common black. On the larger bathing examples, the peach face tint covers the head from neck up with the body being shiny glazed white. Eyes can be black, brown or even blue. The eyes can be just dots on the face or very detailed with painted lashes, lids, eyebrows, pupils, etc.
BLACK "Frozen Charlottes" RARE and "Hard to find" do exist. An especially nice Black "Frozen Charlotte" in good condition can fetch a high price!
This lovely and tiny "Frozen Charlotte" seen pictured below came out of the same RARE Doll Collector's estate in Atlanta as the ones pictured above.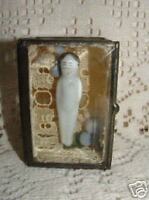 This RARE example is encased in a tiny brass and beveled glass display case. She strikes a RARE POSE with one arm straight by her side and the arm other across her chest, just below a tiny flower with stems and leaves that was etched in her glaze just above her heart!
Most commonly, "Frozen Charlottes" are posed with straight feet and bodies with arms bent at the elbows with tiny clinched fists facing forward, especially on the larger Bathing Dolls. These larger Bathing Dolls can usually stand on their own and most of the smaller ones lay down on their backs. That is why wear to the backs on the tiny ones is not uncommon.
Unusual poses for the little dolls consist of hands crossed over the chests, hands out to the side with a little separation from the body, and variations to this still being uncovered such as the ones pictured above and below.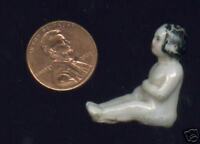 This RARE beauty from my own collection is the finest example I've found of a FROZEN CHARLOTTE in a sitting position.
Especially sought after are ones with something different or unique; with features that make them stand out from the rest. Unique examples are being uncovered today as the tiny treasures surface and find their way to eBay from estate sales, dealers and private collectors. On eBay, savvy collectors keep a search for "Frozen Charlottes and Frozen Charlies" saved on their My eBay favorite searches watch page. They snap these little darlings up quickly with the Buy It Now option, before others find them and bid the price up until it soars!
Most RARE are those with unique features such as unusual hair styles, hair ornaments, hand-painted stockings with tiny hand-painted bows at the top, molded and/or painted high top Victorian boots or shoes, molded dresses, or those encased in antique objects such as antique watch cases, beveled glass boxes, antique broaches, pins and lockets.
I have uncovered some of these myself, mostly coming out of the Fabulous Antique Doll Collection from Atlanta where the owner specialized in collecting these tiny treasures. I once offered on eBay a tiny example less than ¾" encased in a hand-blown, free standing, twisted glass tube. FABULOUS! She found her way to a doll collection in FRANCE thanks to eBay!
Especially lovely painting and/or face coloring, nicely molded bodies with lots of detail such as belly buttons, rolls of fat on legs and arms, tummy rolls, back, finger and toe detail, etc. all help to make one "Frozen Charlotte" more VALUABLE than the next.
As far as "FROZEN CHARLOTTE and CHARLIE" Dolls value goes, the "sky is the limit" when all things come together on a RARE and UNIQUE example in MINT CONDITION!
I have seen "Frozen Charlottes and Charlies" sell for less than $5.00 on some of the crude ones with no painting and little molding, to upwards of $1500.00 for the more RARE examples. This field is still relatively new to many doll collectors and there are still bargains to be found. As this area of doll collection becomes more well known and more doll enthusiasts learn about the history of "Frozen Charlottes" and the story behind them; they will fall in love with them as many already have, making the little Charlottes even harder to find, their value can only increase!
I hope this antique "Frozen Charlotte and Charlie" doll buying, selling and collecting guide has been informative and helpful to you in learning more about the history, value and the love of these tiny treasures!
To see my latest offerings, check my auctions on eBay ~ seller pjgal2000 where I occasionally have RARE examples of "Frozen Charlottes and Charlies" from this FABULOUS ATLANTA GEORGIA DOLL COLLECTOR'S ESTATE. Here is the link: My eBay auctions pjgal2000

To learn more about me and my antiques shop here in Georgia and my eBay business, check out my about ME page on eBay. Here is that link: About Me

Now put in a search for "FROZEN CHARLOTTE" on eBay and make one your own! But I warn you, they are like potato chips, once you start you just can't stop at one! Enjoy!
This guide comes from my many years of experience in buying, selling and collecting Frozen Charlottes/Charlies. I have done much research through many vintage newpaper articles and have copies of those and other documents to substantiate my findings on Frozen Charlottes/Charlies. Feel free to use this guide for your own personal reference source but I ask that you please do not use it in any other way without my permission. You may contact me through eBay under power seller pjgal2000 regarding usage of this guide.
Copyright May 4, 2006 - pjgal2000