If you find this guide helpful please give it a positive vote. On-the-other-hand, if you find this guide lacking please take the time to send us your thoughts so that we might improve the guide.
Monopoly isn't simply one of the best selling board games in the world it is the best selling board game in the world. Most of the various editions have been available at one time or another right here on eBay. Indeed, some incredibly rare games have made an appearance and sold at unbelievable prices at both ends of the spectrum.
The Franklin Mint Collectors Edition has long been considered the most luxurious edition of Monopoly. This edition draws a great deal of collectors and players to eBay looking for complete games to individual parts.
Unfortunately, not everything you read in an eBay listing or in these guides is accurate or even well thought out. Sometimes the information that is posted in these reviews is done so under ulterior motives designed to create a false sense of scarcity to drive prices up or influence sales. Don't be fooled. This guide will set straight the issue regarding the various types of Franklin Mint Monopoly (Collectors Edition) money.
There are multiple types of Collectors Edition Money; however, there are 3 main types and a 4th notable type.
Type I bills are notiecably lighter in color and do not have the "printed in the U.S.A." designation. The bills are generally associated with the early production of the Franklin Mint Collector's Edition of Monopoly.
Type II bills are of course, slightly darker in color and have the "printed in U.S.A." designation. On the correctly identified Type II bills you will also find a "TM" designation for Trademark behind the word Monopoly. This is a lesser designation that many companies use to protect trademarks while the trademark is pending registration with the U.S. Patent and Trademark Office.
Type III bills are the same in coloration as Type II bills. These bills also have the"printed in the U.S.A." designation but do not have the "TM" designation. These bills are printed with the "®" indicating a registered trademark. The "®" provides a higher, legal level of trademark protection and is generally preceeded by the "TM" designation.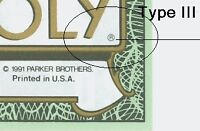 Since the publication of "other" guides about Franklin Mint Collector's Edition of Monopoly we have received many questions asking for clarification and accurate information. Below we have included some of the more common questions. We will continue to update this FAQ section as needed so feel free to ask any question not answered below!
FAQs
1. Is one type of money more valuable than the others?
No, at least not yet. Realized prices are generally the same for all types. Types I & II have been out of use for quite a while. The only supply will come from the secondary market. There are still lots of unopened & unused games out there to supply new and sealed packages of money. Although, even sealed money or un-played money can show signs of wear and soil accumulation as those older games remain in storage. Type III money is still in production with excellent availability right here on eBay.
2. Does it matter what type of money I buy?
No. All types blend well and over time even the color differences tend to fade. That is, of course, if the game gets played and the bills handled. Serious collectors may want to add all types of bills to their collections but avid players won't notice the difference. They all play the same! Official Monopoly rules do not limit the amount of money that a game can utilize so feel free to add more bills or use bills from other games. Not only can you "own it all," you can own it your way...
3. Should I buy new money or is used okay?
New money will generally increase the overall value of your game. New money is cleaner and you don't have to worry about how the money was handled or what that funny smell is all about or what that strange looking stain represents. Yet, used money is generally less costly and will blend well with a game that is often played.
4. Isn't Type II & Type III really just a subset of Type II?
No. Each Type represents a specific change for a particular purpose as well as represents different production periods and evolution of the bills. Serious collectors are often interested to own examples of these types of changes as well as learn about the history behind the changes. Experienced, knowledgeable sellers know the difference. eBay guides suggesting otherwise are unfortunately written by less knowledgeable sellers trying to pose as informed sellers in an effort to influence buyers and pricing. However, it is entertaining to watch the editing of other guides as we post accurate information.
5. Didn't Franklin Mint stop manufacturing this edition in 2005?
Nope. Contrary to "other" reviews that stated the game has been out of production since 2005, this edition is still being produced. The Franklin Mint Company did go bankrupt a few years back. The company was bought while in bankruptcy and the new owner has been carefully reviving the brand ever since. While the company was in turmoil the game became unavailable until the new owner took over. The availability of the game has been limited only a few times under the new ownership but no plans have been made to scrap the game from the Franklin Mint product line up. In fact, the Franklin Mint Monopoly line is going to be expanded.
6. What other differences are there with the Franklin Mint Monopoly Game?
There are lots of differences! Far too many differences to include within this review. Over the next several months we plan to write more reviews to correct some of the mis-information already presented in other reviews and to provide an accurate source of information for this Monopoly edition and other editions. Keep checking back!
7. Wait a minute, what gives? You said there were 4 types of Franklin Mint Monopoly Money!!!
You're right we did say that! But, um,...well it really wasn't Franklin Mint Monopoly Money. Franklin Mint produced one special edition for FAO Schwarz. It was the finest game ever produced and among its attributes the game was equipped with a full compliment of real American Dollars.... It was a one of a kind.
8. What order was the Franklin Mint Monopoly Money issued.
The exact order of issuance is unknown for sure. The collectors edition was not the first monopoly game produced by Franklin Mint. The player's edition preceded the collectors edition but contained a similar money design but in the type III format. It's possible that all three types were being shipped simultaneously from Franklin Mint.