a Rollos Tires and Wheels Company
This is a compilation of good questions from some of our eBay Customers that we hope may answer some of your own regarding our operation at GREENWheels by Rollos. If your question is not listed here, please do not hesitate to email us or visit our eBay Store.
Q: Where are these wheels from?
A: We purchase the factory OEM wheels from customers that come to our locations for new custom rims. They are actually Take-Offs from the original vehicle.

Q: Were these damaged wheels?
A: We only accept original wheels with minor superficial damage. They may have had curb rash, some peels or strikes with a small bend, but that is before we submit them to a very detailed rejuvenation process. The result is a round, strong, new face wheel that balances as intended.

Q: Do you accept cracked wheels?
A: NO FOR RESALE. We accept cracked wheels ONLY for recycling or when our customers want them repaired for their own purposes.

Q: How safe is it?
A. Our expert repair technicians have computerized calibration tools to inspect and measure each wheel before and during the rejuvenation process. Any wheel must meet certain safety criteria before it can be repaired. Once the process is complete, we submit each wheel through post-repair tests to ensure they are as good as new.

Q: Do you offer guarantee on your wheels?
A: We offer a lifetime guarantee on the structural work we do.

Q: What kind of process do you do on the wheels to offer them As New?
A: We test all original wheels in case they need straightening or centering. All wheels undergo a surface preparation eliminating any imperfections. Next we machine or colorize and coat the face of the wheel and rim and apply a protective clear coating. Finally, we re-test after refinishing. You can read the rejuvenation process in detail by clicking here.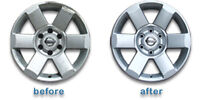 Q: Would the color of your wheel match the others I currently have?
A: YES! Naturally a color finished wheel may vary a shade from yours because of the fact that it looks new in its presentation against your current weathered wheels, but the color tone matches yours.

Q: How do you match your paint color to the manufacturer's original?
A: We take the manufacturer's color codes from the publications made to that fact (the same codes you have on that sticker at your vehicle's door). We feed the code to a computerized multicolor mixer, that mixes and produces the original shade of that color that the manufacturer has used.

Q: Would you buy my old rims?
A: Yes, if you can send us a few pics of your rims, we will credit you from $20.00 to $50.00 per wheel (even more on exclusive model original wheels), after their arrival at GREENWheels warehouse. Everything is depending on the model and condition of wheel reviewed on a per case basis.

Q: Can I get tires as well?
A: Of course, we have a 45,000 sq. ft. central warehouse with all sizes of tires from all brands. We ship tires by themselves or already mounted and balanced on your new wheel(s).

Q: Do you recycle?
A: Is a sign of the times. We must be concerned about the world be leave to our children. We buy scrap wheels and tires for recycling. We also recycle our packing materials as much as possible, while ensuring the same quality packing. The only thing we use that is not recyclable is the packing tape, and we welcome ideas from anyone on a substitute with the same performance. In this way we feel we contribute to the global effort in some small manner.
Thanks for checking...