I love Kate Spade's simple styles of handbags, mostly the ones made before 2005. This guide probably won't apply to bags made after that so please keep that in mind.

It's really easy to tell KS bags if you know what to look for. In a nutshell:
1) Look at the front 'KS' tag for evenly spaced letters. Note not all bags have a tag and some are metal but the same principles apply.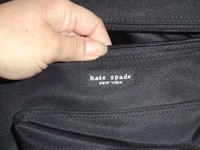 Even in blurry pics like this, you can see the "p" and "a" ratio is off in "spade" as well as the "york".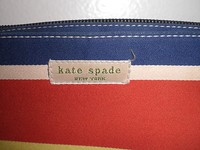 Spacing in the letters are even and label is sewn with even stitches.

2) Make sure that tag is sewn, not glued.
3) The materials should be higher quality as that's part of what you're paying so much for: Cotton sateen, vachetta leather, shiny nylon, wool, etc. The black nylon fabric above looks rough, unlike her signature nylon bags which look smoother.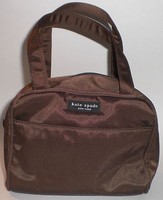 4) Check the lining. Most KS bags have gorgeous lining. The ones that do not may be lined in a soft cotton twill.
5) Check inside for a country tag. There are some that do not have one.
6) Kate Spade is not Vera Bradley. KS styles are usually not patterns do not look like country fabrics with the exception of some like the Cabbage Rose.
You can always check with the girls at the clothing, accessories and shoe board. Ask the seller questions. I would steer clear of sellers who are evasive or unsure of what they're selling. You're not allowed to peddle goods on eBay unless you're absolutely sure of what you're selling.

There are some sellers who slide by especially on the weekends and holidays when VeRO (eBay's Verified Rights Owner program of which KS is a member of) is off to take down listings and there are some listings that get removed by mistake. But the number of fakes that are listed now and 10 years ago is dramatically down, thanks to their efforts and yours.
Remember that it's not just one thing that makes a fake; it's usually a number of things that tell you something isn't quite right.