PLEASE VOTE ON THIS AND MY OTHER GUIDES ON EBAY NOW, IT'S THE ONLY WAY TO HELP FELLOW EBAYER'S FROM BUYING THESE FAKE SILVER ITEMS!

Recently there has been an upsurge and flooding of the Judaica markets on Ebay and Judaica shops all over Europe of certain types of Torah Yad pointers. A Torah Yad pointer is a pointer, in the shape of a long stick, which usually has a hand with a finger at the end. It is made for the Ba'al Koreh (the Torah reader) to point out the words that he is reading from the Torah (5 Books of Moses) on the Shabbat and Mondays & Thursdays when the Torah is read in the Synagogue.
The pointer usually made from silver, but all types of mediums can be used, gold, wood, ivory and even plastic. In the past 10 years or so, there has a been a inundation of Torah pointers flooding the Judaica markets all over the world and Ebay is no exception. These forged pointers are made of silver and have hallmarks from the 1700s and late 1800s, usually of a Russian type. I have located the source of these Torah pointers, but an educated guess can point out that they may come from Russia, Romania, Poland and/or Israel to be in VIENNA, WHERE THERE'S AN ENTIRE FACTORY OF WORKERS WHO CREATE THESE ITEMS ALL DAY AND EVERY DAY! Certain sellers on Ebay, located in the USA, Canada, Italy, Russia & the USA have been selling these Tora pointers for at least the past 3 years to unwary customers who don't know better have been plucking down from $100 to up to $600 and more a piece. These sellers misrepresent these pieces as being over 100 years old! Judaica antique shops in Europe also carry these pieces and also misrepresnt their true origin and age. While these pieces are nice, their actual Judaica value should be no more than $50 (silver content and work)!
How can you tell if you have one of these FORGERIES?!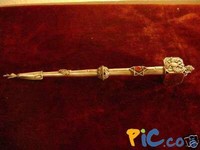 Aside from the picture that I've provided here, I have listed 5 points that every Judaica collector should be aware of:
1) The item not only looks unused and new, IT IS NEW! If you have a similar Yad pointer you will see new silver, never used. If these pieces are 100 years old, it's not possible that they were never used! My goodness, they were meant to be used at least once a week and some age stains should be around!

2) The piece has no rough edges. A 100+ year old item has to have some wear and tear, usually seen through rounded edges. This piece has sharp edges, like it was made yesterday (which it was).

3) There are hall marks of either 1844,1878, 1873, 1867,1894, 1884,1889 AND some other hallmarks as well. 1 or 2 is usually enough, some of these have FOUR different hallmarks just to PROVE TO YOU that they are "authentic"!

4) Why are there so many of these pieces being sold on Ebay all of a sudden? Did someone just discover a giant collection of these in the thousands??!! Just do a search on ebay every few days (now is a good time) with the words " YAD or BESAMIM . See how many of these silver judaica you come up, with similar images that you see here! Coincidence or....fraud?
5) The theme of the pointer itself is not very "jewish". A sad looking Jew may be looking down towards the ground? Ask yourself, "who wants a sad looking jew reading the Torah?"! Why remind Jews fo sadness on the day when the Torah is read on the Sabbath, the holiest and happiest day of the week?!
6)Welding marks. Take a look at the welding marks where 2 pieces of silver come together. WElding as a process came at least 50 to 75 years AFTER these pieces are purported to have been made! There simply was no technology for welding to be done on such pieces! PROOF POSITIVE THAT THESE ARE FAKES AND AFTER THE DATE THEY ARE STAMPED!

These 6 points should make you enough of an expert to realize if you have a forgery on your hands. Please look at the pictures provided and you will get a better idea of what I am talking about. The themes in these pointers keep on repeating themselves.
Also see my auctions on Ebay for 2 of these works which I myself bought thinking that they were real! I too made the same mistake!
If you made a mistake, complain to your supplier or ebay seller! Complain to Ebay! That's the only way we can put a stop to these con artists! Thank you for reading this and I hope I have been helpful in educating you in the field of Judaica Torah Pointers. Also, check out my review on Bessamim holders, which come from the same source of pirates and be aware!
To see a much larger gallery of these forged and faked Torah pointers see my listing in my Ebay store . Here's a sample of some variations that may show up here on Ebay:








last but not least and perhaps MOST important, I BEG YOU to PLEASE vote on this and my other guides, ESPECIALLY the one on FAKE SILVER BESAMMIM HOLDERS. It's the only way others will know that they have been conned. My gradation in the listings will give more exposure to all Ebayers and perhaps some newspapers who will pick up on this fact that cons are working on EBay to make a quick buck to the unsuspecting consumer. Only YOU with your vote can help fight this type of internet fraud. Help me to help others by voting on as many of my guides as you can....PLEASE! Thank you for taking the time to look at my guide. God bless you and may you get only the best that life has to offer!