I wrote this guide because I can no longer tolerate watching members of the ebay community have their money stolen from ignorant and unscrupulous sellers. I am sick of looking at auctions for Movado watches and seeing people bid good money on obvious fakes and otherwise suspicious auctions.
Consider this guide as a tool to help you arrive at the decision of whether or not to bid. My advice is not 100% foolproof, as there are always exceptions and new ways to scam people, but should help you avoid losing your hard earned $$.
Rule #1
When in doubt, DON'T BID!!
Why? There is often more going on in your subconsious mind than you realize. The feelings generated as a result are your intuition. Your gut feeling is generally correct. So if your intuition tells you to stay away from a particular auction, there is more than likely a good reason for it.
Rule #2
Avoid auctions with stock pictures!!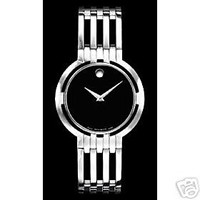 OR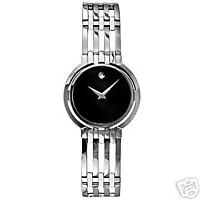 Why? The easiest thing for a scammer to do is go to the Movado website, or other retailer websites and copy and paste pictures into their description. Not only does this violate copyright laws, but it allows them to float by ebay's counterfeit items regulations, because until the buyer receives a fake watch there is no proof that the item they were selling was fake. I personally avoid auctions that use factory stock photos, regardless of the sellers feedback. Exceptions to this rule, often times high volume sellers like myself will use their OWN stock photos. If I sell a number of one particular kind of watch, its easier if I can sometimes reuse pictures. That may not be the best practice, but it does not violate copyright laws becasuse the pictures are MINE.
Rule # 3
Box and warranty card mean NOTHING!
Why? A while back and even now, there are empty brand new boxes, books, & warranty cards for sale here on ebay. So anyone can acquire a genuine box in which to place their fake. Lately, I have noticed alot of "new" watches (obvious fakes) being sold in NOS boxes from the early 90's. If you see a "new" watch in this box pictured below, consider it a fake. The box is authentic, but Movado has not used it for years. Last year there was alot of these boxes & warranty cards for sale.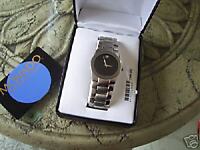 This is the current box Movado uses, so if you see an auction with this box pictured below, it is less likely that the watch is fake. Although there is always that chance.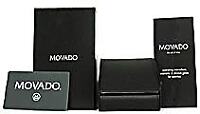 Rule #4
If you get stuck with a fake it will be hard to prove.
Why? Unless a seller cooperates with your paypal dispute, you will need to get a letter from a jeweler that states the watch is a fake to satisfy paypal's and ebay's purposes. This is impossible!! No reputable jeweler with give you this for liability issues and because they don't like the idea that anyone buys watches from someone other than them. I have personally tried to get this letter before and believe me it will not happen. If you pay with a credit card via paypal, than you retain valuable chargeback rights if you get stuck with a fake.
Rule #5
If a watch doesn't look right, don't bid!
Why? There are a couple of things that are obvious on the fakes. You can notice these examples if a seller is using actual pictures of the item. For example, at the bottom of the dial it will say either "Swiss Movado Quartz" or "Swiss Movado Made". The writing should be crisp and clear with MOVADO in caps or slightly larger than the other print. In all of the fakes I have seen, the "Movado" is 2-3 times larger than the rest of the print.
More examples of fakes:





More rules to come...
I welcome any suggestions or information I should add.
Please vote on my guide!