This guide is dedicated to all those who suffered at the hands of the Nazi's, it is to them and their descendants who are being made a mockery of here on Ebay that I am forced to write this guide.
It seems that some unscrupulous Ebay sellers on the US site and other Int'l sites are selling "one of a kind" "unique and historic" armbands that were worn by Holocaust prisoners. After examining the pictures of some of these sellers, and consulting with experts, I have come to the sad conclusion that MOST OF THESE ARMBANDS ARE OUTRIGHT FAKES!
One does not need to be a genius to figure it out that money is being made on the Holocaust. If there's a demand, con artists out there will be sure to fill the need to create these pieces. I would not be surprised if some of these were even made in China! So, I've come up with a few guidelines in letting the informed Ebayer find out for him/herself if he is looking or has purchased a PHONY armband! Please see the end of this guide to find out what you can do if you've been conned by these sellers who are giving the Ebay marketplace a bad name.
1) The first hint that should tell you it's fake is the newness of the piece. Some of these armbands look as if they were made yesterday! (They probably were). We are talking about a 60+ year old piece of cloth. If it looks new IT IS NEW!
2)Many of the con artists go overboard in trying to make these armbands look authentic by putting 2 or 3 rubber stamp marks on the cloth. See the above scans for examples. Again, a 60 yr. old cloth with a rubber stamp? After being washed and sweated by inmates doing hard labor, these stamps should have been at least half worn out or practically faded, and maybe even blood stains! Instead, they look like they were stamped yesterday (which they probably were!)
3)Take a look at the other auction items that the Ebay seller is offering. How many different arm bands does he have for sale? These guys are usually greedy and can't wait to sell one at a time. Where did they get all of them from?! A collector? A museum? China? Except for the latter, there were very few collectors of such items since there weren't too many armbands left after the Shoa. Most of the clothing of the inmates was burned to prevent from spreading typhus and lice. A sign that the seller is a con is his selling many different armbands with as many different places and types.

4) Also notice if the seller has RUSSIAN SILVER JUDAICA OR ICONS selling in his other auctions. These include fake silver pieces such as Yad's , Besomim containers and even Russian religious icons and crosses with hallmarks of late 19th century. If you read my guides on these items and see the pictures there, you can clearly see that these are fakes and no reputable seller would sell fakes together with the real thing!
5)Notice the stains on some of these armbands? Did you notice that it's the same uniform stain on most of them? Like somebody put it in a pail of dirty water and just let it out to dry and make the cloth look just a bit dirty. Also, none of these armbands (with few exceptions) are really worn out. The cloth still looks strong. How could that be if the inmates who wore this were worked to death and then their clothing was given to another unfortunate soul! Where is the wear and tear?!
6)Hey! Some of these armbands look really nice! I mean, take a look at the brightly colored designs, it's practically perfect! I would not be surprised if some of these armbands were made for a movie on the Holocaust and these cons got a hold on some of the props! A real armband would look like it was made from scratch. Many Jews during the shoa had to make their own yellow stars from scratch.
7)Lastly, check the sellers previous sales-feedbacks over the past 2 months. Just how many of these arm bands has he sold? A sure giveaway is that he has sold 5 or more just in the past 2 months. These con artists are usually located in Poland and Germany ( there are also sellers in the USA who have also joined the bandwagon), where the worst cases of Nazi abuse of prisoners took place. I'd hate to think that their descendants are selling these fakes to the victims ancestors!

Now that you have spotted these fakes, what can you do about it?

1)Go to the bottom of the auction page which you bought the item and REPORT IT TO EBAY! Every auction has a link to report suspicious items, fakes and forgeries. Refer this guide to Ebay. Ask Ebay to ask experts in this field to verify if what i am saying is true.

2)Demand your money back from the seller and tell him if he doesn't you will give negative feedback. The seller should refund your entire amount + the postage which you had to send the item back. Send your package by registered mail!

3)Report the seller to a governmental agency for committing fraud. See my other guide on "frauds on the internet" for the proper addresses.

4)VOTE FOR THIS GUIDE AND ALL MY OTHER GUIDES! By doing so you raise my number in the ratings and more people will see my guides! Thank you for your time in reading this guide.
THIS IS THE END OF PART ONE OF THIS GUIDE. SEE PART 2 & PART 3 WHERE I GIVE SOME MORE INFORMATION ON HOW TO DETECT A
CON ARTIST
ARMBAND. I GIVE MORE PICTURES OF SOME MORE ARMBANDS IN PART 4. & PART 5 . PLEASE VOTE ON THESE AS WELL AS THE REST OF MY GUIDES AND REVIEWS. BY DOING SO IT ELEVATES MY POSITION IN THE GUIDES AND REVIEWS CATEGORY AND THAT WAY MORE PEOPLE SEE THIS AND MY OTHER GUIDES. THANKS!
PS Uniforms of concentration camp inmates are also being manufactured by some of these shysters! I pity the person who paid $2000 for this pajama. Here's an example: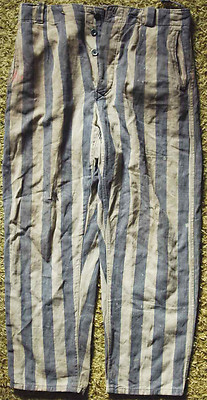 To see my guide here on Ebay exposing these fake uniforms, please click here .
Also, if you are a serious Holocaust artifact collector, I highly recommend the book
Counterfeiting the Holocaust By Alec Tulkoff which documents (with pictures) the various fake artifacts being sold today as real Shoa material. The author has personally expressed his recommendation for this guide. See my review of his book in my reviews section.