When we sell 25 to 30 clocks a month, we need to find 25 to 30 clocks to replace them! Therefore our hunt for clocks takes us to many sources. Although I have never been to any flea market here in NE Ohio where I find some guy loaded up on vintage, Black Americana Clocks dating into the 1940's!
Yet, out in the Harrisburg/Philadelphia area of Pennsylvania, eBay sellers are finding an abundance of these clocks at every turn. How can this be?
The answer is simple. They are all fakes. Speculation has it that an individual out in the Harrisburg area is reproducing dials, sticking them on CHEAP clocks, and then turning around and selling them. He doesn't market these clocks directly himself. He's too smart for that. Instead, he pawns them off on other sellers, such as flea market sellers, who in turn end up selling them to eBay Sellers.
Most of the clock dials revolve around Black Americana. This would include Black Popeye, Black Casper the Ghost, Black Samba, and Aunt Jemima. But other clocks such as the 1939 Worlds Fair, Coke, and 1930's Harley Davidson also appear quite frequently. As a result, eBay buyers are getting duped! They are paying good money for basically either cheap or worthless clocks. If you are a collector (or even first-time buyer) here are some easy "Red Flag" signals you should watch for if considering any of these clocks
.Reviewing feedback won't give you answers.
There was, at one point, some sellers rolling these clocks through eBay like gumballs through a machine. These people are pretty much long gone off eBay. That leaves two other types: 1.) the casual seller who has a feeling the dials are fake; 2.) the casual seller who has no idea the dials are fake. Despite the fact that most people will fall into category 1, their feedback record is usually pretty pristine.
If the seller is from
Pennsylvania, odds are it's fake!
Now this isn't 100% fool proof! But 98% of all the fake dials I have seen on eBay are from Pennsylvania sellers, especially around the Philadelphia area. Unfortunately, there are a million small towns, all with funny Indian names throughout central Pennsylvania. The rule here is, if the seller is from PA, either email and ask about the authenticity, or don't bid. The later would be the safer choice. But be careful! Not all sellers are from Pa. Some of these clocks have migrated here in the NE Ohio area, and odds are to other Neighboring states.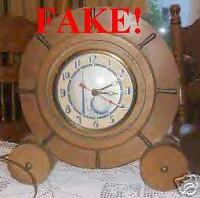 This is obviously a fake 1939 Worlds Fair Clock the seller wanted $99 for. I can't be certain, but the clock appears to be a United Electric Clock with a value of under $10. It's a rather ugly style. I emailed the Pennsylvania seller telling him/her it was fake and worth more like 99-cents. They responded that I was rude, and should go do something to myself that is anatomically impossible.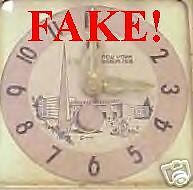 Here is another look at a 1939 Worlds Fair dial that has been identified as fake. You can see the detailing is very authentic. The ignorant person making these dials goes to great lengths in making them seem as real as possible.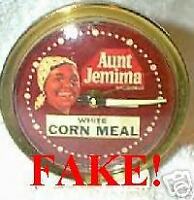 Now here was a PA seller I have more respect for. This Fake Aunt Jemima clock sold for $68. After informing the seller it was a fake, the seller became more concerned. They told me that they had purchased other Black America clocks like this at a flea market, and asked what to do! Well, honesty is the best policy and……..

……they later listed this Black Casper clock. I identified this as a Westclox Baby Ben being made right up to 1981. No such dials were used on Westclox. The seller admitted this in the description, and the clock sold for $9.95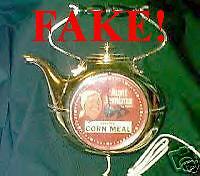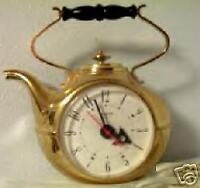 These Aunt Jemima advertising clocks are a favorite of the con artist producing them. This clock sold for $46. It's a Spartus Clock, like the one shown on the right. The only difference is the seller with the clock on the right can't even get a $9.95 opening bid. In my opinion, the clock is only worth about $5 - $7. With the original dial now being ruined on the fake clock, it isn't even worth that.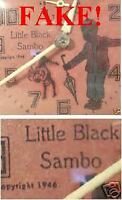 This fake dial appeared on a clock I was unable to identify. Some poor eBay sap paid $77 for it. Notice the copyright date of 1946. Most of these fakes have some sort of date on them to help make them more authentic. The Aunt Jemima clocks usually have a copyright across her apron. The funny part? I have actually seen fakes on clocks that weren't introduced until several years past the copyright.
"I'm not sure of the originality"
Let's get something clear here. In my opinion, any seller that states any doubt to the originality, origin, or authenticity has to have some clue that it's fake! Sellers, now don't BS me here by pleading ignorance! Something led you to put that in your description. eBay rules here are clear! Just because you THINK it might be fake does not excuse you from listing it! A fake is a fake, and eBay does not allow you to list it without stating so! You are 100% responsible regardless how you word your ad. So buyers! When you see any such excuses in a description, hit the back-button. It's fake! And the seller clearly has some hidden doubts to the authenticity.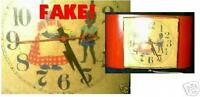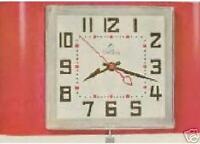 This fake dial was sold on July 19, 2006 by a seller located in Schuylkill Haven, Pa. (Close to Philadelphia) The winning bidder paid $22. Obviously, the seller knew the clock was fake and tried to cover their butt by stating "We do NOT know if this face dial is original to the Telechron Clock of this model and date shown in photo reads 1946." In addition, we notified the seller that the dial was a total fake. We received NO reply. The seller made no changes or additions to the description, or even bothered to post our email under "Questions to Seller". Clearly, the seller avoided any confrontation in order to deceive bidders knowing full well that such a post would certainly reduce the final selling price. Their disclaimer does not excuse them from selling a fake (under Ebay rules).
Also interesting to note on this clock. The copyright date on the fake dial states 1946. This clock is the Telechron 2H29 "Pageant" Kitchen clock. It wasn't introduced until about 1952.

Not all clocks are fakes
Let's face it. This article points to mostly vintage clocks. Clearly, if the clock is brand new and in the box, it's not a fake. Also, I have seen many hand-painted mammy style dials. These are not fakes. And it goes without saying, if it takes batteries, it can't be vintage!
Experienced clockmakers are your best bet!
Once again, this whole category of antique clocks is "You get what you pay-for". In other words, buyers beware. The bigger the bargain you seek, the higher the chance for disappointment. But don't despair! There are several, good, honest sellers on eBay that deal in old clocks! And I'm not talking about some Stay-at-Home-Mom that purchased remnants of a clockmakers shop at some estate auction. I am talking about sellers who not only deal in clocks full time, but also have the experience in repairing them! These are people that can give you professional answers to your questions, regardless of your clock collecting background. They will not risk their reputation listing obvious fakes. The clocks they sell may cost more, but the peace-of-mind you receive is worth every extra penny.
Silverdollar Productions is committed to bringing you professionally serviced and reconditioned clocks. Our signature goes on every clock we sell or restore. We bring you over 40 combined years of woodworking and clock making experience. We hope that you find our guides not only informative, but also enjoyable.
We've continued this guide with a Fake Clock Dials - Part 2. See more examples and stories.