My Very Own Fake Chinese Turquoise Nugget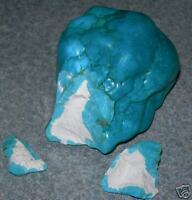 You know the old bromide which states if something is too good to be true it probably is?
It is still true.
Turquoise prices have just about doubled in the last year to @ $20.00 an ounce for the really clean stuff. I use chips for inlays in wood working.
I decided to do a little research on alternatives to Arizona Turquoise. I found that a lot of turqoise was coming out of China and the quality (of the real stuff) was pretty good.
Ebay was the first place I started and I found a guy who had a good feedback rating and was selling polished specimans for what looked like a really good price. Break one of those up and I'd have at least several years worth of inlay material.
He claimed to be an honest seller of minerals.
I saw a fourteen ounce specimen for sale. With shipping included the total would be around $60.00.
That figured out to about $4.20 an ounce, which was a heck of a lot better than the prices in the states.
I had a few reservations about ordering something from China but I went ahead and made the purchase. I used Paypal because they provide pretty good protection.
One week later the nugget arrived. It was well packaged and was the same as the photo on Ebay.
Imagine my surprise when I broke a chunk off the end and found what looked like a white piece of epoxy dyed blue.
I sent the honest purveyor of minerals an email about the fake rock and offered to send photos.
He asked for pictures and promptly refunded me my money much to everyone's surprise.
Well, maybe not exactly so mush as a surprise in retrospect.

Main mistake I made in dealing with this guy:
I left positive feedback before breaking the rock open. You cannot retract feedback I should have checked the thing out first.
Verify the authenticity of your purchase before leaving feedback. If the thing is a fraud, try to get your money back first and then leave negative feedback. That is the only way I know of to score some points against repeat scammers. Get them off that 100% feedback rating.
I kind of made it back up by emailing some of the other prospective buyers of these 'world class' specimens letting them know about the scam.
This guy knowingly sells fakes and is still selling them.
He sells polished specimens because odds are the buyer is not going to break open a museum quality piece, thus exposing the fraud.
If he gets caught, he immediately settles and refunds the money. Most people are happy enough with that and they don't push the issue.
I decided to push but still have not figured out how to report this to Ebay. They do not seem to have a place to report frauds once you have settled out of court, so to speak.
In the interim I am going to publish this as an Ebay Guide. Perhaps someone reading this can navigate the Ebay mailing system to report ongoing fraud or let me know and I will be more than happy to follow through..
I received a few emails from other people who bought from this guy and some of his stuff is genuine. He seems to readily mix in fraudulent items with the real ones.
Large Turquoise nuggets from China however most likely not genuine at those bargain basement prices you see them listed at.
There is a site called theVug.com who I wish I would have visited before I made the purchase. They now have a picture of my fake rock on their web site as well. If you are interested in fakes and forgeries in the mineral world, they have a great section dealing with just that.
My fake Chinese nugget it seems, may have achieved its color via a nice overnight dunking in TidyBowl cleaner.
Cleans Toilets and Dyes Howlite too!
I did get four ounces of turquoise from another Ebay dealer for $30.00, which is the real stuff and will last me quite a while.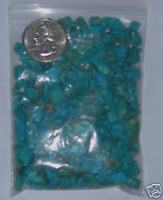 One thing about being the proud owner of a piece of fake Chinese turquoise is that it is quite the conversation piece.
If you would like to see some pictures and documentation of my experience with this 'honest' purveyor of minerals you can find it at ddgnevada.com under the woodworking section.
I also see someone actually left some negative feedback:
Buyer baz(24) Aug-29-06 10:46 Fake plastic immatation turquoise!!! RIP OFF!!! Buyers beware!!
Reply by Art: You don't understand the mineral, Make the false Feedback for me is unfair ! ! !
Oh really, Art? What is there not to understand about fake plastic?
September Update:
Ever Seen Real Chinese Turquoise Nuggets?
Well, I haven't. A Rock and mineral show came to town and I decided to see if anyone had genuine turqouise from China and there were actually quite a few specimens for sale.

The seven dollar specimen is from Tibet and is actually pretty neat looking stuff. The other two are from the Hubei Province in China from two different mines. This is the same area the nugget fraud artists claim their works of art come from. I double checked with a few other vendors before I left and was assured that this stuff is the real item and those two nuggets actually come from the Hubei Province.
This is a test. See if you can choose the fake. If at this point you did not choose the baby blue and white nugget on top then sorry, I can't help you.
A few other items of mention: I am now seeing fakes on Ebay that are smaller and more closely resemble the coloring of Arizona Sleeping Beauty Turquoise. Sometimes they have these official looking little stickers on them. They also have this deal that hides you, the prospective bidder from everyone else. Now why would one do that with a bid that starts out under a dollar. Some of these guys seem to try to list from Great Britain.
August, 2007 Update.
You know, one thing I did not think of was all the fakes out there that exist in the beading market. Jan was kind enough to write in and provide me with some photos of fake turquoise beads:
I have recently purchased several items from 'Pizza-Wok', many being turquoise. One item received has an "unpainted" backside where the "turquoise" is white. It's labelled as egyptian turquoise, however when I looked up egyptian turquoise, it looked nothing like what I bought. What I bought looks like what you bought (fake). Have you checked out that dealer?

Hmmm.......Something looks a little off here.
My response:
No, that is a new dealer to me. I would be rather suspect of Egyptian turquoise at those prices. The real item is pretty expensive, much like Iranian turquoise - some of the most expensive. Anymore when it comes to turquoise, I buy locally where I can get turquoise at reasonable prices. Arizona Sleeping Beauty is finally coming down a bit in price too.
If you do beading and that sort of thing, if you have a Hobby Lobby store where you live, you might check out their beading section. I have bought Malachite, Turquoise and SandStone beads from them and at pretty reasonable prices. I generally crush the beads and use them for inlay materials and when you crush them, they certainly appear real.
I asked one of the sales people about the turquoise and she said the majority of the beads are made of turquoise dust, which is stabilized and formed into beads. I would tend to believe that.
-----------------
I got a little curious about this pizza-wok character after finding one of his listings displayed along side my eBay guide:
A+ ANCIENT CHINESE TURQUOISE NUGGET Bead Strand 16" PW
And what, pray tell is this?
You will receive: One 16" Strand Bead Size: 25-28x13-15mm A+ Turquoise Nugget Carat Weight: 294.84 Carats Retail Value: $95.67
Ancient implies old, right? Lets see, whip out my calculator and 295 carats = about 2 ounces and Mr. Wok is selling this rarest of antiquities with a starting bid of .99 cents?
Something smells a little fishy here. Lets take a closer look at those beads.This must be the extremely rare Chinese Semi-White Turquoise.

Nope, I stand corrected - there actually is Ancient Chinese White Turquoise listed for sale, as well as A+ Icy Vanilla Eqyptian Turquoise and A+ Rare African Crocodile Turquoise and Chinese Coconut Cream Turquoise to name a few.
I have a few suggestions: How about Key Lime, Chocolate Chip, Cotton Candy, Deep Purple, Royal Blue, Australian Carmelized Tangerine Opal, and Lemon Scented Turquoise too?
Might as well cover the spectrum.

------------
December 2007 Update
.
I received and email from a person who works for Ebay and she offers this advice when dealing with fraudulent items:
Hi there! I was just surfing eBay looking at gems and minerals and saw your guide on fake Chinese turquoise nuggets and wanted to let you know there is an area on ebay to report this kind of issue. If you type in replica and counterfeit items in the help section it will bring up a link you can click on to report the seller you spoke of. I work for PayPal and know that both PayPal and eBay take counterfeit sales very seriously and do investigate the sellers and shut them down. Hope this helps!!
I'd still work on getting your money back first, and then go after them with guns blazing.
------------
And on the Fake Turquoise front, how can you go wrong with this kind of guarantee:
We guarantee this is a TOP GRADE, FINEST, MOST UNIQUE piece of Jewelry with COMPLETELY NATURAL, AUTHENTIC, GENUINE AFRICAN PINK TURQUOISE Gemstone(s)! This fine Strand is made up with beautiful OVAL shape gemstone beads. Each bead is carefully selected and polished by professional factory. 15 1/2" of length, gemstones size 17X13MM, and ***** 374 Carats!!! *****. ****These beads are great for creating your favorite jewelry pieces, such as Bracelets, Necklaces, Rings, Earrings and Pendants. Or for adding a little spice to jewelry you may already own!****
Hmmmm.......... Genuine Top Grade Authentic Pink African Turquoise - and carefully selected and polished by professional factory.
How could I possible go wrong with this?

------------
August 2008 Update:
I received a letter from David, who is living in China and has some first hand experience with the topic at hand:
Hi There,
I saw your piece on fake Turquoise coming out of China.
I'm an Australian that's living in China and have seen first hand how bad it is.
In your case they used a coating to cover up the fake which is straight out fraud.
However, I find the whole subject of "stabilized turquoise" from China very interesting.
It seems that almost all Turquoise sold for beads and as cabs is now imported from China and is "stabilized"
The Chinese don't have the technology to stabilize the way they did in the U.S.
Instead they are basically plastic coated junk Turquoise, much like what you bought.
Just replace the epoxy inside with useless junk Turquoise and there you have it.
I reckon that U.S suppliers of Turquoise are well aware of just how low the Turquoise is inside,
they just choose not to mention it because it's big business. With huge volumes of beads and cabs
selling in the U.S better not to mention this fact. The buyers think they are buying Turquoise which is
the same all the way through and just injected somehow with resin for toughness. In fact, much
of it resembles an M&M lolly.
How often do we hear the term "Stabilized for added Durability" or "Stabilized to hold the color"?

Added durability? Well yes. That junk quality is very soft but if you've ever cracked open real
Turquoise you know it's easily hard enough for daily use. Even though our supplier has always been
good, (and a few are), we regularly crack open some just to be sure.

I'm also interested that you're buying small rocks for inlay work. From the real mines, rocks are quite
expensive. Wouldn't you be better to buy larger cabs and use them? With the cabs you can see
exactly what you have and they are usually cheaper than many of the rocks. The cutting and polishing
cost in China is almost zero so it doesn't add anything. Seems the thickness has most to do with price
at the moment. Interesting too that most good Turquoise is found close to the surface. The deeper the mine,
the lower the quality. I can only imagine the pace that the Chinese are attacking their mines in Hubei
and wonder how long it will last.

Also interesting that in the mine we deal with the guy says that almost all Turquoise sold as Tibetan is
not. Also, that he gets visits regularly from Japanese buyers who take high quality back to Japan and
sell it as American. Surprising as there is a big difference in appearance. However, when they buy real
AAA material the difference is much less.

Anyway, nice to see someone on the ball. I have been appalled at some of the junk I have seen selling
on Ebay as stabilized without a real description of what stabilized means for Chinese Turquoise. We have
been asked by many to supply stabilized but I'd rather deal with a mine than a factory. Hell, go pick up
a bead string of stabilized Turquoise in the U.S. JUNK! You can feel your holding a straight plastic coated
(and almost always colored) piece of rubbish. I mean the Chinese are well know scam artists but what I
see coming from this big U.S wholesalers is not much better than a scam.

Well done !!!

--------------------
March 09 Update:
Molly asked:
I don't have a question on any thing you have for sale.. but do want to ask about your research on the fake turquise stones....
we recently purchased a large stone from China.. 24# nugget.. I tested with a hot needle, and it has not been 'stablized" no plastic
smell...., I came on line looking to see if I could find info about this large piece and where it was dug.....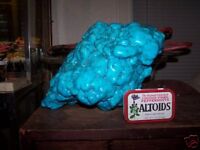 I asked a few questions and she ended up getting the piece tested:
...Mike took it over to the gem store in Moscow, Id. It was a large specimen piece...24#s it actually was a piece of died Howelite (sp)
the seller is going to give Mike the money back ( a pretty penny) the seller had gotten it for another dealer, actually traded him a lot
of his jasper inventory.... so he was pretty upset... the story was that it was dug in a mine in China...the reason I got on line in the
beginning was to see if I could find a news article about it because it was such a huge piece.... that was when I ran across the articles
about fakes, and I just had a gut feeling about the whole thing. Thanks for getting back to me. we appreciate it.
She then followed up with a bit more and provided some pics.
.....just following up with some pictures of the 24# Chinese "turquoise" nugget. It ended up being dyed howellite.... the man we purchased it from
returned our money, and planned on contacting the individual he got it from.
Thanks for your assistance.
----------------------
January 2010 Update
Bud was kind enough to send this along:
Dear pdldavis,
Wow, thanks for posting your fake turquoise guide, so glad to see it!
I've recently heard from Chinese students at the school where I work that they also reconstitute jade, lapis, malachite, amber, coral, pearls (can you imagine!!) and other gems so I don't buy from anyplace in china now since I don't know what I'm getting.
I buy from US sellers to help our economy and even then ask if they can guarantee that the gems are undyed, untreated, un-reconstituted, etc. and for turquoise specifically, what mine it came from.
Asking what mine tends to help lower fraud risk...and being educated on the mines and what the turquoise looks like from the mine helps too. I am even cautious about antique stuff from China too, since just because it's older does not mean it's fake.
Thanks again for posting,
Bud
Comment:
Thanks for taking the time to write. I as well as many others probably weren't aware of the extent to which minerals can be reconstituted, packaged and sold as the real deal.

Good idea to question which specific mine the mineral came from as well. As you said, it is also a great reason to buy American in these trying times.
~Dan
Use some caution, folks. Last photo aside, some of those fakes are looking pretty good.
If you would like to view some high resolution images of these items, I am updating my site at ddgnevada.com to include these photos plus there's info there not in this guide. If you google Fake Chinese Turquoise Nuggets and Beads and ddgnevada, it will probably pop right up.

Happy Hunting!