I have been forced once again to write this guide to warn unwary Judaica collectors of an avalanche of recent sightings on the web (Ebay included) of Bezalel Hanukiyot, kiddish cups and other silver items. Upon browsing recently in a Jerusalem Meah Shearim Judaica store, I chanced upon a window which contained silver Menora's & Kiddush cups. The Hannukiyot and becher's had the Bezalel (בצלאל) imprint on them. I asked the lady in the store what the prices were and she gave me quite a reasonable price. She added however that I should know that these are not real Bezalel pieces but reproductions using the ORIGINAL die casts. She said that someone who owns the actual stone dies from the 1920s is reproducing them and that is why they are so cheap. I thanked her for her honesty and information and it is this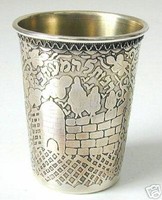 information that I am passing on to my fellow Ebayer's. Be aware of such items. I have included 2 items that I found on Ebay. On a auction here on EBay the Menorah is described plainly as a reproduction, the kiddush cup is not (and you'll probably find a copy being listed now on Ebay!). I'll give the seller the benefit of the doubt and say that he doesn't know that it's a fake.
If you have bought in the past a Bezalel piece, how can you tell that it's real or a fake if the die used was the original one? Well, the first thing is the wear and tear. If the item has scratches, maybe a bent here and there, chances are that it's authentic as it has been used, and accidents do happen over a period of 90 years! Don't forget, these items were not meant to be displayed in a museum but were sold to people to USE! If it looks brand new, chances are that is IS!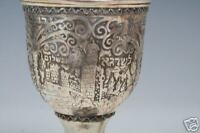 Please look at some of my other guides on TORAH YADS AND BESOMIM HOLDERS which can help the discerning and observant Judaica collector get the real stuff and not fakes and reproductions. Also, kindly vote on this guide and the rest of my guides, that's the ONLY way these guides will be more prominently be displayed on EBay!