eBay is a place where you can purchase items from the Giorgio Armani lines of clothing at bargain prices (and no one has to know). Over the past 9 years, I have found some wonderful bargains on Armani clothing on eBay. I try to give every seller the benefit of the doubt but there are some sellers out there that knowingly try to defraud buyers. I have been taken twice in 9 years with fake Armani clothing. Both sellers have been suspended by eBay since then.
The first time, I bought an Armani t-shirt that looked like the ones you frequently see in Emporio Armani boutiques or the A/X Armani Exchange stores. The way she was able to pull it off, was she did not show a photo of the tag inside the collar of the shirt. When I received the shirt, the tag said, "Hecho en Mexico." Translated, it means Made in Mexico. Clearly it was a fake Armani t-shirt. The seller received numerous complaints from other buyers including myself and was suspended. She even gave me negative feedback because I left her negative feedback. The second time I was scammed by a guy who showed a nice photo lay out of an Armani Black Label suit including the labels. The suit was real but what I received was a cheap wool/polyester suit with a real Armani Black Label tag glued where it would normally be in the suit!
There are a lot of Armani fakes listed on a daily basis and I wanted to create a guide to help fellow eBayers from getting duped. I will breakdown the various lines for Giorgio Armani:
A/X Armani Exchange
Armani Jeans
Mani (Sportswear line, discontinued)
Mani (Suits, dress shirts, discontinued)
Emporio Armani
Giorgio Armani Neve (very rare)
Giorgio Armani Golf (very rare)
Armani Collezioni
Giorgio Armani (Black Label)
Giorgio Armani Classico (Blue Label)
Armani Privé

A/X Armani Exchange is a line that was created by Armani, which competes against Gap/Old Navy, FCUK, RL Jeans, Guess, Benetton, Club Monaco, Sisley, Diesel, and DKNY Jeans and is marketed to urban youth. It is very reasonably priced. It is sold in A/X Armani Exchange stores. The line is actually has a seperate office in New York, totally different from other Armani lines. It's basically a licensed-suit retail operation, so Mr. Armani gets compensated for having his name connected to the brand and is probably some kind of creative consultant, but do not believe he actually designs anything for the line. In fact, I hear that he hates it and all it stands for, but he signed his name to it.
A/X Armani Exchange is probably the most commonly listed line of fakes on eBay. I would say that a very large percentage of NWT A/X Armani Exchange items on eBay are fake. Most of the A/X Armani Exchange is manufactured in Hong Kong, Macau and China; however, some pieces are made in the US or in Italy. Always be cautious of any seller who lists multiples of the same items, chances are they are fake. If you notice multiple listings of the same item from Hong Kong, Thailand or Singapore, they are more than likely to be fakes. I notice a lot of multiple listings of Armani jeans. Most of them have some wild designs, which are not Armani styled. A/X Armani Exchange is known for having logos on the clothing, however, the sellers of the counterfeit A/X Armani Exchange take it too far with ridiculously large logoed items. Also, be careful of the wild Armani t-shirt designs listed. Many of those wild designs have the Armani eagle logo that is so large that it covers half the shirt. Always remember, that A/X Armani Exchange does not use the Armani eagle logo on its clothing (Emporio Armani only). Real A/X Armani Exchange clothing uses logos that only say "Armani Exchange", "A/X" or a combination of both. There are some A/X Armani Exchange shirts that have an actual print of an eagle landing, these are real. See the photo below. The large number Eagle logo shirts listed on eBay are fake, most of them coming out of Asia and now a lot from the United Kingdom. The sellers present them very professionally with nice fixtures from men's stores. But use caution when dealing with them.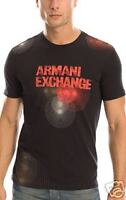 This is a real A/X Armani Exchange T-Shirt

This is THE ONLY Armani eagle on
A/X Armani Exchange clothing that is authentic.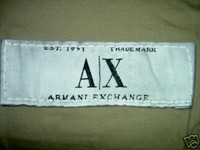 Real A/X Armani Exchange Tag
Armani Jeans is a jeans line that is usually sold in the Emporio Armani boutiques or the Giorgio Armani boutiques. Most of the items are manufactured in Italy. The label is blue with white lettering that says, "AJ/Armani Jeans." The manufacturer is usually Simin T S.p.A. I frequently see fakes of this line from the United Kingdom, Canada and Asia.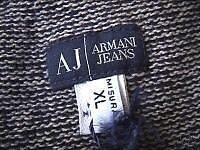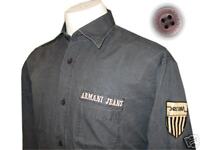 Real Armani Jeans tag Fake Armani Jeans shirt
Mani (Suits, dress shirts) was the entry level of Armani tailored clothing. It was usually sold in upscale department stores such as Macy's, Saks Fifth Avenue, Neiman Marcus, Barney's or Bloomingdale's. The suits were usually made in Italy, but occasionally you will see some made in Spain, Mexico or the US. The Mani label changed a few times over the years. Presently, it is a black label that simply says,"Mani" in white letters. The older labels were a white label that says,"Mani," and a white label that says,"Mani by Giorgio Armani Made in Italy."
Mani (Sportswear line) was a newer line for Armani, but is discontinued. It was a dressy and casual lower priced line. It was usually found in Macy's, Bloomingdale's and Barney's. Most of the items are manufactured in Hong Kong. The label is black that says, "Mani". I rarely see items from this line listed on eBay.
Emporio Armani is a line of dressy to casual fashion forward sportswear and suits aimed at younger buyers. It tends to be the most trendy of all of the Armani lines. It is usually sold in Emporio Armani boutiques. Simin T S.p.A., Sicem Industraile S.p.A. and Antinea SRL manufactures most of the items in Italy. Most of the fakes I see under this line are for t-shirts and polo-style shirts. While the Emporio Armani line does sell some t-shirts, most of them sold in Emporio Armani boutiques are actually from the Armani Jeans line. I frequently see fakes of Emporio Armani dress shirts from Asia and some in the US with multiple listings at very low starting bids. The label is white with black lettering that says, "Emporio Armani." In new suits, the hangtags will have an eagle symbol on it. However, fakes will put this tag on the other Armani lines. Most of the Emporio Armani fakes are coming out of Asia and the United Kingdom.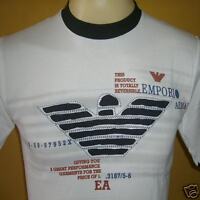 Fake Emporio Armani t-shirt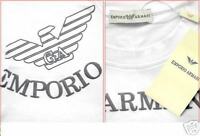 A Poor Attempt of an Emporio Armani Shirt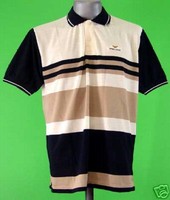 Horrible fake Armani polo-style shirt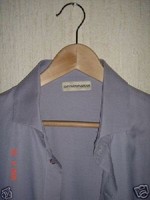 Real Emporio Armani Shirt
Giorgio Armani Neve is a rare and seldom seen skiwear and ski casualwear started in 1995. The word neve means snow. I have rarely seen this line on eBay. I owned a couple of the jackets at one time.
Giorgio Armani Golf is another rare but casual line designed for golfers. I have seen polo-style shirts from this line listed a few times. It's also very rare. In fact, I'm not sure if this line is still manufactured.
Armani Collezioni is the most common line of clothing found on eBay. It is usually found in the same previously mentioned department stores and some of the Giorgio Armani boutiques. The label has been changed in the last few years. It is a white square label that says,"Armani Collezioni, Made in Italy." The older labels are white rectangular labels that say, "Giorgio Armani Collezioni, Made in Italy" and a white rectangular label that says, "Giorgio Armani, Made in Italy." An Armani garment normally has a tab indicating the country of origin, which usually will be "Made in Italy". These days it can be Made in Hong Kong (on some shirts and sweaters). The country of origin tab is normally found under the size label or under the washing instruction label. Most fakes normally do not bother to include an extra tab stating the country of origin.
I will first address the suits. Conf. di Matelica S.p.A. manufactures the suits, jackets and pants in Italy and with a rare exception Portugal and Spain. Gruppo GFT manufactured them until the late 1990's in Italy. The suits rarely have polyester in them, not more than 5% will be in the fabric. Sometimes there may be some nylon in the suits to add strength to the fabric. Some fradulent sellers list suits made in Hong Kong and refuse to show the label. If their listing does not show a label, a red flag should go up in your mind immediately. Some phony labels will show an Eagle's emblem on the label and on the hangtags of a suit listed as new with tags. Most of these wanna-be Armani suits actually have the phony label on the wrong side of the inside part of the jacket! the Armani label is always on the right side of the inside of the jacket. Look for the lining inside suit jackets and sport coats. The lining NEVER has Armani eagle logos or anything else on it. The linings are always clean rayon or silk with no pattern. The buttons on the suits and sport jackets never have a logo or the words "Armani" on them. I see fakes from the United Kingdom, Australia and Canada that show the inside tag from the suit coat/sport coat that says manufactured by Vestimenta. Vestimenta manufactures the Black Label line. Many of these sellers have multiple listings. There are sellers who list Armani suits where the opening photo is a model guy wearing a suit from an ad that resembles a professional magazine ad, I talk more about these ads below, under the Giorgio Armani (Black Label and Classico) lines.
Most of the dress shirts under this label are manufactured in Italy. But some of them are actually manufactured in Hong Kong. Most of the worst fake dress shirts have an eagle logo on the pocket. There are fraudulent sellers who sell lots of 3 or 4 fake shirts for about $45 for all of them. Real Armani Collezioni dress shirts do not have eagle logos on the pockets. Many of these fake dress shirts are listed from sellers in China and Thailand.
Most of the Armani Collezioni sweaters are manufactured by Industriale S.p.A. in Italy. Occasionally, some sweaters are manufactured in Hong Kong.
Avoid the "RGA/Armani Reportage" suede and leather jackets and other clothing, they are not real and are of poor quality. Armani does not have such a line of clothing! You would be better off buying a leather jacket from a flea market/swap meet or from Wal-Mart. The sellers of "RGA/Armani Reportage" often list "genuine Armani" which should translate to "genuine imitation."
Another common fake I see is multi-colored polo-styled shirts from listed from sellers in Asia (Hong Kong, China, Malaysia and Thailand are the most common). Again, they are displayed very professionally and they usually don't show the shipping charges unless you open up the ad, then you'll notice the seller's country of origin. Armani polo-style shirts are always solid colored, made in Italy.
This fake is awful!
Remember, no eagle logos on Armani Collezioni!
Giorgio Armani is the couture line of Armani. It is found in the Giorgio Armani boutiques in New York, Beverly Hills, South Coast Plaza, Houston, Chicago, Las Vegas, Atlanta, San Francisco, Manhasett, Palm Beach, Bal Harbour and Boston. You can also find it in select Neiman Marcus, Saks Fifth Avenue, Barney's and Bergdorf Goodman stores. It is known as Giorgio Armani Black Label. I see fakes of the suits from time to time, where the seller refuses to show the label or hides their feedback. I do not like to single out countries, but you should be on high alert from most sellers of Armani Black Label suits from the UK, Canada, Australia and Thailand. Even though you never see polyester in Armani Collezioni suits, it may be used sparingly (if rarely) in the Black Label suits (no more than 5%). A very easy way to tell an authentic Black Label suit is that the manufacturer of the suits and sport coat is Vestimenta S.p.A. You can see this tag inside the wallet/chest pockets in the suit, or the right inside lining of the suit or sport coat and in the inside band of the pants. Also, a black collar tag that says, "Made in Italy" in white letters in found at the top of the suit and sport coat linings. The current label is black, which the name Armani Black label comes from. The label has been changed a few times in the last few years. Currently, it is black label with white letters that says, "Giorgio Armani, Made in Italy (in very small letters)." Prior labels are black with white letters that says, "Giorgio Armani A Milano Borgonuovo 21" and one that is black with white letters that says, "Giorgio Armani Couture, Made in Italy."
There are sellers who list Armani suits where the opening photo is a model guy wearing a suit from an ad that resembles a professional magazine ad. These suits are HORRIBLE FAKES and just looking at the quality, you would be better served to move on! I listed a typical photo listing of those cheap fakes on my other guides. Many people fall for it because the photo looks like it came from GQ magazine. The opening bids are usually around $80. Hear me on this, for $80 on these multiple listings, you are NOT getting an authentic Armani suit. You are actually getting a poor quality counterfeit. But hey, if you don't care, it's on you!
Giorgio Armani Classico is the absolute finest and made with the best fabrics. It is found in the same locations as Giorgio Armani. The clues I listed for Giorgio Armani still apply. The difference is the label. The label is blue in color with a white lettering. The label says, "Giorgio Armani Classico, Made in Italy (in very small letters). The prior label was blue that says, "Giorgio Armani Classico, A Milano Borgonuovo 21."
Armani Privé is the newest line. It is Armani's haute couture line, meaning custom made. Only a select few designers use the term "haute couture" and there are certain standards set in the French fashion world to use it. Giorgio Armani is one of a hand full of Italian designers that was authorized to use it. The label is strictly made to wear and not available for purchase in stores and has to be ordered. You probably will not see this line on Ebay, if you do, watch out it could be a fake. Currently, I do not have any photos of this label to post for now.

I hope this guide helps you to make informed buying decisions on eBay. I get so angry when I see a seller of fake Armani merchandise and when I see an inexperienced buyer actually bid on it. Some people are so into labels that they just want "an Armani" piece badly and don't care that they are buying a fake and others are duped unknowingly. However, the quality and craftsmanship of these counterfeit are obvious and you'll be upset once you receive that "awesome brand new Armani suit for $80". Apparently some of the major sellers of Armani counterfeit clothing read my guide, because I get hate messages from them sometimes. They claim I am hurting their business. Actually, they are hurting the business of legitimate sellers of authentic Armani clothing. I do have a list of eBay sellers who regularly sell authentic Armani merchandise and never sell that other junk. I have six other guides posted with photos of other Armani lines and the common counterfeits listed on eBay. (http://search.reviews.ebay.com/members/armani_king_W0QQuqtZg).
Feel free to contact me if you have any questions. If you have specific questions on a current auction, send me the link and I'll take a look. Sometimes eBay blocks me from responding because we do not have a direct transaction in progress. If I do not respond to you within 24 hours, email me at TWells1906 at yahoo.com.


FAQ
Question 1: But armani_king, the seller has a 100% rating, how could they be selling fake Armani suits, jeans and shirts?
Answer: Who cares that their feedback is 100% I can assure you that the people who have left positive feedback for that seller have no idea what real Armani clothing looks like and they are happy just to have received their "first" Armani item.
Question 2: But armani_king, the seller says their item is 100% authentic!
Answer: So what! Unless you know what an Armani label looks like, you can be fooled. Most of the sellers of fake Armani actually know their merchandise is bootleg and poor quality.
Question 3: Are there sellers in certain countries or regions that sell counterfeit Armani items?
Answer: Yes, it seems that the most notorious countries are China, Thailand, Australia, Canada and the UK. Many fakes are distributed through TradeKey.com from China. There are some lines of Armani that are made outside of Italy in some Asian countries. However, most bootleg items come from these areas. The most common fakes are the suits, A/X Armani Exchange shirts and jeans, Emporio Armani polo-styled shirts and dress shirts and Armani Collezioni/Giorgio Armani ties and belts. I have received some emails from people saying they felt insulted because they felt I am targeting their country. I assure you I am not racist, in fact, I am a minority here in the United States.
Question 4: How do you know so much about Armani?
Answer: I worked in the men's designer department of an upscale department store while I was in college in the late 80s. I was the Armani expert for our department. I have worn it since and a large portion of my wardrobe is Armani.
Question 5: I noticed a seller selling Armani A/X shirts and jeans with real wild designs, are they fake?
Answer: Yes, more than likely there are bad, hideous fakes. Armani is for the most part conservative is his designs. Even the A/X line is not an extremely fashion forward line in spite of it being aimed at younger buyers.
Question 6: Do you know a lot about the Armani colognes?
Answer: No, I used to wear it lot. But now I wear whatever cologne my wife tells me smells good to her. I'm a typical guy when it comes to cologne, I let her pick it out.
Question 7: Do you know a lot about Armani watches?
Answer: Not really. I own one that I bought in an Emporio Armani boutique on sale years ago. I'm not into jewelry and I rarely wear that Armani watch. Personally, I don't trust the ones auctioned on eBay.
Question 8: Can I send you a link of auction that I am unsure if the item is authentic?
Answer: Yes, the best way is to email me at TWells1906 at yahoo.com. For $5 through PayPal, I can authenticate an item for you.
Question 9: Are there Armani items that you flat out would never buy on eBay?
Answer: Yes, I avoid the jeans due to the saturation of fakes being sold and the fit of the jeans varying on the different styles. Personally I don't trust the jeans being sold on eBay except for a small number of trusted sellers I have bought from in the past and those sellers rarely list Armani jeans. I avoid pretty much all of the Armani and A/X Armani Exchange t-shirts listed, most of them are obnoxious fakes with the crazy logos that look nothing like the real t-shirts. I avoid the wallets because they are pretty much all garbage with obnoxious eagle logos on fake leather. I never bid on Armani socks because I believe the main manufacturer of Armani Calze went out of business years ago and the socks you see on eBay are fakes. The Armani boxer briefs listed for the most part are fakes from that Chinese distributor TradeKey.com. I'm not sold on the Armani leather briefcases listed here either.
Question 10: Do you have a list of Armani sellers on eBay that I can trust?
Answer: Yes, I have compiled this list from sellers I have personally purchased authentic Armani items from and from auctions of sellers that I see that frequently selling authentic Armani items. I would happy to forward it to you.
Question 11: Do you have a list of sellers who sell the counterfeit Armani items so I can avoid being duped?
Answer: Yes, and the list grows daily. I routinely scan the auctions and note the sellers who offer the fake Armani. Some of them have 100% feedback, but that means nothing. I also get emails from some of you who read my guides alerting me of sellers of fake Armani merchandise. I will be happy to forward the list to you to help you avoid being ripped off.
Question 12: I think I already bought a fake Armani item, what do I do?
Answer: All you can do is report them to eBay and to PayPal. Here's where I think eBay does a poor job of policing their own site. I usually recommend going to a store who sells Armani to possibility obtain a statement that the item bought from eBay is counterfeit.
Question 13: Do you know about women's Armani?
Answer: I have some basic knowledge of it. I do purchase some for my wife. I think there is more men's counterfeit Armani on eBay than women's. Most of the counterfeit women's Armani items are A/X shirts and jeans.
Follow me on Twitter: http://twitter.com/armani_king