Exogear Exomount Universal Car Mount
Are you tired of always fumbling with your ringing phone while driving or having to wear uncomfortable earpieces or Bluetooth headsets just to answer calls? Struggle to keep your eyes on the road and search for directions at the same time? Do you catch yourself constantly misplacing that cell around the office, or just want an extra hand to keep track of your valuables? We would like to introduce you to the EXOGEAR Exomount, a revolutionary car mount that is taking the world by storm. Below you will find all the information you need to know on this hopefully soon-to-be-fixture of your everyday life. The EXOGEAR Exomount, as well as many other fine mobile accessories, is available for purchase in our eBay store, which you can reach by following the link below:
http://stores.ebay.com/ioomobile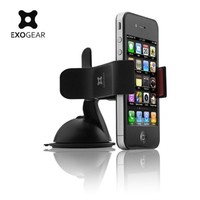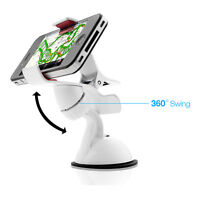 The Skinny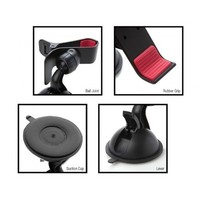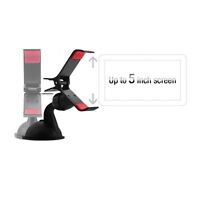 The EXOGEAR Exomount has been called the "world's best universal car mount" and it is fast becoming apparent why this "super-strong" innovation by one of the planet's leading exoskeletal specialists for mobile products is just blowing away the competition. Created with the enhancement and absolute protection of mobile devices in mind, the EXOGEAR Exomount lends a hand to those seeking a safe and secure hands-free option for holding their mobile hardware, be it at home, work, or on the road. Do not be fooled when first laying your eyes upon this small, unassuming apparatus: the EXOGEAR Exomount is the complete and reliable solution to all your grappling needs, graced with an elegant, user-friendly design that offers ultra-tough protection and sheer versatility of use.

Equipped with a rotatable neck joint that allows for 360-degree turning action, the EXOGEAR Exomount may be easily adjusted to the viewing angle of your choice, right-side-up or upside-down, and positioned virtually anywhere for viewing in your home, office, or vehicle. From countertop, to desk, to your car's dash, windshield, or hanging off a wall, there's no end to the possibilities! A polyurethane-insulated clip ensures your phone or other mobile device remains snug and undamaged in the Exomount's grasp, which is large enough to fit smart phones and GPS devices with up to 5-inch screens.

The EXOGEAR Exomount can be mounted onto virtually any flat surface, regardless of quality or finish, smooth or grained. EXOGEAR's patented suction cup adheres firmly over wood, glass, metal, plastic, ceramics, and drywall, providing the sturdiest grip possible and further reinforced by a lever lock mechanism. The suction is so strong that, in demonstration, the Exomount in its unlocked setting is capable of supporting a 26-pound microwave.

The EXOGEAR Exomount can even be installed backwards, utilizing the clip as a hook, onto grated surfaces, something a normal suction-based system could not accomplish. By exchanging the clip and suction cup thusly, the Exomount is able to accommodate larger holds exceeding its 5-inch size constraints, such as an iPad or Amazon Kindle. In addition, the Exomount may be propped upright for use as a traditional stand.

After use, the EXOGEAR Exomount is easy to clean and reuse. Simply wash off the suction cup, let it dry, and the Exomount is ready for another go. The framework itself is resistant to the pressures of repetitive installation and de-installation.

The Technics
To install the EXOGEAR Exomount:
1) Clean the installation area with a damp cloth.
2) Affix the Exomount to the installation area with the suction cup.
3) Lock the Exomount by pressing down on the lever.
4) Open the Exomount's clip and put your mobile device inside.
5) Adjust the viewing angle.
The Verdict

The EXOGEAR Exomount has stunned customers with its strength, flexibility, and dependability. This sleek little number is quickly rising to the top among preferred car mounts worldwide. Don't miss the opportunity to own this top-of-the-line product for yourself!

Check out our eBay store to purchase the EXOGEAR Exomount Universal Car Mount in black and/or white and other fine mobile accessories, or visit our About Us page for more information on our business.
If you found this guide helpful, please vote YES below to express your appreciation. Thank you!
This guide was written by ioomobile. Please visit the ioomobile eBay store.