Earthquakes, Natural Disasters, Water Shortages, Terrorism...what can you do to prepare?
ENSURING PURE, SAFE DRINKING WATER
The Key to Your Survival in an Emergency
Readers, please note: After reading, please take a moment to CLICK "YES" or "NO" (near bottom) to let other eBay users know if this Guide helped you.
This entire document is Copyrighted by Rocky Mtn. Home Solutions/Jim & Lisa Rodgers
Effective water storage is a must anywhere, but especially in dryer climates like the American West. You are far more likely to run out of water than food--and you can last longer without food than you can without water. Thus, effective water storage is fundamental to a successful food storage program--and probably your key to survival in an emergency situation or during a major natural disaster.
Just to motivate you a bit more...here's a few images (credit to FEMA and American Red Cross) that show what one of the nastier little critters that can get into your water looks like, including a simplified life-cycle diagram: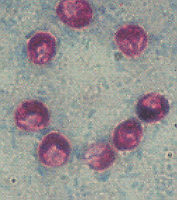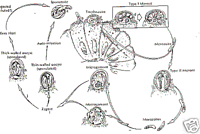 Yes, this little critter (cryptosporidium) can cause you LOTS of problems...include dysentery, stomac upset, chills & fever, etc. And it all starts off by your drinking water that contains microscopic little versions of these ugly dudes. KEY QUESTION: do you really want to be drinking these things??? How about some of their nasty little buddies, like Giardia?? Right. So, now you've been properly motiviated to take care of your water supply, and to make sure it is safe, clean and pure!!
However, few people can store a full year's supply of water in a typical home, and certainly not a condo or small apartment. Fortunately, there are ways you can build up a reasonable, multi-layered water storage program that will likely see you through any foreseeable situation. Here is how our family has approached our home water storage, and what works well for us. We hope you will find it useful.
First, we bought three 55-gallon plastic food-grade water storage barrels--like the big blue ones you'll see in the emergency supply catalogues (we don't yet sell these, but you'll have no trouble finding them with an eBay search). We arranged our basement storage room so the barrels were tucked back into the least-used corner and near a drain, and then placed some shelving over them to allow us to stack other (reasonably light) items on top, to maximize storage space. Here's a picture of them, in-place in our storage room:

We also pre-positioned accessories like barrel drain pumps and barrel-opening wrenches nearby.

In fact, we tied them to the wall studs with strong nylon cord so they cannot accidentally walk away.

Combined with what we could scavenge from our water heater and toilet tanks, these barrels provide a sizeable, several weeks-long buffer for emergency situations where water supplies might be interrupted or tainted. This provides us immense peace of mind.

IMPORTANT: Position your water storage barrels near a drain, or placed so you can run a hose to a nearby bathtub or sink, to facilitate draining and filling when needed.

You might also consider having an extra water tap installed adjacent to your water barrels--it makes filling and refilling the barrels a lot easier--we have found it well worth the expense to pay a plumber friend $80 to install such a tap for us.

We have friends who bought and installed a 300-gallon water storage tank in their garage--it is huge! We would like to install something that large, too, but we simply don't have the storage space for it in our home. If you do have the room, such a large water storage system provides great peace of mind, especially if you live in an arid climate.
Second, we know some emergency situations may require vacating our premises and locale, or perhaps we'll need to transport water to another location to share with friends or family members. To meet this need, we bought several five-gallon polyvinyl water containers (see picture, and sometimes we carry them on our eBay store, of course). These have a large, removable mouth closure for easy filling, but also have a detachable spigot to allow controlled dispensing. They also come in very handy for family or group camping trips, hunting or fishing trips, etc., so you'll get lots of use out of them.

These five gallon polyvinyl water containers probably are a better solution for an apartment or condo dweller, in place of the 55-gallon barrels. They are small enough to fit into various nooks and crannies within your smaller home, apartment or condo, but not so small that you create a huge burden when it comes time to change out the water.
Third, remembering that an average family simply cannot store enough water for a full years' supply, we also invested in portable (camping-style) commercial water purification filter systems. Go for the largest capacity and most comprehensive (e.g., removes Cryptosporidium, Giardia, bacteria and viruses) purification filtering system that your budget can afford, and remember to buy a few replacement filter inserts to fit your device.
The need for spare filters may not be obvious to everyone. Just remember, you will probably always need more water than your filtering systems can actually provide in an emergency system, because you will probably want to help family, friends and neighbors. (And think of the trading power that having lots of pure water would provide!)

Personally, for us this one is a slam-dunk choice: go for the Katadyn Pocket Microfilter. Compact, light for its 13,000 gallon capacity and silver-impregnated, 0.2 micron filter, efficient, comprehensive purification, proven and time-tested design. Top-rated by just about everyone. And it purifies 13,000 gallons of water--nothing else even comes close!! It will set you back a couple hundred bucks total, but this one of those times when the words "long-term investment" apply..

One of the main advantages of the Pocket Microfilter is its portability. Say you had been flooded out during Katrina/post-Katrina--and let's say you had even, with tremendous foresight, stored several large barrels of pure water, for use in just such emergencies.

In Katrina's wake, you may well have seen those water barrels floating away...or you were evacuated away from your water & food storage when the flooding surrounded your house. YOU CAN'T GRAB A 55-GALLON WATER BARREL AS YOU'RE RUNNING OUT THE DOOR TO EVACUATE FROM A FLOOD/FIRE/EARTHQUAKE, or other such dire emergency situation.

But, you CAN grab a Pocket Microfilter, or something similar, on your way out the door...making your "water storage" much more portable. Think about it!!

You can also buy an add-on activated carbon filter (available at our eBay Store, see links below)...you just insert it to the output line of the Katadyn Pocket Microfilter (or any other water filter, for that matter), and you'll get improved water taste immediately.

However, there are trade-offs that must be considered whenever you buy a water filter, and you may find certain filters better suited to your personal needs. Here are some factors to consider:

A water filter's fundamental capability is based in its ability to FILTER OUT bad stuff in the water. In most cases, you'll want at least a .3 micron filter to get at most bacteria, protozoa, crypto, giardia, etc. Even better would be a smaller 0.2 micron filter, which most manufacturers won't guarantee will filter viruses...but will also report that during testing, their filter did in fact stop all viruses present.

That's the thing...no one can really guarantee to filter out 100% of everything, every time. And that's okay; just buy the best filter screening capability you can afford. In the end, buying a good water filter is extremely cheap "insurance;" buying an extremely good water filter is even better insurance, and not really that much more expensive.

Now then, what technologies are out there? You can have filter elements that include ceramic elements; paper filters; glassfiber filter; porous plastic membranes; and even impregnation of your filter elements with anti-microbial silver (usually with ceramic elements), which has anti-bacterial properties.

There are also newer water filters based on UV technology...basically, using you dip a little pen into a glass of clear (but not necessarily pure) water for a minute or so, and the UV rays literally attack the DNA of bugs and stuff in the water, killing that DNA and rendering them incapable of reproducing.

Personally, we think the jury is still out on UV Water purifiers...they're work best with water that is already CLEAR, such as from a metropolitan water system; they won't handle slightly muddy (turbid) water. We think they are definitely very, very good for travel, especially internationally.

However, they generally produce relatively small quantities of pure water at any one sitting

They are also dependent on battery power, and/or the ability to recharge those batteries. Make sure you've got lots of spare batteries, and/or a solar power source to recharge those batteries.

Finally, if you drop the UV purifier and break the glass bulb on the front end (where the UV comes out)...it requires a factory repair. Not good during emergencies.

Finally, you can add various carbon-based filters or filtering technologies. REMEMBER: running your water or water filter through a charcoal or carbon, or "Activated Carbon" element RARELY DOES ANYTHING TO PURIFY YOUR WATER!!! It will, however, do an outstanding job of removing things like chlorine, odors and chemical residue from that water, making the water you drink taste much better with than without the carbon filter; it will also be healthier for you. But, it won't get rid of all those nasty bugs & bacteria & protozoa.

As an example, I've tried a non-charcoal but excellent water filter in a mountain stream...the water came out clean and very pure, but with a distinct metallic taste. Then, I used a "not-quite-as-good-technically, but with a carbon" filter element...and not only was the metallic taste gone, but the water tasted amazingly GOOD!

Now with all that said...there are still other tradeoffs you'll have to make between cost, size, filtering size capability, presence of a carbon filter, etc. Personally, we think the Pocket Microfilter is a great choice for anyone, anytime, anywhere, and you can always add an in-line charcoal filter (available at our eBay Store). However, if you want a built-in charcoal filter element for taste/odor removal, some extremely good alternatives include the Katadyn VARIO Microfilter, Hiker and Hiker PRO Microfilters, all pictured below:


Now, let's look at one slightly different use of the same technologies, for a different purpose: you know you need pure, clean water...but circumstances require that wherever you're at is the place you're going to have to stay. Perhaps a disability means limited mobility; perhaps an elderly parent or grandparent simply can't travel; perhaps personal circumstances (living near your kids in a divorce situation), or perhaps a loved one is temporarily ill and just can't be moved. Or, maybe your local tap/utility water just doesn't smell or taste good!! In such cases, you may be forced to adopt an "in-place" water filtering strategy.
Well, the news is not all bad. Fortunately, several water filter manufactures produce "base camp" or home use-type water filters that use traditional filtering elements, but apply them in the context of using gravity (not pumping) to help you with the job. Pictured here is one such, the Katadyn TRK Drip Water Filter with Gravidyn Microfilter, as shown here.

These "drip filters" are less trouble to operate--you just pour some "dirty" water into the top reservoir, walk away for an hour or two, and let gravity pull the water down through those three internal ceramic filter elements. No pumping!! As long as you allow for some lead time, they're a lot less trouble. BTW, these also have carbon impregnated into filters, so you get the benefits of carbon, including better taste and reduced odors. Plus, these filter can go for up to 39,000 gallons, and that's a whole lot of pure water!!!

The Katadyn Gravidyn Drip Water Filter is cheap enough, on a life-cycle basis (you end up with purer, cleaner, better-tasting water costing less than one cent per gallon!!!) that many folks buy it simply to make their city-provided water taste better. Thus, you have daily utility and value, combined with a pretty huge emergency backup capability, especially if you keep a few spare filter elements in the gear rack.
Fourth, we also bought a small supply of chlorine dioxide-based water purification tablets, which we rotate every three years. We decided it was important to have one more line of defense for that all-important drinking water supply, and bad-tasting but pure water is far better than any impure water you can name!! Plus, in a pinch, these are the smallest and lightest possible form of water purification you can have--we think they are worth the cost for the additional peace of mind they afford.
This new generation of water purification tablets has a much improved (read: much less bitter, and for most folks non-existent) after-flavor. Here are a couple of pictures of the Katadyn MP-1 MicroPur Tablets, in their silver blister packets and the sale cards:

P.S.: when you buy these via eBay, know whether you're bidding on the 20-tablet or 30 tablet boxes...makes a huge difference in what you're getting, since the 30-Tab packs are generally more cost-effective.
You can also use colloidal silver, or aerobic stabilized oxygen. Each of these have pros and cons; make sure you understand what your treatment tablets/supplies do, as well as what they cannot do, in terms of filtering/purifying your water.
TREATMENT OF STORED WATER: There is great debate on how, when, whether, how much and even why one should treat water stored in various containers. We treat all of our stored water (large or small containers, no matter what type) with the appropriate amounts of unscented household bleach. For example, when storing water we insert 8 drops of bleach per gallon of water; one-half teaspoon of bleach per 6 gallons of water, or 5 teaspoons of bleach per 50 gallons of water, when we first fill up the cans or tanks. This helps prevent the growth of algae or bacteria, but wait at least 48 hours after adding the bleach to the water before you try to drink it, due to the odor.
We also rotate (pour it out--or try to apply to the landscaping--clean the containers, and refill) our stored water at least every two years, and STRONGLY recommend once a year. We have seen many different recommendations for this on many different websites, so we're not entirely sure ourselves what the "right" solution is.
Storage conditions may dictate more frequent water change-outs. For example, change-out water stored in a warm garage in Florida far more than water stored in a very cool basement in Minnesota. We think us you ought to be pretty conservative in this regard--protecting your water supply is important.

If you want an "official government source" with advice on water storage, try FEMA's website and find the water storage links (we'd give it to you here, but eBay won't allow it). FEMA (the Federal Emergency Management Agency) has LOTS of free information that can help inform you on water storage and many other food storage or emergency preparedness-related subjects.

Just keep in mind: sometimes FEMA wants you to build Noah's Ark, when you really only need, or maybe can only afford, Noah's lifeboat!!
The most important point here is that, whichever storage period you choose, and no matter how you store your water, YOU are responsible for ensuring the purity of YOUR stored water.
Remember, ANY emergency can only be made WORSE by drinking impure water!

So, take care, and take personal responsibility for ensuring the purity of your water, especially during tense times.
We hope you never need to use your water storage in a real emergency, but if you do, we hope you will have as much as you need, whenever you might need it! Good luck!! Please use the convenient links below to do eBay searches for the terms water storage and water purification--or to go to our eBay Store's page on Water Storage & Purification.
Water storage/filtering products from Rocky Mountain Home Solutions!
Click here to do an eBay search for the term: water storage.
Click here to do an eBay search for the term: water purification.
Please remember to rate the helpfulness of this Guide below...thanks!!
About the Authors: We operate Rocky Mtn Home Solutions, a home-based business providing advice-based, solutions-oriented evaluations and recommendations on and products for emergency preparedness, food storage shelving, camping, backpacking, home security, survival knives, water storage and purification, hunting/fishing gear, and other selected products. We practice what we preach--maintaining a full year's supply of food storage, and about three months of water storage plus extensive water filtering/purification capabilities. If you're curious, contact us through eBay, and we'll email pictures of how we creatively solved some tough food storage challenges in a home with very limited storage space.

Click here to be taken to the Rocky Mountain Home Solutions eBay Store !!