When I started looking for an electric guitar on ebay, I noticed a large number of items coming from China. Of specific interest were the new Gibson Les Paul's selling for $1.87.
(UPDATE 5/8/08: I HAVE NOT SEEN ANY LISTINGS OF THESE GUITARS OUT OF CHINA FOR QUITE A WHILE NOW. EITHER EBAY HAS STOPPED THEM FROM USING THE SITE TO SELL OR THEY ARE HIDING THEM VERY WELL).
Now I am no brain surgeon, but I do know that the Les Paul is practically the Rolls Royce of electric guitars. The most basic models sell for approximately $600 and up. So I did a little homework.
MY CONCLUSION?
Obviously these were copies of the original. Now there seems to be a lot of people out there that are livid about these chinese scam artists. Sure, what they are doing is probably wrong, but I think anyone seriously considering buying one of these guitars knows what they are getting into.
This epiphany did not daunt my interest in the least. In fact it made me even more determined to buy one. I looked for a seller that had the highest positive feedback I could find. (99.5% I believe) I then searched his inventory to find the guitar I wanted. This little beauty has the high dollar block inlays in the neck and gold hardware. So, I look over the listing and I find a curious thing: The shipping and handling is somewhere in the neighborhood of $300.00--a little steep by any means. so, OK, they are doing a little slight of hand on the purchase price, but hey $300 for a guitar that would easily cost over $1000--I'm in! So the guitar arrives, and it is as described. After checking it out thoroughly, I take it to the music shop in town and have them "tweak" it in a bit.The bridge needed a little adjustment and the pickup height was not optimal. I do not know about copyright infringements or patent laws, but I assume Gibson and ebay know these guitars are copies and there seems to be no attempt to stop them from selling on ebay. I am completely happy with this guitar. Funny thing is, I had to point out that it was a copy. Now I will give you a brief description of what to look for.
The Gibson headstock is very distinctive. Without trying to give you the detailed dimensional aspects of the headstock, I will note some of the common flaws I have seen in some of these copies. I have seen some that did not have the signature curvature (volutes) of a Gibson: dead giveaway. The Gibson logo also should have an angular slant going up from left to right. Many copies I have seen spell out Gibson straight across. Anyway if you are not already familiar with the Gibson headstock go to their website and check them out before buying.
The next point of interest would be the truss rod cover. Gibson has a distinct shape and none of the above examples are even close. In addition, Gibson attaches the cover with 2 screws, not 3. In the following example, the 2 screw cover was taken off of a listing for one of these copies but is adequate to show what they are supposed to look like.
Just a side note...mine has the 3 screws. I have only just recently noticed them using the 2 screw type, and they are fairly rare. The vast majority look like the example on the right. Also one other thing just to try to be as thorough as possible, the truss rod covers will usually say Les Paul, or custom, standard, limited or may even be blank. I don't think they put too much thought into which covers they put on which guitars. I once saw a Les Paul standard cover on an SG body...go figure:)
The final point of interest would be the reverse side of the headstock. This is where Gibson stamps their serial number into the wood. Also, made in the USA is stamped just below the serial number. The serial number consists of an 8 digit number that tells the year made, the day on which it was made and the location. (EX 00105399) The first and fifth digits represent the year it was built. In the example that would be 2005. If the first and fifth digits were say 3 and 8 respectively, then you know this is a copy. The second third and fourth digits represent the day of the year it was built. In the example above it would have been built jan 10th. If the second third and fourth digits are greater than 365: again obvious copy. The last 3 digits represent the location and the number of the guitar built that day, and they will not easily tell you if you have a copy. In the example below left, according to the serial number, the guitar was made in 1952 on the 909th day of the year! I know I may seem like I am playing myself off to be some kind of Gibson expert, but I am not. Gibson has not used this serial number system forever. I seem to recall they started it like in the 80's, and I am too lazy to look it up again. Also, I doubt they would place the serial number in such a way as to have it obscured by the tuners. My apologies for picture quality, but the example below on the right is a real Gibson.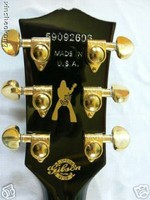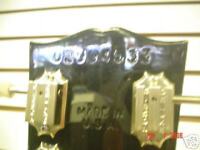 The main reason I am writing this little guide is that at some point someone will try to pass off one of these copies as the real deal, and I would hate for someone to get burned. For someone in the market for a real Les Paul, I feel these tips can also be beneficial. I've only seen one, but awhile back I saw a listing for a Les Paul with a starting bid of $1000, and it looked like it had a 3 screw truss rod cover. The pic was poor.
I am an acoustic guitar player that wants to try his hand at an electric. I didn't want to spend a ton of money on a guitar that I might not use in the long run, so I bought one of these Chinese beauties. My goal was not to find a super duper copy that would fool Mr. Gibson himself, but rather I just wanted a guitar that didn't shout out HEY I AM A COPY!!! I have taken a little heat for ranting about my guitar. I am not suggesting to anyone that they should buy one of these copies. I had a good experience and thought I'd share what I learned. You may not be as lucky. Just remember to do your homework. Peace!
NOTE: All included photos are from current ebay listings.
Hey, if this guide was at all helpful, don't forget to vote.