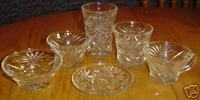 Early American Prescut or EAPC has been around since 1960 and is one of the more popular glassware patterns on eBay today. This guide is intended to assist collectors in finding and identifying EAPC pieces on eBay as well as to impart some tidbits of collecting advice.
This is the first guide in my series of guides about EAPC.
THEN...
EAPC was first manufactured by Anchor Hocking Glass Corporation in the year 1960. Manufacturing of most of the EAPC pieces was stopped in the late 1970's, but a few pieces (like the very common sugar bowl, creamer, and cruets) were made until the late 1990's.
EAPC was manufactured in two (2) similar and, yet, distinct patterns and these separate patterns have each been given commonly used nicknames by the collecting community: "Star of David" and "Oatmeal". I have also heard people refer to "Oatmeal" as "Wheat". "Pineapple" has also been lumped into the EAPC umbrella by collectors, but this pattern originated almost 20 years before EAPC.
New Information Alert!!!!!!
Have you ever been wrong before? Well, it happened to me!
My mother gave me a new piece of EAPC that I had never seen before, so I consulted Florence's Collectible Glassware from the 40's, 50's, and 60's in order to identify the piece. While reading, I noticed that, although Gene Florence does discuss "Oatmeal" with EAPC, he seems to indicate that it is not actually Early American Prescut and that it was cataloged by Anchor Hocking as Prescut rather than Early American Prescut. It appears that the Star of David pattern, discussed in the section below, is the only true EAPC pattern (with the exception of the EAPC punch cup which shares its pattern with the oatmeal punch cup).
I have noticed, however, that the vast majority of listings for the "Oatmeal" pattern are labelled as EAPC. Therefore, I am going to leave the following text as previously written in order to reflect the terminology used in the eBay marketplace.
Star of David
The bulk of the Anchor Hocking Prescut catalog includes items that fit into the "Star of David" catagory. These pieces are "unofficially" called Star of David, because of the presence of a star in the pattern as shown in the photo below of an EAPC oval bowl.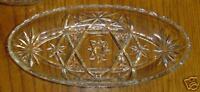 The Star of David pieces also have a few variations amongst similar pieces. For instance, some pieces have scalloped (or wavy) edges and others of the same size and shape have smooth edges. For example, see the 7-1/4 inch diameter bowls pictured below. The one on the left has a smooth edge and the one on the right has a scalloped edge.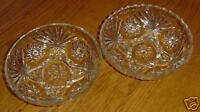 Oatmeal
A small percentage of the Prescut catalog includes items that have been dubbed "Oatmeal", however, these items are extremely common. These pieces do not have a star in their pattern and they are called "Oatmeal" because they were manufactured for mass domestic distribution in packages of oatmeal. These pieces include:
Berry bowl (4-1/4 inches in diameter)

Punch cup

Saucer

Sherbert or custard bowl (3-5/8 inches in diameter)

Juice Tumbler

Short tumbler (7 oz)

Water tumbler (9 oz)
See an example of the "Oatmeal" pattern in the photo below of an EAPC juice tumbler.
See an example of a EAPC or "Star of David" juice tumbler in photo below for a comparison between "Oatmeal" and "Star of David".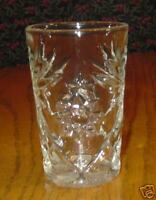 The Prescut soap dish is also in the "Oatmeal" pattern, but is not as plentiful as the other "Oatmeal" pieces and therefore may not have been distributed in packages of oatmeal. See a photo of the soap dish below: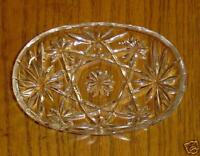 Pineapple
"Pineapple" pieces were actually manufactured in the 1940's by Anchor Hocking prior to the real EAPC pieces. "Pineapple" pieces are really a separate pattern, but have been lumped into EAPC by collectors. Pineapple is similar to oatmeal in that both pieces have the fan design with the diamond design below. On pineapple, all of the leaves of the fan point upward and fan out slightly. On oatmeal, the leaves of the fan radiate up and out almost 180 degrees and then have shorter leaves pointing down. Also, on pineapple, the diamond cut is more pronounced.
NOW...
EAPC is still a very popular pattern, as it was in the 1960s and 1970s. I remember purchasing pieces as a teenager at flea markets for less than 25 cents per piece in the early 1980s. (At that time, almost every vendor had at least one EAPC piece.) I saved all the pieces for the day when I would have a home of my own. Well, that day has come and is ongoing and I am very happy to have these extremely practical pieces. (However, I collected a few too many punch cups and now have enough to furnish the next Inaugural Ball!)
As an adult, I've noticed that EAPC is becoming less prevalent in flea markets and at garage sales and more prevalent on eBay. Speaking in generalities, the oatmeal pieces are still very common and difficult to sell. The most sought after (and pricy) pieces seem to be the:
6.5-inch

Snack plate

(There is also a 10-inch snack plate with cup ring which is much less sought after. This will be discussed in a section below.)
Size Does Matter
As shown above, some pieces of EAPC are highly sought after and some are not. Often, one piece in a specific size is much more desirable by collectors than in its mate in a larger or smaller size. An example of this are the EAPC snack plates. The 10-inch snack plate, shown in the photo below, are difficult to sell for more than $1.99. However, the 6.5-inch snack plates can sell for around $35 each. Both plates have cup rings that fit the standard EAPC punch cup.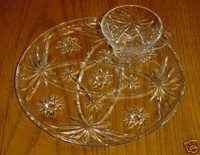 The same is true for the many different-sized tumblers available in EAPC. Small juice tumblers (especially "oatmeal") are much less sought after than the iced-tea size (or 6-inch) tumblers.
Collectors are advised to view auction listings carefully to make sure that they are really bidding on the piece that they want rather than a similar piece that may be less desirable.
FOREVER
I consider EAPC to be heirloom glass. Yes, I bought these pieces for my use, but I foresee handing them down to my children and grandchildren some day. These pieces are HARDY to say the least. In the 20 years of owning them, I don't ever remember breaking a piece. I've even dropped some of my pieces. EAPC seems to bounce rather than break when the pieces are dropped at the short distance that my 5'-5" height allows. This is a blessing to those who own EAPC, but maybe not for those who sell EAPC.
Also, these pieces are highly practical. I feel safe allowing my 3-year old to use the berry and sherbert/custard dishes for snacks. I even have a few pieces that I have set aside to use for mixing poster and finger paints for crafts. These pieces never stain and the paint is easy to get off even when using acrylics.
RESOURCES
A must-have resource for all collectors of vintage glass wear (including EAPC) is the book "Collectible Glassware from the 40s, 50s, 60s" by Gene and Cathy Florence. The 8th Edition is absolutely amazing with full color photos for every pattern as well as pricing guides. This book is a joy to read and a great help to those of us who buy and sell.
If you found this guide to be helpful, please click "Yes" below. I appreciate it!