Dollhouse Miniatures Artisans & Collectors – An eBay Buyer's Guide
The one premise that is universally understood, and agreed upon by every collector of scale dollhouse miniatures is – These collectible pieces of art are not just toys.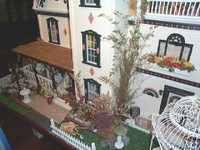 This is a serious, and sometimes quite expensive, grown-up hobby. These items often make their way into museums and hundreds of books are been written on the history and scale designs of dollhouses throughout the world. These items become family heirlooms handed down from grandmothers to grand daughters. I would offer this as the best explanation: a collector who has paid $360 for an exquisitely handcrafted Bespaq dollhouse bedroom suite would not allow a heavy-handed 5 year old to play with it in the sandbox!!! It is a worldwide hobby, appreciated by collectors from Great Britain to Taiwan. It also holds an appeal to guys, as well as gals!
Dollhouse Miniatures (or as our British collector friends say --Dolls' House) abound on eBay. There are likely 10,000 to 20,000 items to choose from on eBay at any given day of the week from dollhouse kits to build, to miniature hand painted oil masterpieces just 2 inches tall. There are many Dollhouse Miniatures Sellers of the well known brand name manufactured dollhouse furnishings and miniature accessories, from Bespaq to Town Square Miniatures.
Traditional dollhouse miniature scale is 1:12, or 1 inch to 1 foot. These scale references are usually mentioned in the descriptive information in the listings. You may find smaller scale dollhouse items in 1/2 inch scale, 1/4 inch scale and 1/144th scale in the Dollhouse Miniatures categories. Some of the vintage manufactured pieces are actually 3/4 scale. Some imports are also sized in special scales.
A very special place within this Dollhouse Miniatures category is the Artist Offerings. You may see the tag of CDHM on a number of auction listing titles while browsing the Dollhouse Miniatures categories. This is a very large group of miniatures artisans who use eBay to market their OOAK and handmade, handcrafted designs and creations in miniature. This is the Custom Doll House Miniatures discussion group, which started right here on eBay and has become a virtual online artisans' loft of dollhouse miniatures artists and craftspeople who sell on eBay (sometimes it is the only place where you can find their exquisite works in miniatures.) You can find stunning mini floral arrangements, yummy mini food reproductions, mini paintings, exacting miniature books less than 1 inch tall, hand sculpted clay or polymer miniature dollhouse 1:12 scale dolls, miniature animals and pets created in many different mediums, miniature crochet and soft furnishings, miniature dollhouse Oriental Rugs, quilts, draperies...just take a look! These artisans create exciting themes with dollhouses and mini furniture that you would never find at a bricks and mortar shop! There are fantasy theme artists and many very talented fine arts masters who sell in other Art categories on eBay, but receive great personal enjoyment by creating mini masterpieces to offer under the Dollhouse Miniatures. The quality of reproductions and photography has been know to create a unique dilemma for eBay Sellers—the furniture and certain decorative pieces frequently require a familiar coin or some common desk item to be photographed with it, as a familiar size reference, to keep people from mistakenly thinking it is full sized, real life commodity!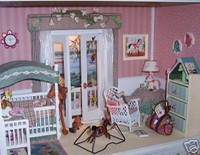 Anything your heart desires, or that you could possibly want to furnish and decorate your scale dollhouse can be found here at eBay. Building a dollhouse scale castle keep…you can even find scale miniature guillotines and medieval torture chamber pieces!
Prices range for dollhouse miniatures from $1 to Thousands of Dollars on eBay. For the most part, you can usually buy an awesome, collectible dollhouse treasure for under $20. How exciting! Sometimes you may find a Seller who has located a special buy-out opportunity from a dollhouse shop closing and you can get some great deals on furnishings and minis for your collection. There are several Sellers who are frequently visible among the well-known names of exhibitors at Miniatures Shows across the United States. It is just incredible who and what you can find in the category. The listings do extend to several Sellers who are brick and mortar shops who utilize eBay sales as an extended marketplace for their business. You can locate as many of the same catalog items in their eBay Stores, as you can locate anywhere online. And, now and then, someone is just cleaning out Grandma's attic and discovers a treasure trove of dollhouse furniture that was long forgotten and is now worth a small fortune to the estate.
A few International Guild of Miniature Artisans sell their masterpieces on eBay from time to time. You will also find antiques and rare European dollhouse furniture. Special vintage dollhouses will surface now and again for auction. And, the Dollhouse Miniatures categories are also where you can locate the vintage tin dollhouses of the 1950s by Marx and Renwal. eBay also has a good reputation as a venue to find the very collectible vintage and classic Petite Princess dollhouse furniture.
A brief caution though …you may find the terms vintage, antique and Victorian used frequently within the titles and descriptions in these Dollhouse Miniatures categories. There is a subcategory for Vintage Dollhouses, but it is understood within the dollhouse miniature collector circles that these terms generally represent a period or style of dollhouse furniture, more often than an accurate representation of the age for an item. Victorian style dollhouse furniture is the most prevalent and most popular design sold and used by collectors to decorate their scale dollhouses. It is also the most popular of architectural designs for actual dollhouses. So if you are new to collecting and buying Scale Dollhouse Miniatures, please keep this in mind and do not be confused by the shorthand keyword descriptions in auction titles. It is not likely meant to deceive anyone. This occurs sometimes as the function of a busy Seller who has simply come by a large lot of dollhouse furniture in an estate sale and is not familiar with this genre. Though the antique seller's eye may suggest this is something very special, he or she may observe a style of a by-gone era, and may themselves be confused about the age of these items. Victorian style dollhouse furniture pieces are being manufactured and sold in dollhouse shops today! Generally speaking, dollhouse pieces that are truly Victorian antiques, and still in superb condition, are likely sitting inside of Museum display cases. (Although, Museum pieces do surface in the eBay listings now and then.) If items are truly antique (over 75 years old) or vintage pieces from the 1960s, the trustworthy Sellers of dollhouse miniatures on eBay will describe these features in their full listing write-up.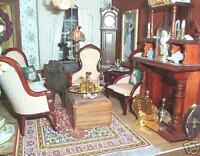 If shopping for new pieces for your collection, or just getting started in this wonderful hobby, please understand that dollhouse miniatures are unique in their requirements for shipping and handling. Many of the people selling dollhouse minis are not retail stores, and sometimes they do not have full resources to ship with the efficiency of major catalog houses. The best advice is not to be too quick to judge someone as gouging on shipping, when you see the S&H charges applied to your purchase. Some unbreakable dollhouse décor items can be mailed in a regular business envelope for the price of a 1st Class US Postage Stamp. Other dollhouse furniture items can be so fragile, that double boxing and packaging similar to crystal glassware is a prudent requirement to get the item delivered without damages. These are also small items and can easily be lost. Many Sellers prefer to add tracking to the shipment so that the Buyer can track the package online and be advised of anticipated delivery dates. It all adds up! It is always wise to contact the Seller before bidding though, to discuss an S&H charge which you may believe is unusually high. Be cautious, but do not be quick to judge! It could have been a listing error. Many Sellers also offer multiple purchase discounts on dollhouse miniatures. They love to offer Priority Mail service to USA buyers, as this cuts down on their packaging costs (the sturdy US Post Office Priority boxes are free) and it gets your dollhouse mini purchase to you quickly within the Priority Mail 2 to 3 days delivery service.
I hope that this information has helped to introduce someone new to the world of dollhouse miniatures on eBay. Just relax, browse and have fun. You are almost guaranteed to find a special treasure in the Dollhouse Miniatures here on eBay, whether you are a serious collector or just browsing.
Happy Bidding!