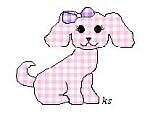 Puppy & Dog Bow Training Tips
Puppies are full of energy and don't take a liking to having their hair being pulled on so hopefully these tips will help you getting started in making it easier to get started with bow training.
First of all, the best way to get started would be to use the bows made with a tiny alligator clip. They are the tightest clip that I have and will hold in just about any kind of hair and any length of hair. They are easy to attach, you would just grab a little patch of hair from the head from right over the eyes to between the ears and attach it to the hair as close as you can to the scalp without pinching the skin.You can find the alligator clips under my "Extra barrettes and bands" category. Just buy enough of these for me to sew onto your bows for you if they are not offered in your bow selection you would choose bands then buy enough alligator clips for me to sew onto your bows for you.
You might find that when you first do this to do it when the puppy is resting at first so she/he will be more still for you.. Always try to talk in a soothing voice while attaching the bow and follow up with a treat so they will know its a good thing to get a bow. Always remove the bow if your not going to be around the puppy for a while so that the puppy doesn't get it out and chew on it.
When the puppy's hair is longer, you will want to start making a topknot with a band then placing the clip in the hair right in front of the band. You can continue using the alligator clips or you can even use the french clip or the flat clips at this point which are much easier for you to open and close and work better on larger bows.
When the puppies hair gets longer and your ready to start making your banded topknots use these tips.
Grab a good size patch of hair from the top of the hair using a brush to part it off.
Twist at the base slightly then wrap the band around as many times as you can so you get a tight hold.
Once you have the band wrapped, look at your dogs eyes. If they are slanted or you see white from the top of their eyes, the topknot is too tight. Loosen it up a bit by pulling the hair from under the band loose a little bit.
Place the barrette from the bow right in front of the band now in the hair that is pulled into the band.
Change the topknot band every day by snipping it out with a small pair of scissors being careful not to snip any hair. If you leave the same band in day after day, the hair will get tangled around the band so when you take it out it will break the hair and break down the topknot eventually where it is much thinner and not as full.
If you plan on using bows with bands, try my easy double topknot method for the best method for not breaking the bands on your bows and for less hair breakage than twisting the bands from the bows onto the topknots. This method will work on dogs who have longer hair for topknots.
If your puppy is a Yorkie or Maltese, you will want to buy 3/8 or 5/8 single loops to start with. For Shih-tzu and Lhasa Apso puppies, the 5/8 single loops are best. Shih-tzu and Lhasa Apso will need 7/8 x 1 1/2" double loops when they are 5-6 months old. Yorkies, depending on their size will be using anywhere from 3/8 single loops to 5/8 double loops when they are 5-6 months old.
Please click on the blue and red me by my ebay name for more tips and suggestions for bow sizing
Thanks for taking the time to read my guide. I hope it is useful in finding the right size bows and placing them correctly for your new adorable puppy.