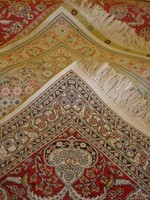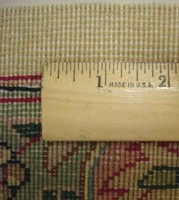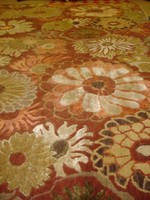 Knots Matter Although Knots Don't Count
I know, that sounds very confusing! But the facts pertaining to the knot count of an Oriental rug are complicated. You cannot judge the quality of a rug by the knots per square inch alone. I will try to give you some basic information here to help you understand.
The four parts of an Oriental rug are the warp, the weft, the selvage or edge, and the knots. The selvage or edge is where the weft turns around and goes back through the warps to the other side and holds the rug together. The warp and weft make up the foundation of the rug and are generally cotton. In a hand made rug, the knots are tied around the warp and make up the "pile" of a rug which is usually wool.
There is no such thing as the ideal construction, except that it is generally agreed that a stitch with as many knots in the warp direction as in the weft direction makes for a smoother curve, a rounder circle, i.e. a square stitch. For each design there is a combination of characteristics, one being the stitch, that makes it commercially successful.
Since the knots in a rug are tied by hand and since a weaver can tie approximately 8000 knots per day, the number of knots per square inch times the number of square inches gives some approximation of the labor content. But because the joy of an Oriental rug is the pattern, the complexity of the pattern and the execution of the weave also have a significant bearing on the value of a rug. Having said that, because of these complexities, it is difficult to compare similar knots per square inch from different countries.
Each country has a different method and jargon for defining their basis for knot counts. In addition, there are a multitude of knot constructions used by each country. Below is a VERY brief definition and comparison chart for a few major rugs producing countries.
My disclaimer here is that I would absolutely confuse and bore you to sleep if I gave you a complete breakdown of how knots are tied and counted for every country. YAWN!!
India:
India developed a quality rating system that I have listed below. Two numbers are used as such; 9/9. The first number is the number of knots in 9/10 of an inch of the rugs width. The second figure is the number of knots in 4 1/2 inches of the rugs length. This is the conversion chart to knots per square inch (KPSI).
Quality KPSI (knots per square inch)
3.5/32 28
5/28 35
5/32 40
6/6 36
6/40 59
6/45 67
7/18 31
7/40 69
8/8 64
8/36 71
9/9 81
9/25 56
9/54 120
9/60 133
10/10 100
10/14 140
10/32 79
10.5/48 124
11/32 87
12/60 178
13/65 209
14/14 196
16/80 316
China:
A ruler of 12 inches is used to count the number of pairs of warps in one linear foot. Since the construction is square, you multiply the number of pairs of warps or the "line" count by itself and divide by 144 for the number of knots per square inch. For example 120 line is 120 x120 then divided by 144 or 100 knots per inch.
Line KPSI
50 17
60 25
70 34
80 44
90 56
100 69
110 84
120 100
130 117
150 156
160 180
200 278
300 625
Iran: (Persian)
The Persians base their unit of measure on the "raj" or about 7 cm. Most, but not all ,of the best rugs have a square knot construction or the same number of knots in both width and length. Below is a basic chart converting raj to knots per square inch.
Raj KPSI
30 118
40 210
50 329
60 473
70 675
90 1066
Now that I have totally confused you I hope you will come on over to our eBay Store and check out our spectacular bargains on authentic Oriental rugs!
Area Rugs, Rug Pads and Oriental Carpets at wholesale prices!