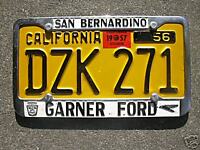 THE STATE OF CALIFORNIA allows collector vehicles to be registered, street-legal, with vintage license plates corresponding to the model year of the vehicle. This is known as the "YOM" (Year of Manufacture) program, and applies to passenger cars through model year 1969 and light trucks to 1972. Many states have special "Antique Auto" license plates, but wouldn't you much rather go driving with the antique license plates themselves??
WIDE WHITEWALLS, RECHROMED BUMPERS and a beautiful new paint job are all fine and dandy, but nothing dresses up an old car like original license plates! Whether you own a 100-point show winner, or a nice driver, or a crummy old jalopy, or a ratrod ... there is just something magic about original license plates that sets it apart from everything else. It is actually one of the few things that even average people notice. They don't care if you spent $2000 to get the little rust holes in your rocker panels fixed. They notice the license plates. Trust me, comments and compliments on your car will increase by a factor of about ten. After you have seen a few cars with YOM plates, you WILL NOT want anything else!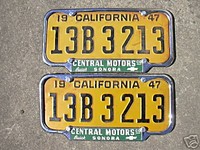 THE YEAR OF THE LICENSE PLATES MUST MATCH THE MODEL YEAR OF THE CAR. For example, a pair of 1947 plates on your 1947 Chevrolet. Or for your 1955 Ford, a pair of 1951 plates with a "55" metal tab. Or for your 1959 Cadillac, '56 plates with a '59 sticker.
"MY 1955 FORD WAS BUILT AND PURCHASED IN 1954, so I want the '54 tab." Or, "My 1955 Ford was first brought into California in 1956, and I like the '56 plates better." Doesn't matter, it is a 1955 model and says 1955 on the title, so for YOM it takes the 1955 setup (55 tab on 1951 plates).
DMV CLEAR. The vintage plates you want to register must be genuine, serviceable (i.e. decent condition), and they must be "DMV Clear". This means the DMV has no record of their existence. The DMV will check their database and if the plate number comes up in any context, it is "in use" and you are out of luck. (The term "DMV Clear" was invented by license plate collectors and not used by the DMV. Their terminology is "we have no record of that number in our system".) Some sellers use the term "DMV Cleared" (past tense), and this has to be clarified. Plates or plate numbers are not cleared per se, they are only currently clear. The DMV does not save or certify a plate number as being officially clear. Even a DMV printout only indicates the plate number is "not on file" as of that particular date and time. The status cannot be considered permanent.
CONTACTING THE DMV. The prevailing procedure is to phone the DMV (1-800-777-0133), to ask if a particular license plate number is currently in use. This process is fraught with difficulties and there are no guarantees as we shall see. Any DMV employee who answers will be able to enter a plate number on the computer and tell you whether it is on file. If it is on file, that means it is NOT clear and you can't use it for YOM. And as a matter of policy, if it is on file they won't tell you who it is registered to. (It might be good for collectors if they did, but a major can o' worms for everyone else!)
PROBLEMS CONTACTING THE DMV. Considering the many thousands of normal transactions the DMV conducts daily, the number of YOM registrations is not even a tiny blip on the radar screen. Understandably, antique license plates and collector cars are simply not a priority there. The average DMV employee, even in Sacramento headquarters, knows little or nothing about the YOM program. They are not hobbyists, they are just regular people working a 9-5 job. To them, an old car is something out of the 1990's. Asking them detailed questions, with all respect, is an exercise in futility. Few of them are trained on YOM, and fewer still can tell you what is correct for your 1948 Kaiser. Know your configuration before you call. And I must add, although any DMV employee can tell you whether plate numbers are on file, and it is "generally reliable" information, they are human and it is not 100% foolproof. In other words, even on easy questions, you can get different answers from different people the same day. It has happened to me at least several times.
ANYTHING THEY TELL YOU ON THE PHONE IS NOT BINDING. It's like phoning the IRS for tax advice. You take it at your own risk. Plates are not absolutely proven "DMV clear" and available until you have paid the money and have the registration card in your hand. (At which point, they are no longer available because they are YOURS!)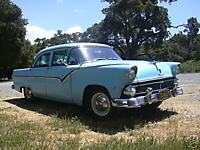 PLATES MAY BE CLEAR TODAY AND NOT CLEAR TOMORROW. Even if the DMV never made any mistakes, plates cannot be assumed to be clear indefinitely. There's a chance someone just registered 1935 plates that have your 1936 number. Or, modern plates may have been manufactured and assigned your 1951 number, the one you were assured was clear last week. Seven-character plates are especially vulnerable, since most modern plates are seven characters. But it would be unwise to assume ANY plate numbers are totally safe and immune. So if you have the plates and they're clear, don't sit on them ... get 'em registered.
IF THE PLATES ARE NOT CLEAR, DON'T DESPAIR. Plenty of people still collect old license plates. And, if you hang onto them, it's possible they will come up clear again (probably would take years however).
SOME SELLERS GUARANTEE USED PLATES AS DMV CLEAR. That means they promise to refund your money if the plates come up as unavailable within a certain amount of time, usually 30 days. Remember that Ebay sellers have no control over the DMV, and the guarantee is simply a business decision. It's like a carwash that promises you a free re-wash if it rains that day. They can't control the weather, and neither can license plate sellers control the DMV. They are simply offering an incentive, if they choose to. You can't expect such a guarantee unless it is specifically mentioned in the listing.
YOM APPLICATION FORM. There is a form you fill out to register antique plates. It has finally been made available for download at the DMV website, hallelujah!! Google "YOM California Form 352" and it will take you right there. It is called Form 352, obviously named after the first big-block Ford 352 which came out in 1958!
DEALING WITH THE LOCAL DMV. After you have called Sacramento to see if the plate number is clear, you fill out the YOM application form, grab the plates and head to your friendly neighborhood DMV branch office to register on your classic car. There seem to be a few local offices that are at least somewhat familiar with the YOM process, but unfortunately they are the minority. You will most likely get an employee who has never heard of the program. They will call over a supervisor who may have heard of it, but never processed the paperwork. And the supervisor can give you wrong information, and say you can't register these plates, and there is no one else at the local level to appeal to. Yes, it has happened to me. They said although this plate number is available, the numbering format (by modern standards) applies to a truck and can't be registered on a car. I politely replied that it was correct for a car in 1955, and that should be the criterion. They said, no, sorry, you can't use it. In such a case you have to call DMV Special Processing and they can finish it by phone (and yes, I do now have those plates registered on the '55 car).
THE HORROR STORIES I HAVE HEARD about dealing with local DMV offices in regards to YOM plates would make your blood curdle. Stay tuned, I will see about putting together a compilation for lite comedy reading. For starters, here are a few actual statements made by DMV employees:
"There is no way you can do that. The car will get impounded and towed away." (Had to ask for her supervisor.)
"For a 1959 car you need a 1956 plate with a 1959 metal tab, there were no stickers in 1959." (False, California had stickers beginning in 1957.)
"It's illegal to remove a sticker from a license plate." (I think it's OK if the sticker is older than the DMV employee.)
"Sacramento has every license plate record on microfilm going all the way back to the beginning." (Fine, then why do you say, "We have no record of that number on our system"?)
"This is a truck license plate number and can't be used on a car." (YOM goes by original configuration, not current configuration.)
"Repainted plates cannot be registered." (Minority viewpoint of a few DMV branch managers. I would respectfully ask to see the policy in writing.)
"That license plate number is not in our system, so yes, it's available." (This in response to asking about my own plate number, as a test, which I know is currently registered!)
"This is our policy, to make sure they're genuine." This after taking a customer's antique plates and tossing them on the floor! (The customer complained to Sacramento and was assured there is no such policy.)
"It's illegal to buy and sell license plates on Ebay." (Well, I guess we'll all soon be making license plates at Folsom Prison rather than just buying and selling them here!)
UNFORTUNATELY IT IS NOT QUITE SO AMUSING after you wait an hour in line and then get turned away by an employee who doesn't know anything. It can and does happen. All I can say is you should be as informed as possible in advance, don't go there to ask questions, be polite, do expect the runaround, and accept the fact you MAY have to go to a different DMV office altogether if this one fails!
WHAT EXACTLY DO YOU NEED TO TAKE TO THE DMV? The YOM plates, the year sticker or metal tab(s) if applicable, the YOM application form (best to have it filled out in advance), the car's current registration card, and your checkbook. They may also ask you to turn in your existing plates, but most of the time they don't and therefore I don't believe it's required. You don't need to take the car there, unless it is coming into the state and has no California registration at all. In which case they would need to inspect it for registration (even for modern plates).
YOU WILL GET A TEMPORARY WINDOW STICKER to use until the new registration arrives in the mail. You have to use the window sticker and you cannot use the YOM plates until the registration comes in the mail. (And bear in mind, the YOM plates are not proven available UNTIL that time.) But happy day when your registration arrives! Slap on your antique plates, fire up the old heap and take the family out to John's Char-Burger in Livermore to celebrate!
HOW MUCH DOES IT COST? $45 which Sacramento will refund if they turn down the application. It usually takes 4-6 weeks to get your new registration, or your refund.
YOU NEED TWO LICENSE PLATES. For any car or truck in California, every year except 1945 and 1946, you need a matching pair of plates. For trailers, or for any 1945 or 1946 model year vehicle, single plates only were issued. (Note: I have not actually seen a '46 vehicle with YOM registration. It could be problematic because there's another law that says all California cars have to have 2 plates. I would appreciate hearing from someone who has a '46 registration!)
NUMBERING FORMAT for cars, trucks, and trailers are different for each of the license plate year types. Here are the basics:
Until 1955

Passenger cars -- up to seven characters (but with no special designation such as "COM", "BE", "PC", etc.)

Commercial -- "COM"

1956-1962, and 1963-1969

Passenger cars -- three letters followed by three numbers

Commercial -- one letter followed by five numbers

"Commercial" is used for all trucks (including pickups), delivery vans, taxis, etc.

Other configurations exist for various types of trailers, government vehicles etc., and not generally used for YOM.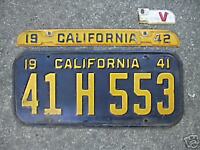 BASIC YEAR CONFIGURATION:
1914-1941: Each year has its own pair of plates.
1942: Pair of 1942 plates, or 1941 plates with 1942 top strips, front and rear.
1943: Either 1942 setup, with pair of "V for Victory" tabs front and rear.
1944: 1943 plate setup, with 1944 window sticker.
1945: Single 1945 plate (white on black), rear only.
1946: Single 1945 plate with 1946 tab (black on yellow).
1947: Pair of 1947 plates (black on yellow).
1948: 1947 plates with pair of 1948 tabs (red on aluminum).
1949: 1947 plates with pair of 1949 tabs (black on aluminum).
1950: 1947 plates with pair of 1950 tabs (red on aluminum).
1951: Pair of 1951 plates (yellow on black).
1952: 1951 plates with pair of 1952 tabs (black on yellow).
1953: 1951 plates with pair of 1953 tabs (black on white).
1954: 1951 plates with single 1954 tab (white on red).
1955: 1951 plates with single 1955 tab (black on grey). Last year of oversize plates.
1956: Pair of 1956 plates (black on yellow). First year of modern-size plates.
1957: 1956 plates with 1957 sticker (black on red).
1958: 1956 plates with 1958 sticker (white on green).
1959: 1956 plates with 1959 sticker (black on ivory).
1960: 1956 plates with single 1960 sticker (silver on blue).
1961: 1956 plates with single 1961 sticker (silver on red).
1962: 1956 plates with single 1962 sticker (green on ivory).
1963: Pair of 1963 plates (yellow on black).
1964: 1963 plates with 1964 sticker (black on white).
1965: 1963 plates with 1965 sticker (black on orange).
1966: 1963 plates with 1966 sticker (black on yellow).
1967: 1963 plates with 1967 sticker (black on blue).
1968: 1963 plates with 1968 sticker (black on pink).
1969: 1963 plates with 1969 sticker (black on white).
METAL TABS 1942-1955. Until 1941, new license plates were issued yearly, and every vehicle got a new pair of plates every year. Shortage of metal in World War II led to keeping the same the license plates and issuing only a year tab to renew. (1942 used a metal strip that covered the entire top of the plate, 1943 used a V for Victory tab, and 1944 used only a window decal.) Most years need two metal tabs, front and rear (1946, 1954 and 1955 being the exceptions, they use only one tab in the rear).

YEAR STICKERS 1957-1962. Vinyl stickers replaced the metal tabs beginning in 1957. Stickers go on the rear plate only. Original stickers you see on Ebay are reclaimed from vintage license plates of the era. Original stickers, whether NOS or reclaimed, are the only stickers of unquestioned legality in the YOM system. NOS stickers (other than '62's) are very scarce. Reclaimed stickers may be slightly trimmed. Untrimmed stickers (1957-1962) are exactly 1 and 13/16th by 1 and 7/16th inches.
WHAT ABOUT REPRODUCTION STICKERS? Before you buy a knockoff sticker, check out California Vehicle Code 4463 (google "4463 dmv ca"). Then if you think it doesn't apply to stickers, search on 4853. Notice the word "felony".
DO NOT ATTACH AN ANTIQUE STICKER UNTIL AFTER THE PLATE IS REGISTERED. As mentioned earlier, you never know for a certainty the plate is clear and available until it is actually registered in your name. If you attach the sticker beforehand, the DMV may still come back and tell you the set can't be registered for whatever reason ... and the sticker is now stuck on for good. So you've just wasted it on unuseable plates, and good luck ever getting it off again! (A few people have told me their DMV office said the sticker must be attached before the plate can be processed. This has never been required of me, and I would respectfully fight it.)
DISPLAYING CURRENT STICKERS WITH YOM PLATES. You have to display current modern (month and year) registration stickers with your YOM plates. This can be rather a sticky situation since you already have the 1957 sticker, and now you have to add two more! And unfortunately, the old plates were not designed for additional stickers and there's no place to attach them that looks good.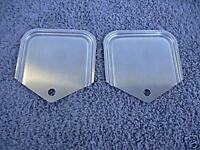 THE DMV SENDS YOU TWO LITTLE TOPPERS to attach to the license plate and display the current registration tags. Or I should say, DMV "sometimes" send them. I do not think these toppers are specifically required, and many YOM owners don't use them. On some old cars, there is simply no place they CAN be used ...the rear bumper is recessed to fit the license plate exactly, not leaving enough room for a dealer frame, much less toppers.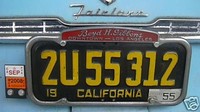 SO, WHERE DOES ONE MOUNT THE MODERN STICKERS? Most people improvise, mount the stickers wherever they will go on the plate, or fabricate their own little attachments. (Unofficial opinion from a Fremont policeman: "As long as the car is registered and the stickers are visible and we don't have to go hunting for them, hard to imagine anyone losing sleep over it ... we have better things to do.")
BUT DON'T TAKE TOO MANY LIBERTIES or you can get a ticket for improper configuration. I have already heard from several folks who have been ticketed for failing to show current stickers on YOM plates. I hope that in ALL areas, classic car owners will follow the laws and be safe, courteous drivers and set a good example for everyone in this crazy State of ours.
THINK FOR A MOMENT, it wouldn't take much in today's world for them to discontinue the YOM program, or enact universal emission testing, or do away with driving old cars altogether. Think about this before you speed, tailgate, cut someone off, or otherwise drive like a weirdo. Just a few incidents offending the wrong people might be all it takes. I know it is a hard pill to swallow but remember we and are cars are guests in the modern world ...
OPTING OUT OF THE YOM PROGRAM. Say you are selling your classic car, you want to keep the antique plates but obviously need to deliver the vehicle with current tags. Just take the registration down to local DMV and tell them you need new replacement plates. They will give you a form to fill out that asks if the plates were lost, stolen, or mutilated. There is nothing to check that indicates "retaining my antique plates." So, under penalty of perjury, you can't check anything. Just fill out everything else and leave that part blank. They will give you a new modern pair of plates. Normally it costs $18 to get replacement plates, but guess what? For some reason in this case, there is no charge--they just give you a new pair free!
BUT EVEN IF YOU OPT OUT OF THE PROGRAM ... be aware, the old plates do not suddenly become "DMV Clear". They continue to be listed in the DMV system, as a license plate of that year vehicle. So if it was a 56 plate with a 58 sticker, it is still on record as a 1958 plate. You can't simply change the sticker and use it on, say, a '59. It can only go to another '58.
TO TRANSFER NON-DMV-CLEAR PLATES: Remember, plates already registered, or already on the system, can only be transferred to a vehicle of the same model year. The registered owner needs to pickup or download DMV Form Reg-17, fill out sections 1, 4, and 6 ("Release Interest in Plates"), sign it and give it the buyer. The buyer then turns it in with his regular YOM application.
Like my cars, this website is still (and always) ... UNDER CONSTRUCTION ...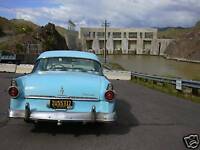 Copyright 2006-2013 by Brent Peterson. Not to be copied or distributed without permission.
*****
Nothing in this guide is to be construed as legal advice or statement of law or DMV policy. It is simply one individual's experience, observations, opinions, delusions, and inane rambling.
*****