Displaying Stickpins, My Beginnings
I love vintage and antique jewelry, both fine and costume jewelry. I enjoy wearing it, collecting it and displaying it. I own a few larger pieces, but I mostly collect stickpins, which is also spelled stick pin for those wondering. I currently own over two hundred stickpins. Some of the pins I collect are fun, some are worth hundreds of dollars and some are true works of art.
Generally, stickpins are less than four inches long. If they get much longer they are usually referred to as hat pins or hair pins. I have two pins that are four inches long, but the rest shorter and do vary somewhat in length. Stickpins look like everything from beautiful flowers to clothespins to bugs and some are just pieces of art. They can be made of gold, silver, brass, platinum or pot metal and have diamonds, rubies, rhinestones, paste stones, other stones, or no stones. Many stickpins are made by and marked by famous designers, artists and companies, while others are unmarked. Keep some of these things in mind when you chose the stickpins to group together to display. Sometimes I group by designer, flowers, season, stone, etc. It will add to your display.
At first, I would wear my pins to show them off, but that got difficult to do as my collection grew. Some of the pins I own are older and quite collectable, but not in the best condition for wearing. I also have pins in my collection that are not the kind of jewelry I would normally wear, but I still want in my collection because they are unique pieces or they are by a favorite designer.
The next thing I tried was putting my stickpins in every day pincushions. You know, those things you buy in sewing stores that look like tomatoes and other fruit, and also animals, etc. This was not very satisfactory. The stickpins were well displayed, but the pincushions didn't look very nice sitting all over the house.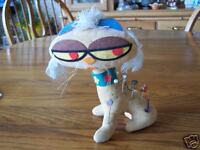 These are samples of those pincushions!
Since this first attempt, I've come up with different ways to display my stickpins in different rooms. I change the pins often to keep the older ones from being exposed to the air for too long and to be sure I'm cleaning the dust off of all of them often. You want to be sure not to let your collectibles get ruined while enjoying them!
Display Cases
One obvious way of displaying stickpins and other vintage and antique jewelry is the use of display cases. These are the type that hang on the wall and are simple to use. Most of these case have a wood frame, but I have seen them in metal and fancy gilt frames too and they come in several sizes. They also keep the pins more dust free than other display ideas I offer below. These cases most often have a soft, black cloth background, though I have seen them in white. For my purposes, I prefer the black background. However when the cloth gets worn out from use,or you want to dress it up, just cover it with your own material that is complimentary to the piece or pieces your are displaying.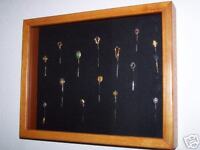 This is a very basic display box.
I lay out the pins I want to display in several arrangements before attaching them to the board. I've had displays vey symmetrical and very random looking. It really depends on the pins themselves and where the display will be as to what looks best. With stick pins you have a choice as to how you attach them, with some of the stick showing or without any of the stick showing. Since I always have some pins with the end cap or clutch and some without it, I always display my stickpins with part of the stick showing. Doing it this way means I don't have to separate the stickpin from its end cap and risk loosing it, especially if it is the original end cap.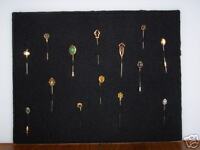 These pins are arranged in a loose pattern. All are from the Plainville Stock Company, PSCO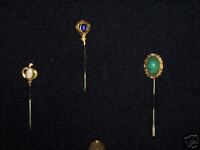 You can see how I slid the pins through the material. Also note that the two left pins have no end caps and the right pin does have one.
I use my display cases in almost any room of the house. However my favorite place is a longish hallway on the upper floor. I place two or three of them among the pictures on the wall. Sometimes I use more display cases if I'm using the smaller ones. They look especially nice if I'm displaying antique pins among the pictures of my great-grandparents and other older relatives.
Bedrooms, Dens, Living Rooms, etc.
Wanting to find ways to display my every growing stickpin collection without it being too overwhelming for me or visitors, I began looking at things that were already in my house. I tried and failed several times. I should point out that I'm still trying! I have found that some things do work. These things make nice displays, look like they belong in the room, attract attention, but are not too large.
Pillows are great, but keep them small and take great care where you place them. Fireplace hearths work well, as do bookcases, large coffee tables and some end tables. I found, though, that doll sized pillows are really great. These pillows come in many sizes, are much more proportioned to the stickpins and sit on a variety of spaces. I usually start with five pins and add more, if needed, as I arrange them on the pillow. I keep one on either my dresser or bedside table all the time. They make homey touches in guestrooms, too. Doll pillows are also inexpensive and easy to recover if you want to freshen it up to match your decor.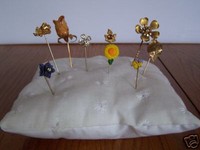 Doll pillow with nine flower and leaf pins, all unmarked.
Candlestick holders also work very well. You have to do a bit of experimenting to find which ones work best, though. I generally put a minimum of three stickpins in a candlestick holder and then work from there to determine if more are needed. You may or may not need to add tissue paper or something similar in the bottom to help hold the stickpins in position. You can be creative with colored tissue paper, or ribbon when using a clear candlestick holder. You can also use those wreaths of flowers around the bottom, just be sure not to detract from your stickpins!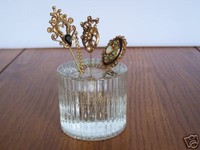 Candlestick holder with three pins by Florenza.
I'm currently looking for a crystal toothpick holder similar to one belonging to my friend. It is very classy looking and shaped like a vase. I think it is the right size for displaying stickpins. It would be fun to put several flower-shaped stickpins in it and then set it out like a vase full of flowers.
Kitchens, Dining Rooms, Serving Carts, etc.
In my kitchen I like to use my egg cups and salt and pepper shakers to display my stickpins. The holes in the shakers are perfect for holding many stickpins in place. The egg cups, like the candlestick holders, may need tissue paper or something similar to hold them in place. Remember to be creative! I have some very cute salt and pepper shakers that I use in my kitchen. These were once part of my grandmother's collection. I inherited some of them, so you can see that collecting runs in the family!
In the dining room I use a shot glass, a small liqueur glass, formal salt and pepper shakers and candlestick holders. I place them on the table as centerpieces, on the serving cart, and in the china cabinet or curio cabinet.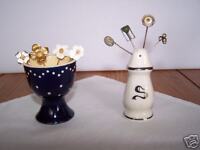 An egg cup with four flower stickpins by Trifari and formal salt shaker with 4 unsigned, antique stickpins.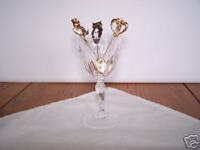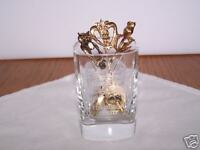 Liqueur glass, shot glass with the same three stick pins by Anson.
Just Imagine!
These are just some of the items in my china and kitchen cabinets that work well for me. I pictured them without any tissue paper or other embellishments so that you can see the main display piece. I'm always on the lookout for more ideas. I hope these ideas help you get started with ideas for your stickpin displays. Its no fun to own them if you can't show them off!
And, if you own other vintage jewelry, think about adapting some of these ideas for displaying other pieces. Rings in that liqueur glass? Large pins and brooches in a small crystal dish or pinned to a doll pillow? Or, how about a rhinestone necklace draped over a beautiful bottle filled with colored water? Let your imagination go!