(Updated May 2013)
At the bottom of this Article is a place to press YES if it was helpful. Doing so helps others see this article and not get ripped off, so PLEASE mark it YES. Thank you...
Enjoying Disney Pin Collecting While Avoiding Sharks, Scrappers and Bootleggers
Collecting Disney pins is a blast. But uninformed eBayers are daily being ripped off by unscrupulous sellers. Familiarizing yourself with some great resources and realizing that some people don't know the meaning of "Disney Spirit" will help keep Disney pin collecting the enjoyable hobby you want it to be.

Think scammers aren't out there? I recently got an eBay Message from someone: kri***ian4509 (I blocked out part of the name). Here's their poorly-typed but revealing note:

Dear chip_and_dale!,
Hey Mr Guppie I saw your article about sharks in disney world... Im goin there in July-August to trade pins with guppies like you..
It aint my fault people dont do their research before trading. Why dont u join me.. Jump right in the water is warm!!!
da dent da dent ad dent da dent... JAWS!!!!!! lol

This Ain't Disney (Unauthorized Pins)
PinPics lists over 2,200 pins and button pins they consider unauthorized, pins the Disney Company has not sanctioned... A few of these pins - especially pins from the 1960s, '70s and '80s - are innocent creations by fans who didn't understand copyright laws (back then, Disneyana fans were desperate for ANYthing Disney); but, most pins in recent years have been created by people seeking to make a fast dollar off the good name of Disney. Some are even marketed as in-the-park designs!

Some pins are obvious Disney rip-offs: Roger Rabbit's wife Jessica is routinely shown in various provocative poses on eBay auctions. The same thing has happened to Tinker Bell being reduced to a porn symbol in certain poses. (I am particularly peeved by this. If you ever see an auction with Disney characters in the nude, report the sellers...it's against eBay policy unless the pin is specifically listed in the "adults only" section.) Disney's characters are combined with McDonalds, Coca-Cola and Breast Cancer Awareness among others. While there are a few legitimate Disney-McDonalds and Disney-Coke pins, many are unauthorized and education is needed to determine which is which.
Some have also questioned the legitimacy of the Lions Club using Disney characters in some of their pin releases. Walt Disney had a special relationship with the Lions Club and allowed them to use Disney characters for some designs. In recent years, this relationship has opened the door for counterfeiters to release designs with the Lions Club logo on them. You must use discretion when collecting Lions Club Disney pins...some are very nice designs which have a history. Others, more primitive designs, may also still be legitimate offerings, but they too need a specific history (where they were released and by whom). With Lions Club pins, use commonsense...the Lions Club is not going to issue semi-pornographic images of Disney characters. I have spoken with a Lions Club pin official and they have acknowledged that counterfeiting has taken place of some of Lions Clubs' pins in recent years. This is an unfortunate trend we'll have to watch in the future...
On the opposite end of the spectrum are Mouse Club and Disneyana Fun Fair pins (an example of fan pins). Though listed Unauthorized by Pinpics, according to MouseTreasures.com, "In 1979, 12 'Disneyana collectors' gathered in Anaheim, California and decided to form a club to share their appreciation of Walt Disney and his legacy. The club was called 'The Mouse Club.' The leaders of the group, Ed and Elaine Levin, had operated a Disneyana shop from their home called the 'Nickelodeon' and began publishing a newsletter in 1980. The Mouse Club had wanted to use Mickey Mouse in their logo, but Disney would not allow it. As a comical compromise, legendary Disney animator Ward Kimball provided the club with his own rendition of Mickey Mouse with a bag over his head, for use in their logo..." Personally, I have absolutely no problem with Mouse Club pins. After being contacted by Disney Corp., the group put other items over Mickey's head to not break the copyright laws. Most pins - if listed as unauthorized on Pinpics - are bootlegs. But this is one exception to the rule I make. Mouse Club pins are not bootlegs or scrappers in my opinion...they are legitimate fan pins (simply not official Disney pins).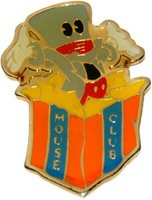 Bootlegs
Other unauthorized pins are not so noble in their origin. Some are direct rip-offs.

At times, an existing pin will be altered in some small way, or a character will be taken and placed on a different background. A lot of times, one pin design will be remade multiple times in different color combinations. Other times, the pose of the character will be mirrored on the bootleg. Some of these bootlegs are quite professional in their duplication, but if the pin was not created by The Disney Company and it features actual Disney characters, it is illegal and should be shunned by any true collector.
Scrapper Pins: The Ultimate eBay Scam
Selling Scrapper pins has become so prevalent on eBay that it threatens legitimate pin collecting. Do a search for "Disney pin lot" and sort by price...you'll find 100s of auctions offering Scrapper pins by bulk. Last time I checked, nearly HALF of the pins listed (when you search "Disney Pin Lot") are scrappers.
Scrapper pins are ones purchased directly from Chinese factories (by people other than Disney Corporation) for as low as 13 cents a piece! (Think of this as if you were buying illegally-made DVDs from China.) When a pin is made - and I've seen this happen with as low as LE 25 pins - the mold that creates the pin is sometimes not destroyed. Then, the unethical company takes the mold and produces tens of 1000s of pins not ordered by Disney or authorized by them for sale. MYSTERY PINS, VINYLMATION AND HIDDEN MICKEY PINS ARE ESPECIALLY HOT TARGETS FOR SCRAPPERS! It's gotten SO BAD that versions of Scrapper pins are showing up on eBay before Disney has even officially released them in their parks!! (This is, perhaps, the most obvious sign that you're dealing with a Scrapper seller on eBay.)
I encourage people to look on Dizpins' site and familiarize yourself with the pictures of Scrapper pins (look under their Diz-ellaneous heading). Then do the search on eBay: type "Disney pin lot" and then do a sort from highest price to lowest. When you see sellers with multiple auctions that are identical, look at the pins they are offering. Many times, you'll see lots and lots of Scrapper pins...you make the determination if you want to risk whether they're selling Scrapper pins or not.
The same thing can be done by simply using the words "Disney Pin" and sorting the auctions by price. Again, you'll see trends...the same auctions run over and over and over and over again, at extremely low prices. If you have doubts, avoid these bulk sellers like the plague!


Scrapper Seller Tactics
Some eBay Sellers have been placing Scrapper pins on Disney backer cards, selling them as "NEW" and "ON CARD." This doesn't change the fact that they are FAKES. One easy way to spot these is to realize that Cast Lanyard series pins were never sold, thus were never on sale cards! If you see Sellers placing them on cards and selling them as legit, don't be fooled!
Some other scrapper sellers say, "I'm a USA seller." All that means is that they're located in the USA...did they buy their pins from a scrapper seller elsewhere?
Ohters will say, "These pins are fully tradeable in the parks." Perhaps, but that's only because some Cast Members can't keep up with the overflow of scrapper pins...fake is still fake, whether they fool Cast Members or not.
Still others will tell you, "You can trust me...I'm a Christian." (As a youth pastor, this particularly angers me.) But the proof is in the sellers' ACTIONS, not their words. If they're selling scrapper pins, they're selling unauthorized pins...and to me, selling UNauthorized is UNethical. So ASK!
Chinese companies offer these pins at cut-rate costs to people willing to market them as being "real" or "genuine" Disney pins. I've even been approached by Scrapper Chinese marketers with catalogs of pins. (I turn their emails over to Disney's copyright infringement division.) SUCH PINS ARE NOT LEGIT! If they are not sanctioned by The Disney Company for production, they are illegal at worst but unethical at best. Disney management claims to be concerned about this situation, but they are mute in specifics of what they have done to prosecute manufacturers. If they would still cracking down on eBay SELLERS who market these pins, I believe the market would dry up.
If eBay Sellers were to be honest about the pins and say, "These are 'seconds' from a Chinese factory," or "overruns," I would still be angered because it undercuts real Disney pin collecting...but at least they would be honest. Sadly, Scrapper sellers on eBay hide the source of their Scrapper pins, so they can make a quick buck at the expense of both Disney and Disney pin collectors. They sell them by the 100s and 1000s...I've even seen 5000-pin lots! Shame on you if you market Scrapper pins! If you are selling fake pins, claiming they are REAL (that means Disney-Sanctioned AND ordered pins), that's fraudulent, in my way of thinking.
Why You Should Care About Scrappers on eBay...
Why should you care? These days, scrappers can be found on nearly every Cast Member's lanyard (and if CMs have a certain pin on their lanyard, they are not obligated to trade for another). Disney DID NOT AUTHORIZE these to be used as traders....but because they are close in identity to real pins - and because they have a Disney copyright on the back - they end up having to be accepted by Cast Members. When the market is saturated with Scrapper pins, people end up trading these second-rate non-Disney authorized pins for legitimate Disney lanyard pins. Literally tens of thousands of junk pins end up on Cast Member lanyards, ruining the trading possibilities for Guests who have spent good hard-earned money to buy real Disney pins to trade.
So how do you fight the unethical practice of selling Scrappers on eBay?
We've made a difference...but we can to do more.
Over the past four years - from the 100s of comments and questions received - I know that people are becoming more savvy about scrapper sellers. They've been forced to reduce their prices, and hopefully, that will hurt their bottom line enough that sooner or later they'll have to quit selling these unauthorized Disney pins. Their prices have dropped on eBay (thus, their profit margins). How can you help?
BE INFORMED. Places like Dizpins and PinPics list warnings on their site when a legitimate pin is also being produced as Unauthorized (a Scrapper). Dizpins' boards has a Counterfeit List with pictures of many of the Scrapper pins. You'll be amazed at how many eBay auctions sell them!
Write to Disney and complain; ask them nicely to prosecute eBay sellers who market counterfeit Disney pins.
When you see a seller selling the same pins over and over and over and over, they may be Scrapper sellers. Don't you wonder how people are able to get the very same exact pins to sell? Look at a Seller's Other Auctions; are they running the same groupings of pins multiple times? Do they sell "grab bags" and the pictures have lots of Scrapper pin designs? Do they use the same picture of multiple pins over and over and over again? Question where they got the pins; if they can't give an acceptable answer, don't patronize them!
If you follow my auctions, you know that my philosophy is to give as much history about a pin as possible, and if the person wants the pin after that they'll bid on it and the market will dictate how valuable the pin is. But for a person to mislead, suggesting that what they are selling is a "real" Disney pin when it's not been authorized for production by The Disney Company, is a sham.
Disney pin collecting can be great fun; it's a great way to get to know other Disney enthusiasts, and to keep the memories of your Disney vacation alive throughout the year. But now, you can trade with a little bit more knowledge...
If you learned something from this article, please click on YES under "Was This Guide Helpful?" below... Thanks!