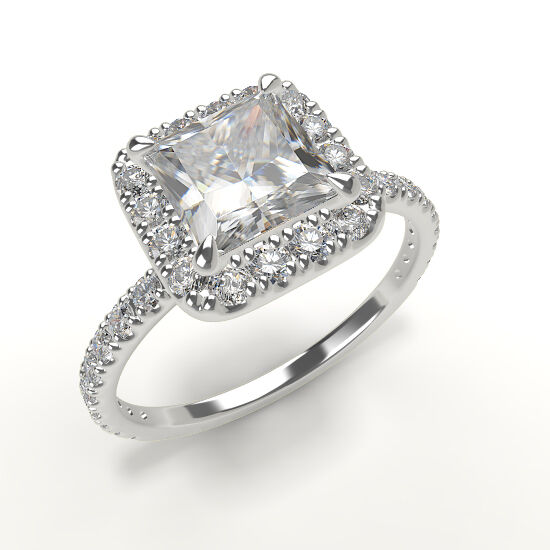 You'll find a large selection of diamond rings, diamond pendants, and diamond earrings on eBay. Know how to evaluate the quality of each diamond as you shop online. Experts use four standard measurements to compare and evaluate diamonds: Cut, carat, clarity, and color. Once you get to know the four Cs, you can make informed tradeoffs based on your style preference and budget.
Know Diamond Cuts and Shapes
Diamond shapes range from traditional round cuts to hearts, pears, and more. Your choice should reflect the tastes of the person who will be wearing the jewel.
A well-cut diamond reflects light to maximize the stone's brilliance. Cut has three components:   

Determine Diamond Carat Weight
Diamond size is measured by weight in carats or points. Because larger diamonds are rare, prices rise considerably as carat weights increase. If your primary shopping concern is high carat weight, a moderate downgrade in carat size (e.g. 0.05) can save you a lot of money and still look beautiful.
1 Carat = 100 Points = 200 milligrams

Study Diamond Clarity
Most diamonds contain inclusions (tiny mineral traces or flaws) often invisible to the naked eye. A diamond's clarity is determined by the amount and severity of these inclusions. Flawless diamonds are very rare and more expensive. eBay sellers often describe the clarity of larger, solitaire diamonds by referring to the industry letter grading scale. For example, the International Gemological Institute (IGI) uses the following grading scale for clarity:

Consider Diamond Color
Most diamonds appear white to the naked eye, but they all include trace amounts of yellow color, with the most valuable diamonds falling in the colorless range. However, a deeply colored diamond such as a brilliant canary yellow diamond can cost more than its colorless counterpart.
Fancy diamonds, also called Z+ diamonds, come in a variety of colors including deep yellow, pink, green, orange, blue, red, and black.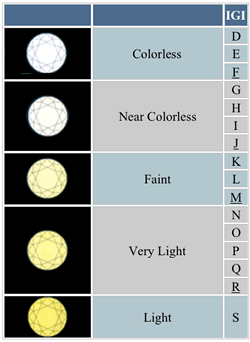 Spot Certified Diamonds
Many sellers include diamond appraisal (estimated retail value) and certification information in listings. Certificates, official documents issued by third-party gemological labs, include specifics about an individual gem (at least the four Cs) independent of market value. It can include information about diamond quality, validation that a diamond is organic, and the serial number on the girdle of laser-inscribed diamonds.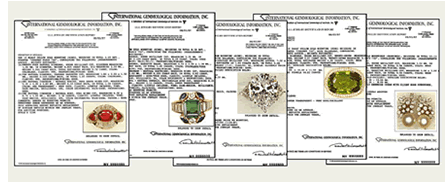 To buy a quality diamond:    
Research gemological labs
Acquaint yourself with gemological labs before purchasing your diamond. Lab reputations may very and change over time. Popular labs that certify diamonds and gemstones include:
Select Other Diamonds & Crystals
Not all diamonds come straight out of nature. Common enhancements include:
You can also find lab-created diamonds on eBay.
Diamond look-alikes are also readily available.    
Maintain Your Diamonds
Diamonds are the hardest naturally-occurring substance on Earth, but they still can chip. When you shop for diamond jewelry, choose your setting wisely. Four-prong, six-prong, and low-profile channel or bezel settings are more apt to protect your diamonds. When you get your diamond jewelry home, store pieces individually in soft cloth pouches to prevent jewels from bumping against one another.
Clean your diamonds
Dust, skin oil, and other unclean substances can cause your diamonds to lose their sparkle. Clean your diamonds from time to time in soap and water. Air dry and polish with a soft cloth. Occasional brushing with a worn, soft-bristled toothbrush can help remove dirt from between crevices. For more resistant blemishes, use a weak solution of ammonia and water (about one part to four parts) and a soft brush. Remember to treat metal settings gently when you clean your diamonds as gold can scratch.
Regularly ask your jeweler to make sure your diamonds sit tight in their settings to help prevent stones from falling out. A jeweler can also clean diamonds and gemstones with steam or ultrasound, though ultrasound can worsen internal fissures or flaws.
Find Diamond Jewelry on eBay
Once you know what type of diamonds you want, go to the Jewelry & Watches portal and start searching for items on eBay.
If you can't find exactly what you want, try shopping eBay Stores, tell the eBay Community what you want by creating a post on Want It Now, or save a search on My eBay and eBay will email you when a match becomes available.
Buy Diamonds with Confidence
Before making your purchase, make sure you know exactly what you're buying, research your seller, and understand how eBay and PayPal protect you.
Know your purchase
Carefully read the details in item listings.
Know your seller
Research your seller so you feel positive and secure about every transaction.
Buyer protection
In the unlikely event that you don't receive your item or it is not as described, eBay Buyer Protection will cover your purchase price plus original shipping. Learn more.