Deities & Demigods has a very interesting history which makes the first edition of this book a true gem for collectors. This guide is aimed at helping you determine whether or not you have the correct copy. The original printing of the book will have a cover that looks like the one below: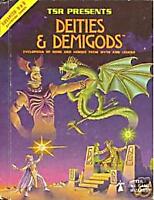 Deities & Demigods is a reference book for the Dungeons and Dragons role playing game. This copy includes descriptions and game statistics for the Gods and legendary creatures from myth and fiction.
The book was first printed in 1980 by
TSR, inc
. and is now printed by Wizards of the Coast in Seattle, WA. The printing history of this book is fascinating due to it's several transformations leading to the present 3rd edition which has greatly evolved from the original. The 3rd edition printing will have a cover that looks like the one below:
The reason that the first printing of Deities & Demigods is a collectors dream is due to the CTULHU & MELNIBONEAN MYTHOS that had to be removed due to a previous copyright. The Cthulhu Mythos was believed to be public domain so
TSR
assumed they could legally use it without special permission. However Arkham House who owned the copyright had already licensed the concept of the CTHULHU MYTHOS to the gaming company
Chaosium
to create a mythos-based game
. Chaosium
had also licensed the MELNIBONIAN copyright from
Moorcrock
.
The CTHULHU MYTHOS was originally from H.P.Lovecraft and related fiction. MELNIBONIAN MYTHOS was from Micheal Moorcock's Elic novels. These mythos were not public domain so could not be used with out permission!
Due to the copyright problems
TSR
had two options, they could give credit the proper people and include a special "thank you" to Chaosium for both the CTHULHU and MELNIBONIAN information. This special thank you did appear in the second printing of the book.
When the time came for the third printing of the book
TSR
decided it was two much work to mention everybody involved so subsequently took out the CTHULHU and MELNIBONIAN information.
The way to determine that it is a first printing that both the CTHULHU and MELNIBONIAN MYTHOS will be included and has 144 pages. The later printings contain only 128 pages do to the deleted mythos.