Crosley's Buyers Guide to Music Entertainment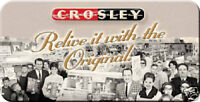 History

In 1920 Powel Crosley founded the company that pioneered radio broadcasting and mass market manufacturing around the world. Dismayed with the $130 price tag for the radio receiver he promised to buy for his son's birthday, Crosley decided to make his own. Upon successfully building a working set for only $35, Crosley was quick to spot the mass market potential. It was a simple idea - design a fully functioning radio, meticulously craft each unit with obsessive detail and precise accuracy, and of course add a measure of consideration for the wallet.

Today the Crosley name lives on with superbly detailed replicas that truly transcend time. Reintroductions of original vintage radios and turntables feature the newest technologies graced by unforgettable Crosley stylings. The Crosley Collection includes AM/FM radios, portable suitcase - styled record players and turntables, record changers, multi- functional audio cassette/compact disc players, jukeboxes, music boxes, telephones and more. Rich lines, retro designs and authentic crafting have made Crosley today's premier vintage electronics manufacturer. True to the Crosley tradition, these replicas are as fabulous as they are functional, providing a delightful dose of nostalgia.

Styles

Turntables

Entertainment Centers: Play all formats of your new and old musical collection with one of these multi-function turntables. Music aficionados will appreciate the versatility of listening to the CD player, AM/FM radio and cassette player included in some of the systems, along with their vinyl.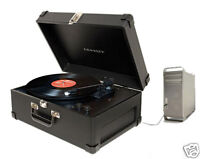 Models:
CR44 , CR73 , CR79 , CR249, CR711, CR712

CD Recorders: Let out a sigh of relief. The problem of preserving your vinyl is finally solved with our CD recorder that is as easy to use as simply touching a button. Some of our in-demand recorders also play CDS, AM/FM radio and cassettes, offering several options for listening to your favorite songs hour after hour. Reviving the best of your personal music collection has never been easier.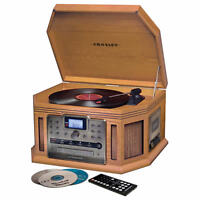 Models:
CR247, CR248

Record Changers: 1950's technology is back! Crosley's record changers allow records to be stacked six at a time, then automatically dropped onto the platter for a steady stream of music. Our 3-speed Stack-O-Matic ™ technology allows you to play all of your favorite recordings, regardless of the speed.


Models:
CR72, CR83, CR84, CR85, CR86, CR89

Record Players: Not your grandma's record player. Reuniting with vinyl is like welcoming back an old friend. Savor the vinyl leaving the decorative jacket. The needle hitting record. The hypnotic spinning disc. The warm, smooth sound of your favorite artist. Whether it's a 33 1/3, 45, or 78 RPM record, Crosley turntables will play all your favorites.


Models:
CR48, CR49

Radio

Audiophile
Warm sound. Cool design. Crosley's audiophile radios will score with even the toughest sound critics. Advanced engineering and quality manufacturing create a superior radio that features reception clear as crystal. Speakers that will wrap you in their impeccable sound. And sleek, memorable designs that will liven up any space like no other tech gear.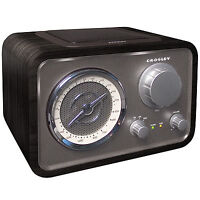 Models:
CR221, CR224, CR612

Retro
Back for an encore. Radios and Powel Crosley went hand in hand. He figured out how to make them affordable for the masses 80 years ago and today, the same classic stylings still turn heads. Vintage touches like mesh cloth covers and hand-rubbed hardwood veneers perfectly pair with up-to-date features in this retro radio collection.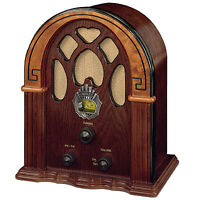 Models:
CR31

Jukebox

Eye Treats. Rockin' Beats Jukeboxes once created the scene for jumpin' and jivin' at diners and bars. Today, Crosley brings back these icons of past American culture with up-to-the-minute technology. These vintage music marvels will quickly become the conversation piece in any game room, living room or den. The vintage design with neon lighting is so good-looking, it may even knock off your bobby socks.


Model:
CR12-10

Use and Care (Turntables)

How do I care for my records?

Store your records vertically (without leaning them) in a clean, cool place away from windows and humidity. Do not place them near heat source or direct sunlight. Avoid temperature fluctuations.
Keep vinyl records in sleeve and jacket when not in use to protect them from dust or other damaging elements. Handle records by the edges and avoid touching the surface of the record. To clean your vinyl, we recommends the Crosley cleaning kit designed specifically to safely clean records.
Dirty, worn needles can damage your records over time, so make sure your needle is clean and replace it if it looks worn. Crosley sells replacement needles.

How do I care for my wood turntable?
Keep the turntable surface dust and static free by keeping the lid closed when not in use. Clean the outside of the unit as needed with a mild non-alkaline soap, water and soft cloth. Dry immediately with a soft cloth.

Additional Functions:
USB capabilities: Want to convert vinyl to digital? Some of our turntables include USB ports and audio software that will allow for this easy transfer. Just hook up your Windows-equipped PC or Mac to the turntable's USB port and save your collection on your computer. Using the software, you can even clean up vinyl's snaps and pops, alter pitch, and create multi-track recordings.

PAR (portable audio ready): Some turntables also feature an auxiliary input that makes it easy to hook up your iPod or other MP3 player for easy listening on your turntable.

FAQ

What's the difference between 33 1/3, 45, and 78 RPM records?

"RPM" stands for revolutions per minute. A 45 RPM record, for example, revolves 45 times in one minute. All three record types are different sizes and revolve at different rates.

Is vinyl gaining popularity again?

Yes. Vinyl sales increased about 37 percent from 2006 to 2007, according to the Recording Industry Association of America. Enthusiasts today range from baby boomers and older to young hipsters. Vinyl's superior sound quality (which is said to have a warmer, more natural sound) and its tangible, nostalgic nature is winning a wide audience. Many artists are starting to release new albums on vinyl, including Radiohead, Cat Power, Pearl Jam and Bruce Springsteen.

What are the USB ports on some of your turntables used for?

USB ports allow you to connect your unit to a computer. You can save your vinyl and/or cassettes as digital files that you can save and edit with music software.

What are auxiliary inputs and outputs used for?

Auxiliary inputs can be used to hook up your iPod, MP3 player or any audio source to your Crosley product to allow the music to be played through your Crosley. Auxiliary outputs allow you to listen to audio content from your Crosley on an existing stereo system.

What is the warranty on Crosley products?

Most of our items are covered under a 90 day warranty. Jukeboxes are covered under a 180 day warranty.

Where can I receive technical support?

Call Crosley at 1-800-926-7801 Monday through Friday, 8a.m. to 5 p.m. ET.

Do you sell replacement parts?

Call Crosley at 1-800-926-7801 Monday through Friday, 8a.m. to 5 p.m. ET.

***This information was provided by Crosley Radio***