Below is a Guide on how to activate a cell phone on Cricket Communications that you purchased on eBay from the comfort of your home and without the need to go to a Cricket Store. Its easy, simple and fast. If you find this guide helpful, please click "Yes" in the blue title bar below the guide. Thanks for reading.
Three Steps Before You Call To Activate:

1. Get the ESN Number of the Phone. Take the battery off of the phone and look for the ESN number on the label the battery was covering. Models vary, but all of them either show the ESN as an 11 digit number in Decimal format (sometimes abbreviated DEC) or in Hexadecimal format which is a combination of letters and numbers that is 8 digits in length. Cricket can work with either one. It is not the serial number which is usually designated "S/N" or the FCC ID number.

ESN Number is always below the battery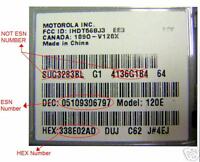 ESN Number is on the label
Cricket can use either the ESN, HEX, or DEC Number
2. Make sure the phone is fully charged. You don't want the phone to die when it starts programming because the battery dies. Also, fully charging the battery helps to prolong and enhance the battery's performance (repeated, short and incomplete charging of your battery will diminish its capacity).
3. Know the Model of the Phone you are activating, they will ask you for this information. It is also on the esn label.
Part I. Transferring your existing contract service to the phone you just bought.
1. Call 1-800-CRICKET 800-274-2538 and at the prompt enter your 10 digit phone number. When the Customer Service person answers the phone, tell him/her that you would like to activate your phone number on another cell phone. You will be asked some security questions, and then they will ask for the ESN number and the model number of the phone that you want to switch your service to.
2. It takes about 30 seconds and then they will ask you to turn your phone off and back on and dial *228 and press send. Your phone will be programmed over the air in about 60 seconds.
3. You must be in an Over The Air Activation area, called OTA, for your phone to program on Cricket. There web site has a map that shows where their OTA areas are. If you are not in one, the phone will not program and you will have to drive to the nearest OTA area and then you can successfully program your phone by dialing *228.
Please Read: We do not recommend taking the phone into any Cricket Store, the people do not get paid by Cricket to switch your phone number to a new phone so they either charge you an a lot to do it (I heard as high as $35.00) or they try to sell you another phone. eBay is their biggest competitior and they tend to mislead people about the phones people purchase from there.
If you found this guide helpful, please click "Yes" in the blue title bar below and we look forward to you coming to see us again.